Breaking: FG Recruitment of 774,000 Application Portal Disclaimer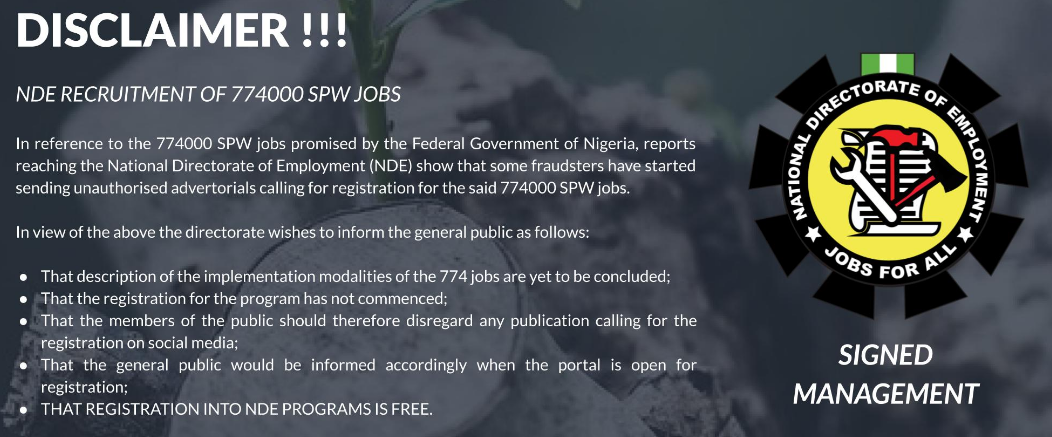 FG Recruitment of 774,000 – You will recall that on the 3rd of May 2020 a publication was made on the Vanguard Newspaper that the Federal Government of Nigeria will through the National Directorate of Employment recruit 774,000 applicants representing the 774 local government in Nigeria with 1,000 candidates from each local government area of Nigeria.
On April 11th, the said job recruitment was still held on pending. Meanwhile, speculations were circulating the social media and most forums that the Agency has started recruiting.
The advertorial circulating on Social Media tilted 'Application Opens For 774,000 Employment is false and no one should fall victims of fraudsters trying to extort money from applicants.
An announcement was made from the official National Directorate of Employment (NDE) website which reads below.
In reference to the 774000 SPW jobs promised by the Federal Government of Nigeria, reports reaching the National Directorate of Employment (NDE) show that some fraudsters have started sending unauthorised advertorials calling for registration for the said 774000 SPW jobs.
In view of the above the directorate wishes to inform the general public as follows:
That description of the implementation modalities of the 774 jobs is yet to be concluded.
That the registration for the program has not commenced;
That the members of the public should, therefore, disregard any publication calling for the registration on social media:
That the general public would be informed accordingly when the portal is open for registration:
THAT REGISTRATION INTO NDE PROGRAMS IS FREE.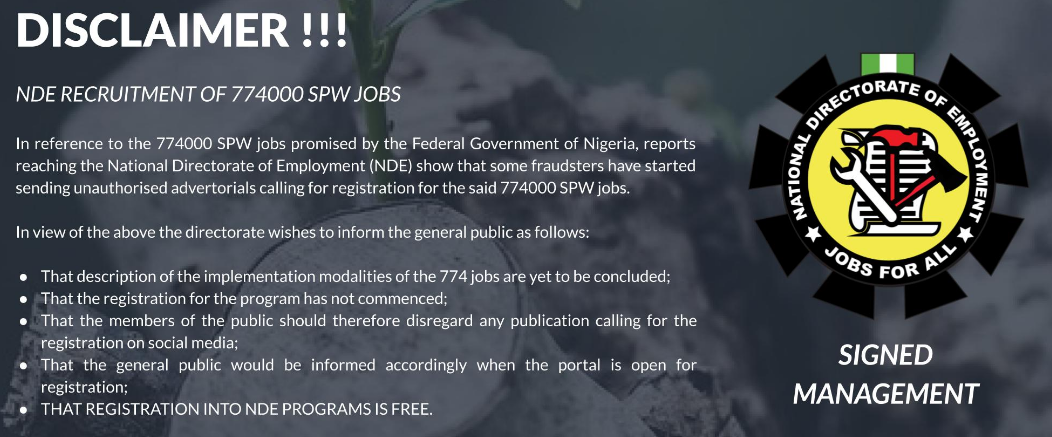 Finally, if you have questions regarding this post or want to get an update when the recruitment starts, kindly leave in the comment box or send us a mail via searchngr24@gmail.com.
Similarly, don't forget to subscribe to our newsletter by submitting your email below to be the first to receive recruitment jobs news that is most important to you.