Breaking: Nnamdi Kanu is dead – Kemi Olunloyo claims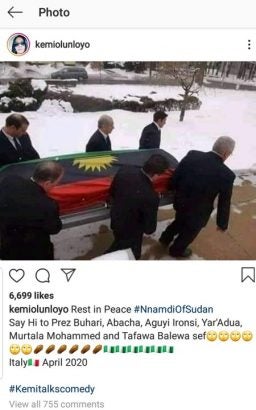 Kemi Olunloyo had come under attacks days ago when she posted on her social media page that Kanu might have died, but she could not confirm if the report she received on his demise was true so she aloof her post earlier made.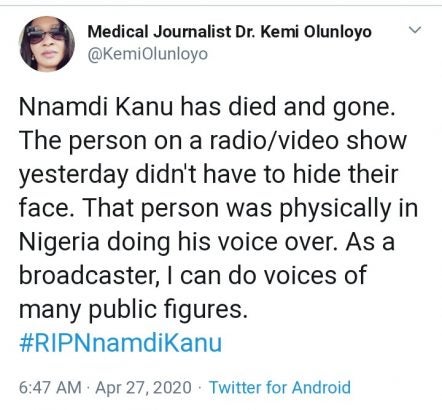 Read Also: Buhari to Address The Nation as to Announce New Measures Against COVID-19
Kemi took to her Twitter page yesterday to state that the leader of the proscribed ingenious group of Biafra has truly died and he died in an Italian hospital, a report she claimed she received from a top military source.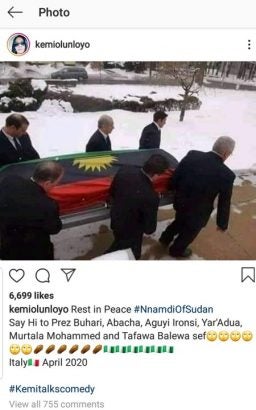 Below is a series of tweets she wrote:
#BREAKING UPDATE I was briefed by a top military defense dept source that Nnamdi Kanu did pass away in an Italian hospital as reported. I was also told that whoever is broadcasting is an impostor meant to keep IPOB together. The Italian Hospital source also confirmed it #RIPKanu
…..
Kanu's wife is in the UK and is reportedly angry at IPOB Spokesmen for "covering her husband's death up" and not announcing. I asked my defense dept source if they will announce, they said in due course. Meanwhile a double is on air on his program. I have asked for a live video
…..
Nobody knows where the double is broadcasting from. IPOB continues to be a nuisance and reportedly working on who will head the terror group next or if Biafra will be achieved. #RIPNnamdiKanu
Nnamdi Kanu has died and gone. The person on a radio/video show yesterday didn't have to hide their face. That person was physically in Nigeria doing his voice over. As a broadcaster, I can do voices of many public figures. #RIPNnamdiKanu
Source: https://mobile.twitter.com/KemiOlunloyo/status/1254508532076089347