Breaking: Zimbabwe ex-President Robert Mugabe is dead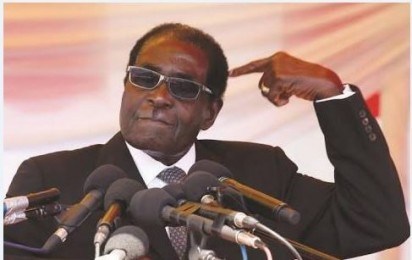 Robert Mugabe, Zimbabwe's first post-independence leader, has died at the age of 95.
He died after battling ill health, a family source told journalists.
Mr Mugabe was ousted from power in a military coup in November 2017, ending his three-decade reign.
But the hope that accompanied independence in 1980 dissolved into violence, corruption, and economic disaster.
President Mugabe became an outspoken critic of the West, most notably the United Kingdom, the former colonial power, which he denounced as an "enemy country".
Despite his brutal treatment of political opponents and his economic mismanagement of a once prosperous country, he continued to attract the support of other African leaders.
Robert Gabriel Mugabe was born in what was then Rhodesia on 21 February 1924, the son of a carpenter and one of the majority Shona-speaking people. Educated at Roman Catholic mission schools, he qualified as a teacher.
Winning a scholarship to Fort Hare University in South Africa, he took the first of his seven academic degrees before teaching in Ghana, where he was greatly influenced by the pan-Africanist ideas of Ghana's post-independence leader Kwame Nkrumah. His first wife Sally was Ghanaian. In 1960, Mugabe returned to Rhodesia.
At first, he worked for the African nationalist cause with Joshua Nkomo, before breaking away to become a founder member of the Zimbabwe African National Union (Zanu).
In 1964, after making a speech in which he called Rhodesian Prime Minister Ian Smith and his government "cowboys", Mugabe was arrested and detained without trial for a decade.
His baby son died while he was still in prison and he was refused permission to attend the funeral. In 1973, while still in detention, he was chosen as president of Zanu. After his release, he went to Mozambique and directed guerrilla raids into Rhodesia.
His Zanu organisation formed a loose alliance with Nkomo's Zimbabwe African People's Union (Zapu).
During the tortuous negotiations on independence for Rhodesia, he was seen as the most militant of the black leaders and the most uncompromising in his demands.
On a 1976 visit to London, he declared that the only solution to the Rhodesian problem would come out of the barrel of a gun.
Article Source: https://www.vanguardngr.com/2019/09/breaking-zimbabwe-ex-president-robert-mugabe-is-dead/
Breaking: Zaha's brace hands Manchester Utd humiliating Premier League defeat at Old Trafford
Crystal Palace condemned Manchester United to a miserable start to their Premier League campaign as Andros Townsend and a Wilfried Zaha double led the Eagles to successive wins at the start of a season for the first time in their history.
After Townsend squeezed a seventh-minute shot into the far corner from Jeffrey Schlupp's cross, the hosts struggled badly but the game slipped away from them thanks to Zaha's controversial 74th-minute penalty.
Referee Martin Atkinson used the VAR TV monitor to decide Victor Lindelof had handled inside his own box. But, after David de Gea thought he had saved Jordan Ayew's spot-kick, Atkinson ordered a retake because the Spain international had moved off his line. Zaha took responsibility for the second attempt and made no mistake.
On his debut, Donny van de Beek pulled one back 10 minutes from time but Zaha struck again against his former club to secure a deserved victory for Palace.
It was their biggest ever win at Old Trafford, the first time they have beaten United away from home in successive seasons and extended Palace's remarkable undefeated run in away games against the two Manchester clubs to five.
For United boss Ole Gunnar Solskjaer, it was a horrible day. Too many of his players were off the pace, including Paul Pogba, who was replaced by Van de Beek midway through the second half.
Palace's 73-year-old boss Roy Hodgson is just five years younger than Sir Alex Ferguson, who watched this game from the directors' box.
Ferguson must have been impressed with the youthful exuberance of the Palace side. Despite conceding possession, they were by far the most inventive and gave central defensive pair Harry Maguire and Lindelof a torrid time.
Lindelof was shrugged away far too easily by Schlupp in the build-up to Townsend's goal and Ayew would have had a second for Palace before the break had it not been for De Gea's brilliant one-handed save.
That it should be Zaha whose contribution eventually proved decisive was a further painful memory for United.
Zaha was Ferguson's last signing as United boss. But the Ivory Coast international never settled at Old Trafford and was sold back to Palace in 2015.
After ending last season with a whimper, Palace could not have done better over the past fortnight and face an intriguing meeting with Everton, who have also won their opening two games, at Selhurst Park next weekend.
No tags for this post.
Edo Decides 2020: Preliminary findings into Saturday's election released
The Centre for Democracy and Development (CDD) has released its preliminary finding on the Edo State governorship election, which was held today, September 19.
According to the report forwarded to DAILY POST, "one major highlight of the findings was the brazen buying of votes by the two major political parties in the election, a situation the organisation says could taint the credibility of the election outcome."
CDD Director, Idayat Hassan, claims cash between N1,000 and N5,000 was offered to voters to induce them. Other items like spaghetti, Ankara fabric, were also used as bait.
Similarly, the group highlighted how politicians attempted to shape narratives through the use of social media for propaganda and false narratives.
CDD noted that the high level of propaganda made it difficult for voters to determine the truth about what was happening in the electoral terrain.
It also claimed that "the law enforcement agencies, many of which were deployed in big numbers to Edo State, did not deem it necessary to apprehend and prosecute those who engaged in vote-buying."
On the arrival of INEC officials, the CDD said its observation of the election shows there was the late arrival of INEC officials across the state.
NEWS:  Lagos approves full reopening of churches, mosques
"The consequence of the late arrival of officials is that voting started late in most parts of the state," Hassan said.
Their late coming was blamed on "poor logistics, especially transportation of personnel and election materials to polling units."
On compliance with protocols for prevention of COVID-19, CDD noted that there was a general non-compliance to mandatory protocols for preventing further spread COVID-19.
The Centre also noted that its observers reported incidents of violence in Ikpoba Okha, Oredo, Esan West, and Oriohomwan due to the activities of political thugs who disrupted voting in different polling units.
Ondo 2020: I'm more qualified to be governor – Akeredolu's Deputy, Ajayi
The Deputy Governor of Ondo State and the candidate of the Zenith Labour Party (ZLP), Agboola Ajayi on Saturday boasted that he is the most qualified to lead the state as governor.
Ajayi stated this in Ore, headquarters of Odigbo Local Government Area of the state during the flag-off campaign of ZLP.
According to Ajayi who joined the ZLP after dumping PDP and APC within one month said he was not a neophyte as stated by his boss, Oluwarotimi Akeredolu.
He maintained that he was a thoroughbred and grassroots politician who rose through the ranks before becoming the Deputy Governor of the state.
Speaking further at the rally which was attended by leaders of the party in the state and the national, including the National Leader of the party and former governor of the state, Dr Olusegun Mimiko, Ajayi appealed to the electorate to cast their vote for the ZLP.
While assuring that the tuition fees of Adekunle Ajasin University, Akungba Akoko will be reduced to N50,000, the deputy governor also pledged that he will reform the state civil service, if elected as a governor.
NEWS:  Edo decides: PDP, Obaseki sourcing materials for election petition tribunal – APC alleges
On his part, former Governor Mimiko urged the people of the state to vote ZLP and resist rigging on the election day.
He stated that the people should not be intimidated over the insinuation that federal might and violence will play a huge part in the polls.
Presenting the flag of the party to the candidate on behalf of the National Chairman of the party, Mr Dan Iwuanyawu , the state Chairman of the party, Chief Joseph Akinlaja, asked the supporters of the party to go back to their respective wards to work and ensure the ZLP win the election.