How to Apply for Delta State Rural Youth Skill Acquisition Programme 2021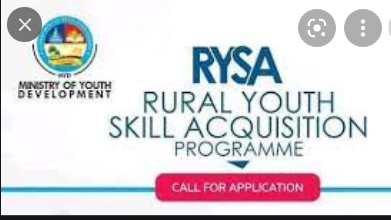 Use the Search Button below for more details.
The Delta State Rural Youth Skill Acquisition is design by the Delta State Ministry of Youth Development to the rural youth population to create method of income-earning opportunity.
If you are finding it difficult to apply for the Delta State Rural Youth Skill Acquisition. However, this article will guide you through the process on how to apply for Delta State Rural Youth Skill Acquisition.
TRENDING NOW
Delta State Rural Youth Skill Acquisition Programmes
Rural Youth Skill Acquisition
This rural youth skill acquisition is design to train the rural population on skill to enable them make income earning and to develop the local economy.
The target youth populations are the non-literate and semi-literate youths, to make them productive in the local economy.
The rural youth skill acquisition has two components
The Practical / Hands-on training: This entails training of beneficiaries of the programme to acquire further practical skills required for them to succeed in their chosen enterprises. This training will be carried out by Master Trainers designated across different communities in Delta State.
The Community Business School (CBS) training: The CBS is a mandatory programme for all RYSA beneficiaries to be undertaken once a week for eight weeks in the course of the practical / hands-on training programme. The programme is meant to equip beneficiaries with life and business skills that are critical to success in life and business.
Community Business School (CBS) Course Outline
Introduction to Business
Customer Relations
Marketing
Book-Keeping
Community Service and Volunteerism
Business Networking
Eligibility:
Candidates must be between 18 – 29 years old.
Candidates must be from Delta State and resident in the Local Government Area
The minimum educational qualification is First School Leaving Certificate (FSLC).
Candidates interested in RYSA must have acquired basic training in the shortlisted skill area.
Candidates must have personal enthusiasm, conviction, and willingness to learn and acquire refresher skill-sets in his/her choice programme as a basis to establish and manage an enterprise.
Application:
Application forms for RYSA are available at the Ministry's field offices across the 25 Local Government Areas of the State.
Interested candidates must pick-up the application forms IN PERSON, fill and submit within the stipulated timeline.
Shortlisted candidates must undergo oral interviews and proficiency test based on the skill area of choice.
Applicants for RYSA must fill and submit the guarantors form.
Selected candidates must abide by the rules and regulations set by the Ministry of Youth Development.
Programme Administration For RYSA
Interested candidates must pass the proficiency test in his/her chosen skill area to be eligible for the programme.
Beneficiaries must complete the Refresher/CBS training before Start-up Packs presentation.
Candidates must pass the training completion proficiency test and Community Business School (CBS) training test before been awarded with Certificate and given support.
Successful Beneficiaries must subject themselves to the mentoring process of the Directorate for Youth Monitoring & Mentoring (DYMM).
Start-Up Packs
The Start-up Packs consist of work tools and seed grant. The work tool component consists of physical equipment required for each skill-set given to successful trainees at the end of the training exercise.
The seed grants will be given to the beneficiaries at the end of their training as support for start-up.
| | | |
| --- | --- | --- |
| SN | SKILL-SETS | DURATION |
| 1 | Catering & Confectioneries | 2 Months |
| 2 | Plumbing | 2 Months |
| 3 | Hair Dressing & Make-over | 2 Months |
| 4 | Interlocking/ Tiling | 3 Months |
| 5 | Woodwork/Furniture | 3 Months |
| 6 | POP and Screed-making | 3 Months |
| 7 | Electrical Installations and Repairs | 3 Months |
| 8 | Aluminium Profiling | 3 Months |
| 9 | Welding | 3 Months |
| 10 | Fashion Designing | 3 Months |
The Delta State Youth Parliament (DSYP)
Being under the tutelage of the Delta State House of Assembly with direct supervision of the Ministry of Youth Development Delta State, is a non-partisan umbrella body for Delta Youths created in Compliance with the United Nations Charter on Youths Development and in pursuant to the resolutions of the Commonwealth Head of Governments meeting in the Republic of Malta 2005 as a platform through which their voices could be heard on government policies that affect them directly.
Aims of Delta State Youth Parliament
The aims of Delta State Youth Parliament are as follows:
Providing opportunities for young people to learn about our democracy and influence public decision-making through legislative process.
To expose them to democratic processes and practices thereby lending their voices to the issue of Governance.
To serve as a training ground for future parliamentarian.
To serve as an avenue for debate on issues of local, state and National Importance especially as it affects the Youths.
Objectives
The specific objectives of State Youth Parliament is to educate youth about policies and to demonstrate through legislative function the followings:
To create a budget line in the state government budget for Delta State Youth Parliament
To serve as platform for the molding future parliamentarians.
Qualification Criteria
Eligible youths "MUST" satisfy the following conditions:
Must be an indigene of Delta State
Must be between the age bracket of 18-26 years
Must possess First Leaving School Certificate (FSLC) and Senior Secondary School Certificate (SSCE)
Without conviction of any criminal offence and must not belong to any secret cult.
Must have passion and commitment for youth development and leadership.
Must adhere strictly to the selection rules and regulations.
Selection Process
The approach that will be adopted for the selection process for the Delta State Youth Parliament includes the following:
Sorting and entry of data-set in Application forms into database according to State constituencies.
Analysis entails elimination and categorization of candidates by established standard/criteria for selection such as age, LGA of origin and credentials. (This help reduce candidates to a structured number).
Invitation of shortlisted person from analysis to psychometric test – a combination of questions to objectively measure candidates cognitive, abilities, personality and knowledge. The examination question will be an aptitude test which will hold across the 3 senatorial districts simultaneously. (This further reduces the number to a sizable one).
Candidates must meet the minimum cut-off score as set-out by the selection committee will be shortlisted to attend the Oral Interview exercise and Proficiency test (written interview).
Analysis of both Oral Interview and Proficiency test will produce competent candidates across the 29 constituencies that will be shortlisted for the Delta State Youth Parliament.
Gender formation and representation of the Delta State Youth Parliament will have a 70:30 of Male is to Female gender sensitivity.
The Mindset and Value Reorientation programme is a collaborative programme which is designed for the youth demography of Delta State with public and private sector support to foster positive social attitudes, create platforms that will broaden opportunities through mindset and value reorientation programmes for inclusive youth development.
Strategies for achieving these include;
Employ-ability workshops and career fairs for undergraduates/graduates .
Life-skills development programmes for Secondary Schools
Engagement of private sector for youth development opportunities
Civic engagement programmes
Qualification Criteria:
Beneficiaries of MVRP must demonstrate interest / willingness to participate.
Participation is open to all Delta Youth while some engagement programmes are targeted at youths within the age bracket of 15-29 years.
Expectations:
Registration of Youths of Delta State Origin.
Re-validation and database documentation of Youth-led/ Youth-focused organizations with the Ministry of Youth Development.
Facilitate capacity development and entrenchment of Democratic Leadership process in governance and operations of Youth-led Organizations.
Department of Delta State Rural Youth Skill Acquisition Programme 2021
Department of Youth Enterprise and Investment Promotion
Department of Youth Mobilization and Leadership
Department of Administration
Department of Finance and Accounting
Department of Planning, Research & Statistics
How to Apply for Delta State Rural Youth Skill Acquisition
Interested applicants should follow these steps below:
Visit the application portal at https://youthdev.deltastate.gov.ng/Applications/join-youth.php
Enter your details in the form section
Provide your valid email address
Confirm your valid email address
Click on Registration