Enugu State Present IT Innovation & Entrepreneurship Scheme for the Disabilities (How to Apply)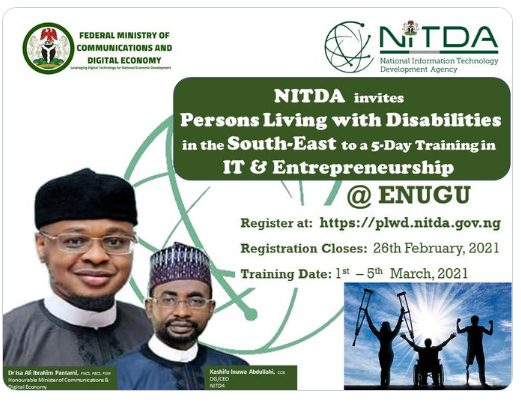 One of the set mandates of NITDA is to develop IT capacity among Nigerian youths. NITDA is thereby extending the capacity development programme to Persons Living with Disabilities (PLWDs) which is in line with NITDA's Digital Inclusion Policy.
TRENDING NOW on searchngr.com
The vision of the Honorable Minister of Communications and Digital Economy, Dr. Isa Ali Ibrahim (Pantami), FNCS, FBCS, FIIM ensures that the entire citizenry is empowered with Information Technologies with the development of a critical mass of IT proficient and globally competitive manpower.
Empowering persons living with disabilities is important for inclusive, equitable and sustainable skills as envisaged in the National Digital Economy Policy and Strategy of the Federal Ministry of Communications and Digital Economy, which pledges to "leave no one behind".
This capacity development programme is an annual program for Persons Living with Disabilities (PLWDs) with this edition scheduled for South-East, Nigeria; taking place in Enugu, Enugu State.
OBJECTIVES
The objectives of the training and empowerment are:
• to facilitate and enhance Digital Inclusion among the participants;
• to enable participants become competent in innovatively employing the tools of technology to enhance living and in discharge of their job requirements;
• to provide an overview and understanding of educational policies explicitly dealing with IT integration;
• give an insight on a series of IT tools that implicitly support creative and innovative learning;
• to enhance participants' Digital literacy, internet research skills and presentation skills.
EXPECTED OUTCOME
At the end of the training, participants will be provided with working tools and should be able to:
• use IT in creating sustainable employment;
• have adequate IT knowledge to compete favorably with their counterparts in other countries.
• be employers of labour.
• be self-reliant.
Who Should Attend?
The program is open to all Nigerians that are living with any form of disability residing within the South East. It would focus on the clusters of Persons Living with Hearing and/or Speech Impairment, Persons Living with Visual Impairment, and Physically Challenged Persons.
All applications would be screened and only successful candidates will be contacted.