How to install WSM Downloader Plugin (Settings, Review)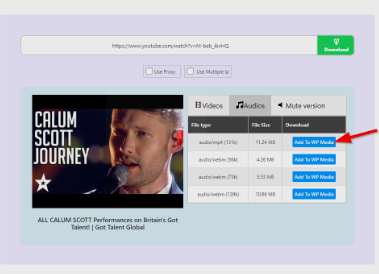 WSM Downloader Plugin allows you to download media (photo , video & audio) from 18 popular social networks with one-click.
Unlike other downloaders available in markets , this plugin allows you to create a fully customized "downloader website" because of the WordPress platform.you can choose a free template from WordPress Directory , install Elementor plugin to customize your template and simply insert WSMD plugin shortcode in your customized template and lunch your website.
How to install WSM Downloader Plugin
If you want to install your website on your root domain name (like example.com), then you need to upload the files of Easy Installation folder (that already exists in your purchased file) on your website's root directory. Usually this directory is called /public_html/.On the other hand, If you want to install your website in a subfolder (like example.com/wsmd), then upload it on a folder like /public_html/wsmd/.
Once you are done uploading mentioned files, go to your hosting control panel to create a database.you can learn about creating database here(Cpanel) , here (DirectAdmin) and here (plesk).
In a web browser (with your server running) visit the installer.php file.for example if you upload the files in main domain , just enter www.example.com//installer.php in browser
If everything works, you should see a wizard screen. You'll need to click "I have read and accept all terms & notices." 
Click "Next."
Here you'll need to have a database ready. Then tell Duplicator your database name, user, and password. fill this information using step 2. click on "test database" and then press "Next" 
"Step 3 of 4: Update data".if you need to change default username and password of admin panel , you can change it here . just click on "options" and fill your informations.then press "Next" 
If it all works, you'll see "Step 4 of 4: Test Site". There you'll want to click the "Admin Login" button, and log in to your WordPress site with informations that you have filled in step 3.if you did not set any information in previus step then you should use default user and password . username : admin and password : AdminDeMoDuplicated. 
You should now be in a full-fledged copy of my demo site.
Make sure to clean up after Duplicator. It'll give a helpful admin notice (a banner at the top) showing you things. If you click "Take me there now!" you'll then be on the screen to click "2. Remove Installation Files Now!" After you do that, you're done.
 if you are not familar with wordpress installation please follow this article. WordPress Installation.
---
Upload via WordPress Admin  
Go to WordPress admin area and visit Plugins » Add New page.After that, click on the Upload Plugin button on top of the page. 
This will bring you to the plugin upload page. Here you need to click on the choose file button and select the plugin from folder 1-plugin. 
After you have selected the file, you need to click on the install now button.WordPress will now upload the plugin file from your computer and install it for you. You will see a success message like this after the installation is finished.  Once installed, you need to click on the Activate Plugin link to start using the plugin.
---
Upload via FTP Server 
In some cases, your WordPress hosting provider may have file restrictions that could limit your ability to install a plugin from the admin area. In this situation, your best bet is to install the plugin manually using FTP.The FTP manager method is the least friendly for beginners.
First you will need to extract the zip file of plugin (exists in 1-plugin folder) on your computer.Extracting the plugin zip file will create a new folder with the same name. This is the folder that you need to manually upload to your website using a FTP client.
You would need to access your host through the FTP manager. If you do not have your FTP username and password, then contact your hosting provider and ask them.Open the FTP client on your computer and connect to your website using the login credentials provided by your web host. Once connected, you need to access the path /wp-content/plugins/
Next, upload the folder you extracted from the zip file to the /wp-content/plugins/ folder on your web server.
After uploading the files, you need to visit the WordPress admin area and click on the Plugins link in the admin menu. You will see your plugin successfully installed on the plugins page.  You need to click on the Activate link below the plugin.
How to Config plugin settings 
---
Shortcode 
Show active downloaders name in url field? : If this option is enabled the name of the active downloaders will be animated in the URL field.Otherwise 'paste linke here' will be displayed.
Start Download on Paste? : If this option is enabled download will be started automatically after user paste link in download form.
Allow users to share download results? : If this option is enabled user can share download results on social networks
Choose Share buttons : you can choose share button from the list.
Download form's button text : this text will be replaced with default text (start) in download form.
Download form's button icon : put your favorite icon here.you can use standard emojies or if your template supports fontawesome icons ,you can use it by putting fontawesome icon as html format ; like : <i class="fa fa-cloud-download"></i>.also you can use material icons , themify icons and etc if your template supports these icons but dont forget to add your icon in html format.
Loading image (gif format) : choose a loading image.if you do not choose an image then default loading image will be used.This image will be displayed after clicking on the "download form" button.
Show download links with no size? : Download links with no size will not be shown up to user By default, enable this option to show all size even 0!
Show download results in Modal window? : If this setting is enabled the download results will be displayed to users in a modal window. This feature allows you to show some ads in this section. Otherwise the download results will be displayed below the input field.
Ads content 1 : This ads will be shown before download results
Ads content 2 : This ads will be shown after download results
---
Style Options
Shortcode Template :there are 7 different templates in this part . you can choose one of them

---
Settings 
Downloaders: Your Site visitors are only allowed to download medias from websites that are activated in this section.Choose which downloader should be enabled.
Proxy: Sites like YouTube sometimes restrict access to certain videos to a specific country. By setting up a proxy, you can bypass this restriction.When the user tries to download a file , WSMD first downloads the file without proxy then starts downloading using proxy if it fails.you can find a list of free proxies here
Multiple IPs: You can enable this option if you are having problems with Dailymotion,Youtube,… IP limit / IP ban. This option will work only if the IP you add are available for the server.That means you have to buy some additionnal public IPs and assign these new static IPs to the server.This should work only if you have a dedicated server…Be very careful, you may block yourself.you can use this tutorial too.
How to show "download form"
---
---
from wordpress dashboard go to "Settings >> WSM Downloader" . in the first part you can see a shortcode 

Preparing download links ...

.Copy this shortcode.
Now go to "Pages >> Add New" and paste the shortcode in text editor.then click on publish button at right side. 
the page is published , now click on "permalink" . you can see download form. 
How to use Admin Downloader
---
---
from wordpress dashboard go to "Post >> Add New" . click on "Add Media". 
"Add Media Window" will be appeared. now click on "WSM Downloader" Tab. 
You can see a download form here . just copy a media link(form facebook , instagram or …) and paste it here.  in result table click on "Add to Media Library".after download is completed , click on "Media Libaray" tab . you can see your downloaded media here . just click on it and insert it to your post content. 
---
Translate "wsm downloader" Using Loco Translate plugin: Loco Translate allows you to create language files via WordPress admin.
Follow these steps :
Install and activate the Loco Translate plugin. Here is the installation process.
Navigate to wp-admin → Loco Translate → Plugins
You can see available plugins on this page, click on "WSM Downloader". 
Click on + New Language button. 
Choose a language & click on Start Translating button. 
Now select strings, translate and save the translation.do it for all string. 
All done, now you have the plugin strings translated to another language.
Igbo Leaders applaud Ugwuanyi's accomplishments on peace, good governance
Igbo leaders have commended Governor Ifeanyi Ugwuanyi of Enugu State, for his accomplishments in the areas of peace, good governance and the recent state's economic rating.
Speaking when the leaders visited Gov. Ugwuanyi at the Government House, Enugu, the President-General of Ohanaeze Ndigbo, Chief Nnia Nwodo, applauded the governor for the recent rating of Enugu as one of the six economically viable states in Nigeria that can survive without federal allocations.
Chief Nwodo, who was accompanied by the Obi of Onitsha, His Royal Majesty, Igwe Nnaemeka Alfred Achebe and Chief Emmanuel Iwuanyanwu, added that Enugu was the only state in the South East geopolitical zone to accomplish such an outstanding feat.
He disclosed that they were at the Government House, Enugu on a routine consultation "we are having with our governors on matters of Igbo concern".
The Ohanaeze President-General revealed that they appraised the developmental issues in Igbo land and took brief on Gov. Ugwuanyi's budget priorities in the areas of digital education, health, infrastructure, security, among others "and we are pleased with what he told us".
The Igbo leaders expressed delight that the governor has maintained a peaceful atmosphere in Enugu State, and has equally reduced political differences to the barest minimum that there is no more issue of bickering or quarrel.
NEWS:  Your large heart will always stand you out for recognition – Buhari tells Okorochas
According to Nwodo, "we have listened to the governor about things he has done to make Enugu remain peaceful and to ensure that the people of the state live in peace, and we commend him for what he has done to earn Enugu the enviable status as one of the most peaceful states in Igbo land and Nigeria.
"This is not the only governor we have visited. This is the third governor we have visited in the ten days. We have paid a visit to the Governor of Imo State; we met with Governor of Ebonyi State this morning and we are going to meet with the Governors of Abia as well as Anambra States in the coming days.
Apply For Youth Agripreneur AgriPitch Competition 2020
The African Development Bank's Youth Agripreneur AgriPitch Competition and DealRoom connects expansion-ready, youth-Ied African businesses with global investors (debt, equity and/or grant). The DealRoom focuses on youth-Ied agribusinesses under the themes of nutrition and gender inclusivity.
The goal of the AgriPitch Competition and DealRoom is to promote innovation and entrepreneurship in agriculture among youth in Africa and to generate jobs, create wealth and improve livelihoods through inclusive growth across the continent.
African companies that meet the criteria below are encouraged to submit their deal information for review by the Bank's and Asoko Insight's data teams. Qualified businesses will be promoted through the Asoko portal to global investors for matching. Interested investors can match with any deal by registering their profile and selecting target deals.
READ ALSO: Why Buhari Govt Is Supporting MSMEs With A Survival Fund – Osinbajo
AgriPitch Competition:
Shortlisted businesses will participate in a virtual AgriPitch Competition from November 16-20, 2020, where winners will be chosen based on different categories under consideration.
The African Development Bank will award shortlisted businesses between US$10.000 and US$40.000 in the form of grant capital (US$120,000 in total is committed).
The African Development Bank is a leading multilateral development finance institution. The Bank has 81 member countries and is headquartered in Abidjan, Céte d'Ivoire.
Further details regarding specific eligibility is found on the bottom of this page in the FAQ. Evaluation criteria for successful applications is also below.
Applicant Evaluation Criteria:
All applicants should consider this criteria carefully as they build out their profile for submission.
Value Proposition and Innovation Rationale (30% welghtlng):
How creative is the idea or how creatively the idea solves a problem related to ICT and agridigitization?
Gender responsiveness
Addresses nutrition
Job creation potential .
READ ALSO: Apply For Firstbank Service Executive Conversion Programme 2020
Competitive edge Sustalnablllty and Scalablllty (20% welghtlng):
Sound environmental management systems
Potential for scaling-up
Sufficient and qualified staff, includinc manacement
Buslness Feaslblllty & Tractlon (30% welghtlng):
Clear customer pain/need intensity and market size
Commercial and technical feasible with strong profit margins
Existing traction and customers (for matured start-ups)
Professionalism and Presentatlon of Buslness (5% welghtlng):
Structure and presentation of the business model
Ease of comprehension of the business
Strong writing/presentation skills
Investment Appeal (15% welghtlng):
Investment pull based on respective early start-up, matured start-up, and aII-star stage
How to apply:
Are you ready to submit details on your investment opportunity? If Yes.
N-Power: Volunteers Should be Given Permanent Appointment-Senator Shehu Sani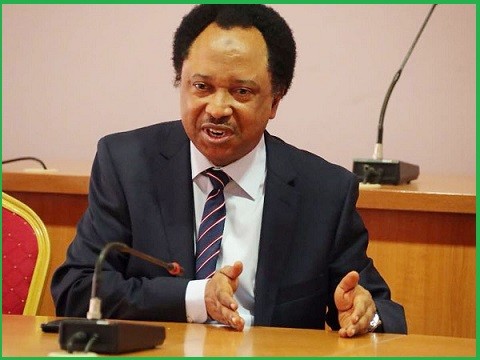 N-Power: Volunteers Should be Given Permanent Appointment-Senator Shehu Sani
See Transitioning Batch A & B: Psychometric Test Past Questions and Answers
N-Power: Volunteers Should be Given Permanent Appointment-Senator Shehu Sani:Formal Senator, Kaduna Central, Shehu Sani has raised issues begging for immediate attention. The enjoyed and advice the Federal Government to treat Npower Volunteers with respect and dignity
In his word "volunteers of the N-power Programme should be given first class treatment(permanent appointment) and care, if repentant Boka haram sects are pardon and given first class treatment, the N-power volunteers deserve even more"
Find Survival Fund: Get SMEDAN Certificate to Replace CAC Cert for Registration
While advocating for better welfare for N-power volunteers, Senator Shehu Sani condemned the idea of disengaging volunteers who are law abiding
Shehu Sani also condemned the special treatment given to repentant bandits than the Nigerian youths serving under the N-Power scheme.
"when you give N30,000 to N-Power volunteers and you give houses, shops and farmlands to repentant miscreants, the former will join the latter" Sani added
He made this statement on his official tweeter handle after the Katsina Government promised to offer bandits farmlands, market stores and houses.
"lt would only embolden the bandits, encourage others to join and further escalate and worsen the situation in the north west and north central", Sani Added