How to Link NIN To 9Mobile in 2021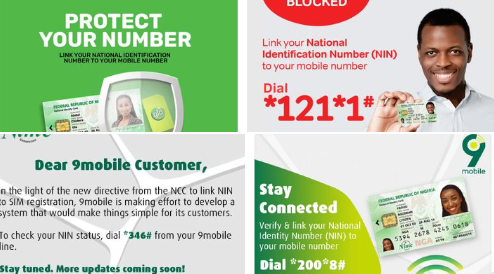 In this article you learn how to link your NIN to 9mobile in 2021. The Federal Government Through the Nigerian Communications Commission (NCC) has directed that all SIM card MUST be link to a National Identification Number (NIN).
Don't know your NIN ? Simply dial *346# to get your NIN
However, it is expected that every Nigerian is enrolled and issued the NIN for the purpose of all round identification. In recent times and maybe in the nearest future, this number is to be linked with every individual activities including banking transactions.
To link Your NIN to 9Mobile:
To link your NIN to 9mobile is simple; simply Dial the USSD code *200*8# and follow the prompts to submit your details;
Or
Click on 'Verify and Link your NIN now'
Fill the required information and submit
NIN Retrieval without a Phone Number
Probably you must have lost your phone number (which you used during enrolment for the NIN) and the temporal NIMC slip, then try the following to retrieve your NIN
Dial the general retrieval code (*346#) with your current number linked with your BVN
Try using the NIMC Mobile app – you can get the app at NIMC webpage or on Google Play store
Go to nimc.gov.ng to print your NIN slip with the QR code and view your mobile
If none of the above work, then proceed to any NIMC office near you to liaise with an official to help you.
Deadline for NIN Registration 
The deadline for NIN registration and linkage to phone lines has further been extended to April 6, 2021 for all subscribers.