How to Verify my inksnation Account with BVN, NIN, Code, KYC, Link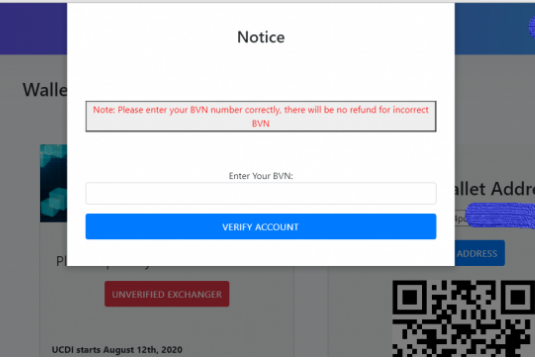 This article contains a guide on How to Verify your inksnation Account with BVN or National ID Card for children. I believe you are here because you probably have issues on how to verify your Inksnation account.
The only official website of inksnation is www.inksnation.io
Inksnation Account Verification with BVN is Absolutely FREE. The Verification is to make sure one person is tied to one account only and to comply with CBN financial law.
Why Do I have to verify my Inksnation Account?
You will need to verify your inksnation account for various reasons.
To have full access to the Accounts
To be able to transact with the Accounts
To have access to Daily and monthly IBsalary
To comply with CBN Financial policy and many more
How to Verify Inksnation Account for End Users
Login into your Inksnation's Account
Click the "KYC/AML" button close to the Living Node Reserve
Select The State You are and you should be able to see list of certified Exchangers
Visit the Exchanger closest to you and he or she will be able to verify you free of charge.
How to Verify Inksnation Account for Exchangers
Firstly, log in into your Inksnation's Account or Wallet
Click the "KYC/AML" button close to the Living Node Reserve
Enter your KoboPay Payment Code
Upload Image of Receipt from KoboPay
Upload any Valid ID card
Select verification type when filling KoboPay
Type in Your Office or Shop Address (Full Address)
Type in Your Local Government
Type in Your Phone Number
Submit
How to Verify your Inksnation Account with BVN, NIN, Code, KYC, Link
Login to your Inksnation account via www.inksnation.io
Enter your Inksnation login details (Username & Password)
Once you successfully log in, your Inksnation Dashboard will open
Click on KYC and enter your BVN details
Click Save, that's all.
For children who don't have BVN yet, they will wait till the upgrade is concluded so they can be verified using the National Identity Number, NIN.
Make sure that your BVN number is correct. After making payment, don't just close the page, wait patiently for it to verify.
Deadline For Inksnation BVN Verification
The inksnation BVN verification will commence November 12th and it is expected to last for as long as the inksnation ledger exists. Anyone who does not do the BVN verification cannot have access to the coins.
If you have any questions regarding insknation verification kindly let us know through the comment section and we would reply you in a jiffy.