JUST IN: Ekiti State Gov. Fayemi, Test Positive for COVID-19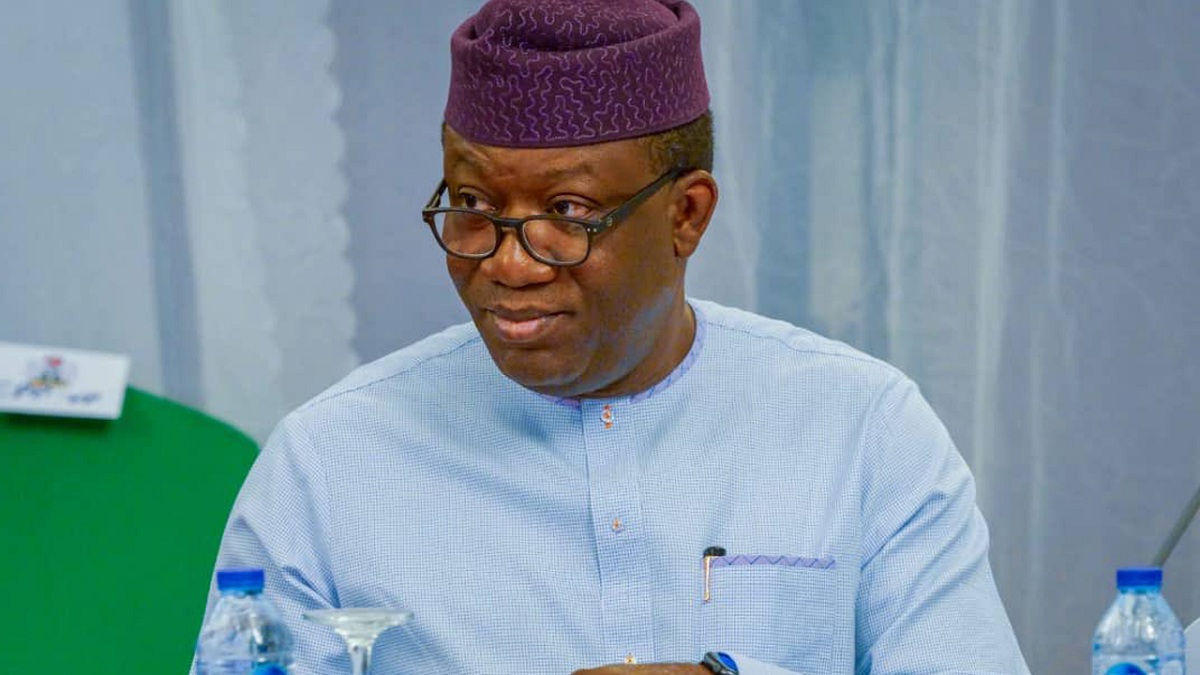 Governor Kayode Fayemi of Ekiti State has tested positive for COVID-19.
Governor Fayemi tests positive for COVID-19
The governor who became positive after a third test said that he's "generally ok" and "already self-isolating" at home
The Governor made the announcement on his Twitter page.
He said he is self-isolating and has dedicated critical task to his deputy.
He wrote, "I took my third Covid-19 test yesterday and it came back positive.
"I'm generally ok and I'm already self isolating at home and receiving the best of care from my medical team.
"I'm delegating critical tasks to my Deputy but will continue routine duty from home."
Resurgence of COVID-19 infection among health workers worrisome – Minister
The Minister of Health Dr Osagie Ehanire said Thursday that the resurgence of COVID-19 infection among health professionals is worrisome.The minister said this at the briefing of the Presidential Task Force on the Control of COVID-19 in Abuja.
"We are concerned by the resurgence of infection in healthcare workers. In a bid to sustain the gains we have made in reducing the rate of infection among our health workers, we have made training and retraining of health workers on infection prevention and control.
"In Abia state, we have concluded the training of 594 Healthcare Workers from private and public health facilities on infection prevention and control. "We are currently investigating healthcare associated infection in a health facility in Kaduna State. Lessons learnt from this will be used to improve service delivery," he said.The minister called on health workers to be more careful in handling cases to address the worrisome resurgence of the virus among them."I encourage our health workers not to drop their guards as the pandemic is still with us. Use your PPEs appropriately and judiciously. We have ensured that PPEs are available in all our health facilities," he said.
The minister also called on Nigerian youth youth to be more careful and take adequate precautions against COVID-19."This pandemic has had its impact on our young people. As at yesterday, 46 percent of positive cases in the country are young people between ages 21-40. I will therefore appeal to our youths to take responsibility.
"Let us ensure that we adhere to the advisories to wear face masks appropriately, regularly wash your hands and ensure respiratory hygiene."Our target remains to test one percent of our population across the country. As of today, more than 70 percent of all the tests conducted have been in nine states including Lagos, Kano, FCT, Plateau, Oyo, Kaduna, Edo Ogun Rivers with 25 percent of the tests in Lagos alone. We shall continue to work with state governments to ramp up case findings and sample collection activities," he said.
PDP has won Edo election – Obaseki's deputy, Shaibu
Edo deputy governor, Philip Shaibu, has declared that the People's Democratic Party (PDP) has won the governorship poll.
The election will be held on September 19.
Shaibu spoke on Thursday in Jattu, Etsako West Local Government Area.
He expressed joy over the large turnout of supporters at the party's campaign rallies.
Shuabu, while addressing supporters in his Ward 11, said: "With the crowd, I see here, this election is won by PDP already."
He noted that the poll "is for the liberation of the people. The governor is bringing development closer to the people."
Shaibu further urged them to remain steadfast.
"You people have been with me since when I was in the House of Assembly. Give me the same support and I will not disappoint you," he said.
NEWS: PDP vs APC: Alarm raised over tension, violence in Edo
Governor Godwin Obaseki promised the people that they would not be betrayed.
"As a government, we must continue to pay salaries, pensions, and create employment. We won't allow few people to distract us from achieving greatness," he added.
NCDC reveals why Nigeria's COVID-19 cases are low
The Nigeria Centre for Disease Control (NCDC) has disclosed that the low number of the COVID-19 cases in the country is due to the lesser amount of samples collected across the states.
Chikwe Ihekweazu, NCDC Director-General, stated this during the Presidential Task Force briefing on COVID-19 in Abuja on Thursday.
Ihekweazu, who was represented by Mrs. Elsie Ilori, NCDC Head of Surveillance and Epidemiology Department, stated that the testing labs were underutilized because the states were not collecting enough samples for the laboratory to test.
"As mentioned earlier since the Sallah break we have had some of our confirmed cases have been very low compared to what we'll be having before, but this isn't because the numbers are getting low but because we are not collecting enough samples.
"If you notice, the number of samples collected during Salah was very low, and we believe it was because of the festival season some labs even went on break, it should not have been.
NEWS: Ex-Minister of Justice, Richard Akinjide buried in Ibadan
"So we are working with the states to quickly address this so that we do not have this kind of situation again," he said.
According to the Ihekweazu, we sometimes know when we look at stigmatization, people say they do not want to go to testing sites because they'll be stigmatized.
"But I mean, this isn't something to be ashamed of, we have just had an example amongst us, it can happen to anybody.
So, please let us come out and be tested."