Major Reasons for Investing in Rice Distribution Business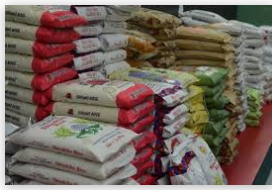 Use the Search Button below for more details.
Starting a rice distribution business in Nigeria can be a better way of making Millions of Naira. In this article, I will walk you through the major reasons for investing in rice distribution business.
TRENDING NOW
Major Reasons for Investing in Rice Distribution Business
Rice is not a perishable food like vegetables, if water does not get to it and it is placed on wooden pallets, it will take at least 4 years for the rice to get spoiled. Within this period, there is no way you cannot sell your stock of rice.
Nigeria is Africa's biggest economy. The population of Nigeria is 170million people and by the year 2021, it will be about a 200million people.
The statistic shows that about 22million bags of rice is consumed every month. So there is a big and growing market for rice in Nigeria.
There is always a ready market in almost any locality. If you go into the business as a wholesaler, you will always find many retailers around you, who will patronize you regularly.
Rice is an essential commodity, almost like salt and sugar. No wonder even billionaire businessman Aliko Dangote is investing $1billion in integrated farming. You can hardly go wrong with this business.
Have a blessed day!