N-Exit Registration, Login Portal is nexit-fmhds.cbn.gov.ng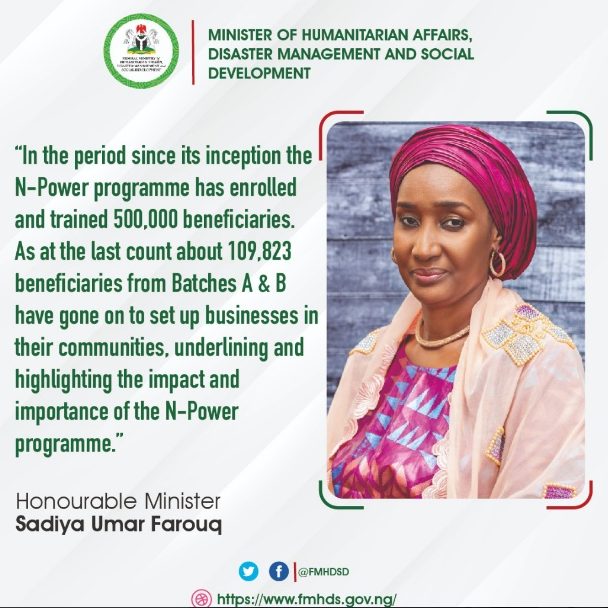 nexit-fmhds.cbn.gov.ng: The N-Exit website launched some few days ago, to allow Npower exited volunteers to register their interest in the CBN affiliate loan program will now be ready on or before Sunday, the 7th of December 2020.
TRENDING NOW
Umar Sadiya, the Minister of Humanitarian Affairs, Disaster Management and Social Development was responding to a question, disclosed the readiness of the N-Exit web portal to register all exited volunteers who will show interest in the programme.
"Our engineers have put the site in order, volunteers will commence full registration on or before the Sunday, the 7th of December, we, therefore, apologies for any inconveniences this might have caused"
Nexit registration portal has been released, all volunteers who are still enrolled but exited are required to login and complete a form in the site.
N-Exit Registration Requirements nexit-fmhds.cbn.gov.ng
You must be An Npower Exited Volunteer
You must enrolled in your NPVN statue
Volunteers' "onhold or Abscond" can not register
How to Apply for NEXIT Programmes:
Login to Nexit Portal www.nexit.fmhds.cbn.gov.ng
Create an Account by Signing in with User Name
User Name can be Email or phone Number
Enter your Email and Password
Click on NEXIT Portal
Fill in your correct details Click on Submit.
How to Login to N-exit Registration Portal?
You can login to Nexit registration portal by following the simple steps below
Input your email address and password
Click on Login
How to Register for N-exit Registration Website nexit-fmhds.cbn.gov.ng
Go to https://nexit-fmhds.cbn.gov.ng/auth/login
Click on Sign Up
Input your details in the fields provided
Make sure your email address is the same as the email address you use during Npower registration in 2016
Click Sign Up
Congratulations! You have successfully registered for the N-Exit Website 2020.
If you have any questions regarding the Npower exit programme, kindly leave a reply below using our comment box. Also, if you find this article interested, kindly help us share and don't forget to subscribe to our newsletter to be the first to receive the relevant update that concerns you.