Nigerian Navy Shortlisted Names PDF 2019 (Download)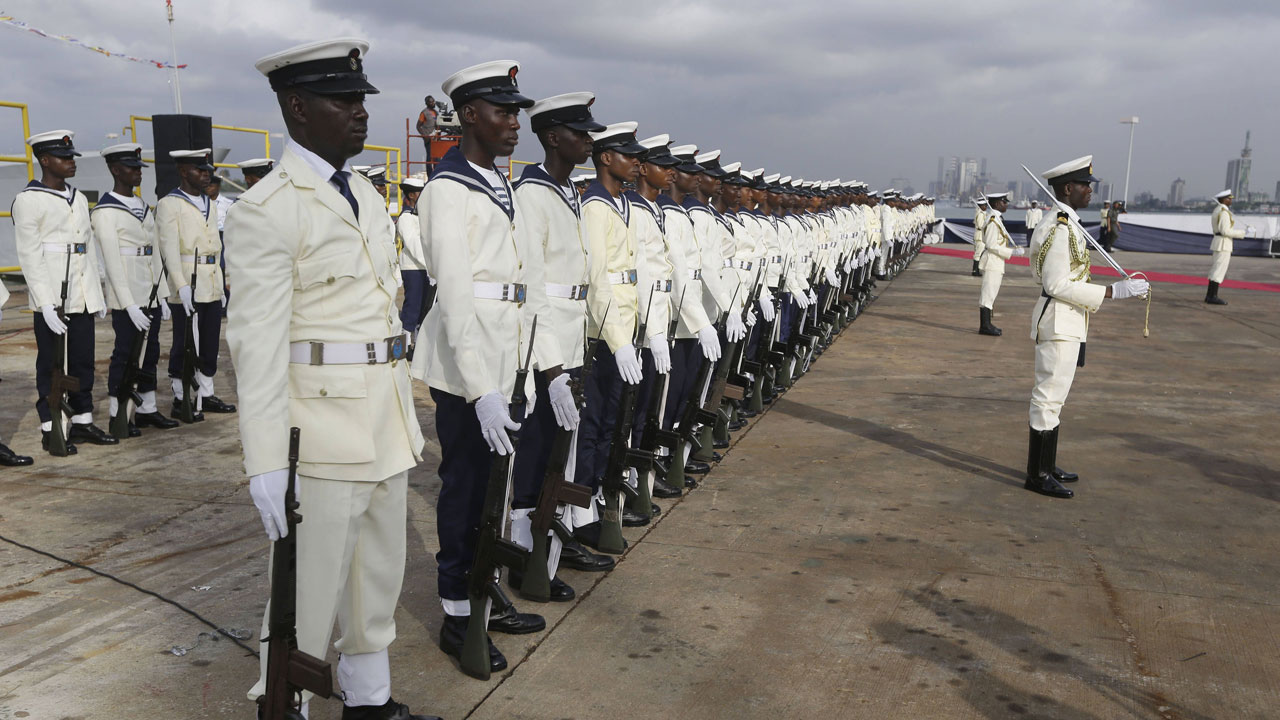 The Nigerian Navy wishes to inform the general public that the list of successful candidates in its 2019 Recruitment Aptitude Test has been released officially online at www.joinnigeriannavy.com.
The successful candidates are to report for selection interview at the Nigerian Navy Secondary School Ojo, Navy Town, Lagos from Monday 29 July – Tuesday 27 August 2019.
The interview will include screening/verification of credentials/certificates, medical/physical and written tests.
Candidates are to come along with the following items:
a. Originals and photocopies of their credentials.
b. Originals and photocopies of valid Drivers' License (Category H only).
c. Writing materials.
d. Two pairs of navy blue shorts and 2 white (unmarked) T Shirts.
e. A pair of canvas/trainer and stockings.
f. Bed sheets and pillow cases.
g. Set of cutlery.
h. Four (4) recent 30 x 30 passport sized photographs on white background.
2. Candidates will be interviewed individually and if it is found that any of
the candidates does not fulfill the eligibility criteria, his/her candidature shall be
terminated at any stage of the recruitment process.
3. If any information/declaration given by the candidates at any time during
the entire selection process is found to be fake/false/wrong, his/her candidature
shall be cancelled and he/she shall be handed over to the Nigeria Police Force
for possible prosecution.
5. The candidates are to attend the interview by states in the following
order:
Batch A. Monday 29 Jul – Wednesday 7 August 2019.
(1) Anambra.
(2) Akwa Ibom.
(3) Bayelsa.
(4) Delta.
(5) Edo.
(6) Ekiti.
(7) Kwara.
(8) Imo.
(9) Ogun.
(10) Ondo.
(11) Osun.
(12) Oyo.
Batch B. Thursday 8 – Saturday 17 August 2019.
(1) Abia.
(2) Benue.
(3) Borno.
(4) Cross River.
(5) Ebonyi.
(6) Enugu.
(7) FCT.
(8) Gombe.
(9) Lagos.
(10) Nasarawa.
(11) Niger.
(12) Rivers.

c. Batch C. Sunday 18 – Tuesday 27 August 2019.
(1) Adamawa.
(2) Bauchi.
(3) Jigawa.
(4) Kaduna.
(5) Kano.
(6) Katsina.
(7) Kebbi.
(8) Kogi.
(9) Plateau.
(10) Sokoto.
(11) Taraba.
(12) Yobe.
(13) Zamfara.
6. Any candidate who fails to report for screening on the stipulated date for
his/her Batch will forfeit his/her candidature.
7. All concerned are to note and comply accordingly.
Online Wealth:5 Easy ways to Make lots of Money Online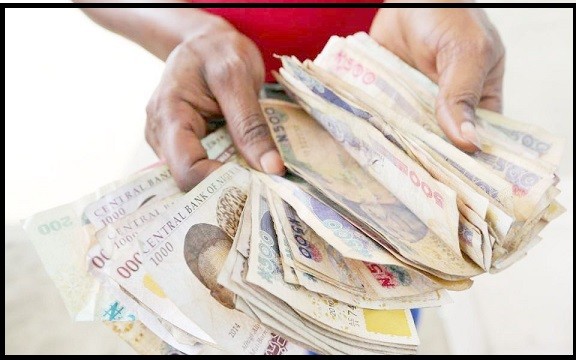 Online Wealth:5 Easy ways to Make lots of Money Online
Online Wealth:5 Easy ways to Make lots of Money Online: There are several ways to make legitimate money online without indulging in crime (yahoo yahoo).
See Job Alert! Blogger at Light Be-Apply Here (Juicy Pay)
The internet is vast, and it has a lot of job opportunities for those who are willing to work.
Here are a few ways to make cool money off the internet that can pay your bills
Blogging
Have you ever wondered how bloggers make millions of cash monthly? They do so by placing adverts from companies on their sites.
These companies pay them as you visit their site. Every time you visit a blog the owner gets paid instantly.
See The Pains of Npower Graduates who Earn Less than Corps Members
To start blogging you would need look for a niche that interests you.
A niche is a specific area which you have passion for. Blogging niches touch every area of the human life from Food, Clothing, Housing, Finance, Travel destinations and so much more.
 After finding your niche you then get a domain name that suits you and refers to your chosen niche.
Next you get a company that would host your blog and you are ready to start blogging.
Freelancing
Freelancing is remotely working for a company without going to an office.
As a freelancer you can sit from the comfort of your home and earn your money.
There are many jobs you can do as a freelancer and you can work for as many companies as you wish.
As a freelancer you do not need to spend unnecessary money on transport and things which other workers spend extra on.
 Freelancing gives you the freedom you desire, and it also puts enough cash in your pocket.
There are many freelancing sites on the internet today so choose a good one and register today to start earning.
Taking Online Surveys
The internet is a beehive of activities and some companies pay others to ask the public questions about their product and services.
These companies that ask the public questions are called survey sites. Survey sites pay their audience to answer questions about certain things.
The money gotten from surveys are small, but they can also add to your account.
Surveys vary in time and in the amount paid but it a good way of earning though the frequency of surveys depends on the country you stay in.
Owning an E-store
The internet is large, and it is the best way to promote your business. If you have goods to sell you can open an e-store to display your products and their prices.
Products and services are displayed on the e-store to attract buyers.
Discount offers and advertisements are also placed on the store to give the buyer all the information about the products and services offered by the seller.
You can sell products directly through your e-store or you can direct your client to your warehouse.
Writing and Selling E-books
The world has entered an age where everything is done electronically. Nowadays people prefer to read online books than the paper ones.
This means that there is a great demand for online books.
Creating online books is quite easier than expected. It even reduces the cost which authors face in creating books of paper.
After you have successfully written your book the next step is to publish it.
There are sites that do that with ease. In no time you can start making money from you work. This is a good way to make money online.
Since the internet is a beehive of activities there is always an opportunity out there for you to earn money if you are willing to work hard.
300,000 Batch B Enrollee to Get N30,000 July Stipend this Week-Ikem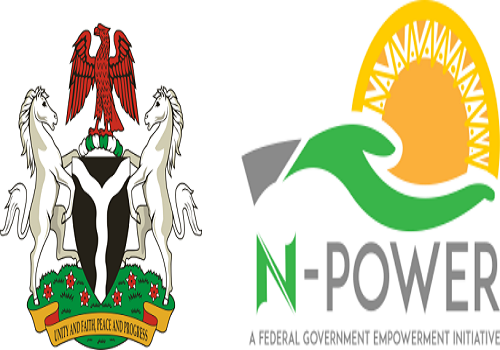 The last lap of stipend disbursement to exited volunteers of the Federal Government N-power Scheme will receive payment not later than Friday this week
Nneka Ikem Anibeze, the new appointed Special Assistant on Media and Publicity to the Hon Minister Sadiya Umar Farouq made this known few hours ago in a report on the National Food Security Council Meeting supervised by HM @Sadiya.farouq
"Who made a presentation on the "Role of Humanitarian Affairs in Aiding Food Security.
The presentation highlighted the strategy of @fmhds_ng towards the achievement of food security and attainment of the Sustainable Development Goals (specifically Goal 2 to end hunger), attainment of food security & improved nutrition and promotion of sustainable agriculture by 2030, in congruence with the relevant stakeholders.
The presentation highlighted the initiatives of the Ministry to provide shock responsive social safety nets through immediate food relief and long-term sustainability through "Zero Hunger".
We have made concerted effort to pay the last lap of the N-power enrollee before we commencement of the next stage of the programme-she added
Batch B Exited volunteers of the Npower Programme did not get their pay last week because the Office of the Accountant General of the Federation is yet to approve payment
Sadiya Umar, the Minister of Humanitarian Affairs, Disaster Management and Social Development has already forwarded Batch B's July stipend to the Accountant-General's Office for payment of July Stipends
The office of the Accountant General of the Federation (AGFs) has conducted final checks and payments
This will payment of 14,000 volunteers rejected by GIFMIS easy and fast
Sadiya, in a talk show, disclosed that she has signed off payment of both Batch B, and that payment is no longer in her jurisdiction but in the of Accountant General of the Federation (AGFs)
Nigerian Army Recruitment 80RRI 2020 Online Application Form Open – (How to Apply)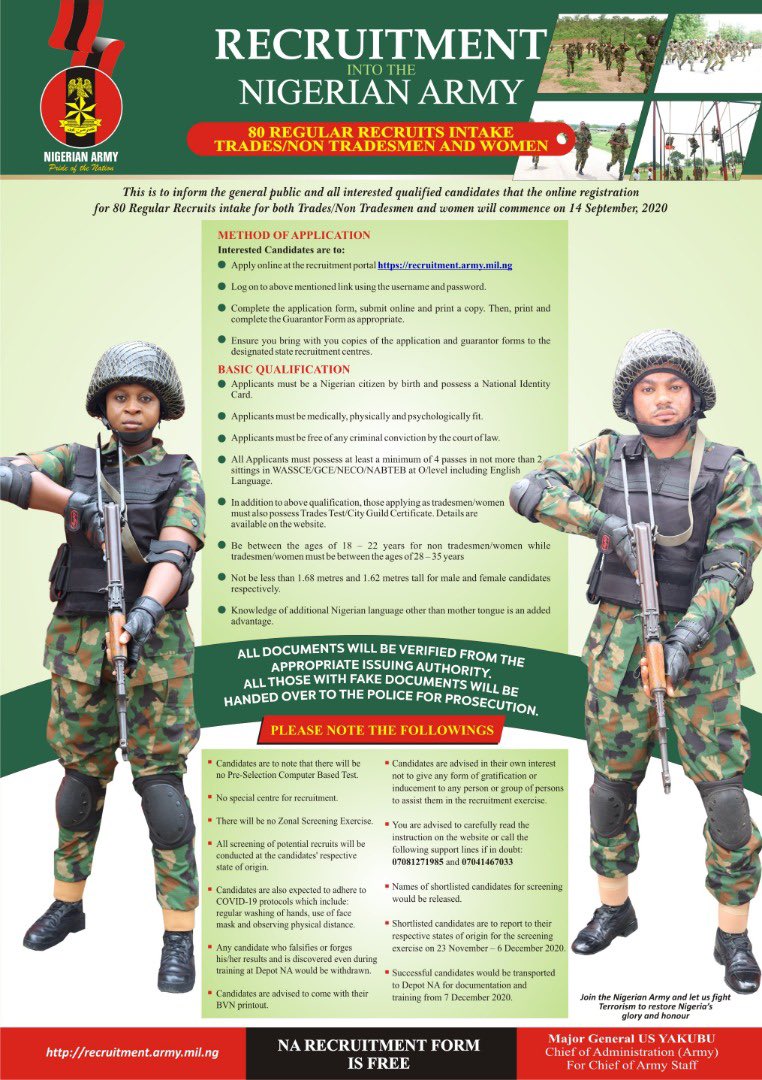 This is to inform the general public and all interested qualified candidates that the online registration for Nigerian Army Recruitment 80RRI 2020 for both Trades/Non-Tradesmen and women will commence on 14 September. 2020.
The online registration for Nigerian Army 80 Regular Recruits Intake, Nigerian Army (NA) for both Trades/Non-Tradesmen and Women will commence on 14 September 2020.
On this guide, you will learn the requirements you need to apply for the Nigeria Army Recruitment 80RRI 2020 Application.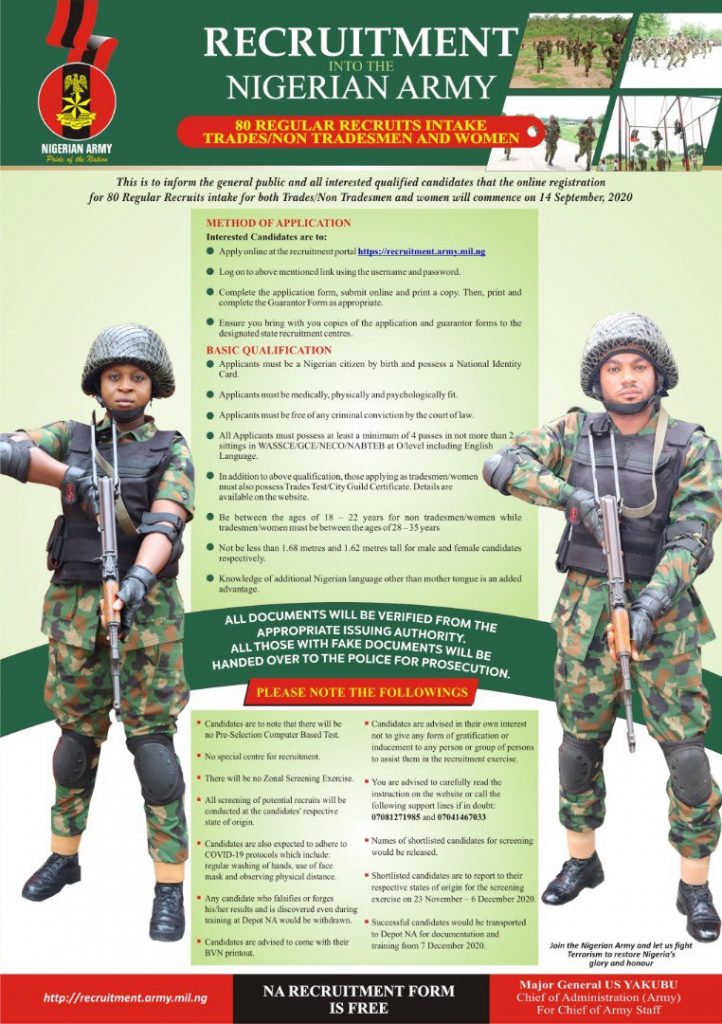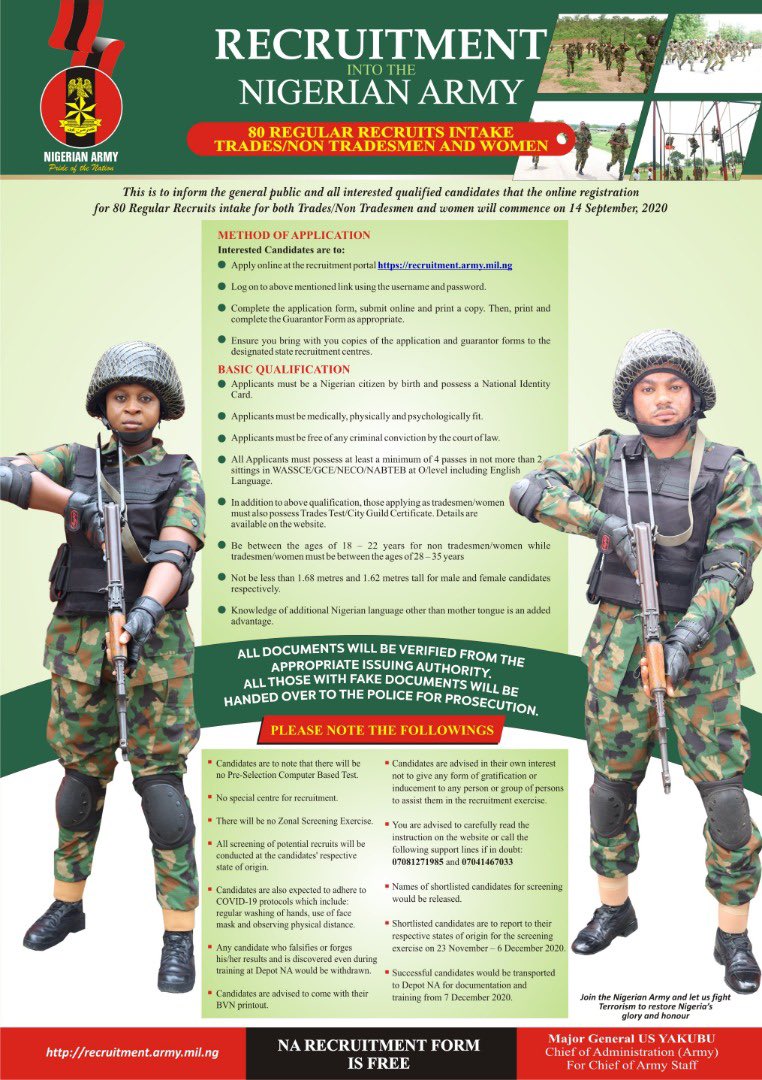 Nigerian Army Recruitment 80RRI 2020 Requirements
Applicants must be a Nigeria citizen by birth and must possess a National Identity Card, you how to get your national ID CARD
Applicants must be medically, physically and psychologically fit to be eligible for the application
Also, You must be free from any criminal conviction by the court of law.
Similarly, you must possess a least a minimum of 4 passes in not more 2 sitting in WAEC/NECO/NABTEB or O'Level including the English Language
Furthermore, those applying for tradesmen/tradeswomen must also possess the Trade Test Certificate.
You must be between the age of 18 and 22 for non-tradesmen and 28 to 35 for tradesmen.
Additionally, your height should not be less than 1.68m for men and 1.62 for women.
It will interest you to know that it will be an added advantages if you are familiar with the three major Nigerian Languages.
How to Apply Nigerian Army 80rri Recruitment 2020
You can apply for the Nigerian Army Recruitment form 2020 by following the instruction bellow:
Go to https://recruitment.army.mil.ng/
Log on to the above website and create an account.
Log in with the email and password you created the account with.
Complete the application form, submit online and print a copy, Then print and complete the Guarantor Form.
Ensure you bring with you copies of the application and guarantor forms to the designated state recruitment.
PLEASE NOTE THE FOLLOWING THAT WILL TAKE EFFECT ON THE NIGERIAN ARMY RECRUITMENT 80RRI 2020 APPLICATION PROCESSES:
There will be no Pre-selection Computer Based Test to be conducted on candidates.
No special centre for recruitment.
There will no Zonal Screening Exercise.
All screening of potential recruits will be done at the candidates' respective state of origin.
Candidates are to Adhere to the COVID-19 protocols which include regular washing of hands use of face marks and observation physical distance
Any candidates who falsify or forges his/her results and discovered even during training at Deport NA would be withdrawn.
All candidates are to report to the Screening Centres with their bank Verification Number Printout.
Candidates are advised in their own interest not to give any form of gratification or inducement to any person or group of persons to assist them in the recruitment exercise.
Name of shortlisted candidates for screening would be released.
Shortlisted candidates are to report to their respective states of origin for the screening exercise on 23 November – 6 December 2020
Successful candidates would be transported to Deport NA for documentation and training from 7 December 2020