Npower Portal Set to Open, 400,000 Volunteers to be Recruited – (View Details)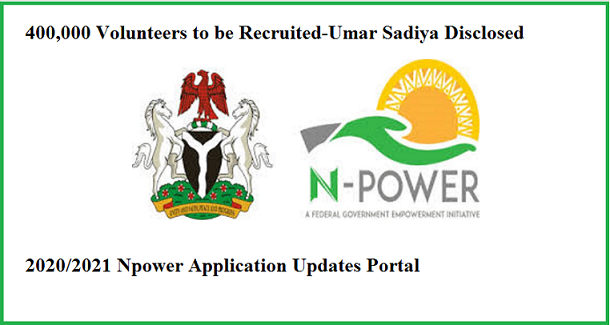 All is set to bring new Npower volunteers into the programme, a Social Investment programme that was established to reduce the high unemployment rate in the country.
There are currently close to 500,000 in the Npower programme, serving in different segments and categories in Places of Primary Assignment (PPA).
The programme will boast of 1 MILLION volunteers when 400,000 numerical strength is added to it, making it the largest in Africa, and an accolade to the Buhari administration.
Last month, the Hon. Minister of Humanitarian Affairs, Disaster Management and Social Development, Umar Saidya Farouq, disclosed plans to welcome 400,000 volunteers
Watch Video:
In her precise words, "We are working hard to streamline the programme for greater efficiency and to provide opportunities for more Nigerian youths. We will recruit 400,000 volunteers by June.
According to Punch Newspaper, "The minister said, Batch A beneficiaries were denying other Nigerians an opportunity to access the programme and gain skills for entrepreneurship and employment"
"Apparently, batch A have overstayed their welcome, enjoyed more grace of being paid stipends, with devices"

"But more Nigerian youths need to be onboarded to alleviate poverty at large, in line with the president vision of lifting 100 million people out of poverty by creating opportunities to enhance the productivity of the Nigerian youth"
A look at the Npower website, shows major changes have taken place, set to receive applications when the registration hits the ground running.
Umar Saidya Farouq, the Social Development Minister will make a pronouncement in respect to this very soon
Warning! the Npower portal is not open for registration yet, don't fall a victim to fraudsters, when the portal opens, we will be the first to tell you. Please know that the registration is commencing 26 June.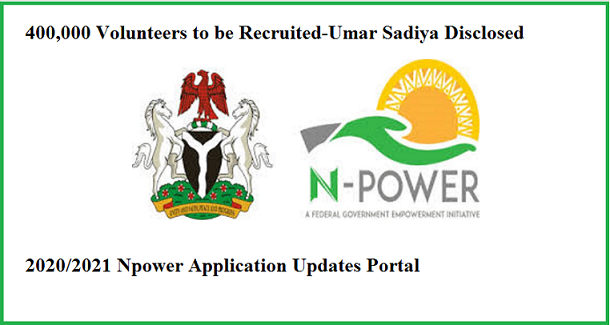 American International Insurance Company (AIICO) Insurance Plc. Job Vacancy
American International Insurance Company (AIICO) Insurance Plc. is a Life Assurance Company which commenced operations in Nigeria in 1963. AIICO insurance plc is the leading player in the industry with the largest and most profitable agency network in Nigeria.
It has acquired the highest quality of learning systems and processes. We are recruiting to fill the position below:
Job Title: Sales Executive
Location: Lagos
Job Requirements
Must have completed a minimum qualification of HND, Bsc in any course of study
Candidates must be residence in lagos.
Must have completed NYSC
Age bracket (29-45) years
Must have good communication skills
Must be presentable, smart and proactive
Must have good customer relations skills and have flair for sales.
To Apply
Interested and qualified candidates should their CV to: [email protected] using the Job Title as subject of the email.
Application Deadline: 15th August, 2020
Breadish Bakery Recent Available Job Opportunity
Breadish Bakery is an excellence driven, fast growing Bread Factory & Food Manufacturing Company based in Akoka, Yaba Lagos, Nigeria. We are seeking the services of skilled and experienced candidates for the position below:
Job Title: Master / Head Baker
Location: Lagos
Job Description
Our Ideal Master/Head Baker is an experience Leader who can bake without supervision and will lead and supervise the entire production process of all our Bread Products from Start to Finish.
The Master/Head Baker will execute and improve recipes, perform quality checks on ingredients and finished products and enhance food presentation.
You will also supervise a Team of Assistant Bakers and perform other duties to ensure that customers' needs are satisfied and the bakery is well-stocked and operating smoothly.
Candidate will be efficient and friendly with a focus on food quality and customer satisfaction. You should be organized, decisive, attentive, and possess a strong understanding of baking techniques.
Supervising the display finished products.
Testing ingredients and finished goods to ensure that each item meets food safety and quality controls.
Keeping records relating to inventory and daily production information.
Supervising the Cleaning and restocking of Inventory and ensuring that all equipment are sanitized and prepared for the next shift.
Requirements
High School Diploma or equivalent.
5 years or more experience in a Baking role.
Strong communication, time and resource management, and planning skills.
Attention to detail, especially when performing quality inspections on ingredients and products.
Basic math and computer skills.
Willingness to work independently or with other team members to solve problems, plan schedules, fulfill orders, and create amazing baked goods.
Flexibility to work around customer demands, including early morning, night, weekend and holiday availability.
Ability to work in hot, hectic environment, stand, walk, bend, use hands and appliances, and lift heavy items for extended periods.
To Apply
Interested and qualified candidates should send their CV and Cover Letter to: [email protected] using the Job Title as the subject of the email.
Application Deadline: 20th August, 2020.
Dream Print Nigeria Limited Recent Job Vacancy – Apply Now!
Dream Print Nigeria Limited is recruiting suitably qualified candidates to fill the position below:
Job Title: Warehouse Manager
Location: Nationwide
Job Description
Overseeing receiving, warehousing and distribution operations.
Implementing operational policies and procedures.
Implementing and overseeing security operations.
Ensuring effective and safe use of warehouse equipment.
Ensuring safety of staff.
Motivating and disciplining staff.
Maintaining documentation and keeping accurate records of warehouse activities.
Maintaining awareness and knowledge of condition and location of fleet vehicles.
To Apply
Interested and qualified candidates should send their Application Letter and CV to: [email protected] clearly indicating the "Job Title" as subject of your mail.
Application Deadline: 21st August, 2020.