Npower Portal Set to Open, 400,000 Volunteers to be Recruited – (View Details)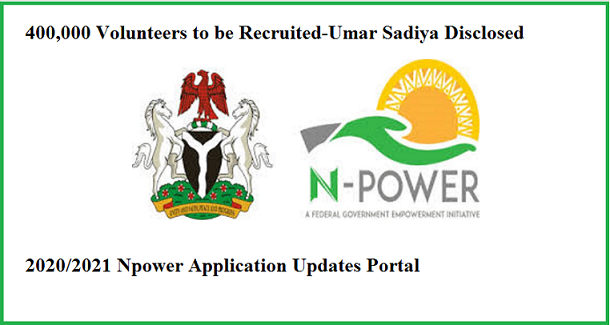 All is set to bring new Npower volunteers into the programme, a Social Investment programme that was established to reduce the high unemployment rate in the country.
There are currently close to 500,000 in the Npower programme, serving in different segments and categories in Places of Primary Assignment (PPA).
The programme will boast of 1 MILLION volunteers when 400,000 numerical strength is added to it, making it the largest in Africa, and an accolade to the Buhari administration.
Last month, the Hon. Minister of Humanitarian Affairs, Disaster Management and Social Development, Umar Saidya Farouq, disclosed plans to welcome 400,000 volunteers
Watch Video:
In her precise words, "We are working hard to streamline the programme for greater efficiency and to provide opportunities for more Nigerian youths. We will recruit 400,000 volunteers by June.
According to Punch Newspaper, "The minister said, Batch A beneficiaries were denying other Nigerians an opportunity to access the programme and gain skills for entrepreneurship and employment"
"Apparently, batch A have overstayed their welcome, enjoyed more grace of being paid stipends, with devices"

"But more Nigerian youths need to be onboarded to alleviate poverty at large, in line with the president vision of lifting 100 million people out of poverty by creating opportunities to enhance the productivity of the Nigerian youth"
A look at the Npower website, shows major changes have taken place, set to receive applications when the registration hits the ground running.
Umar Saidya Farouq, the Social Development Minister will make a pronouncement in respect to this very soon
Warning! the Npower portal is not open for registration yet, don't fall a victim to fraudsters, when the portal opens, we will be the first to tell you. Please know that the registration is commencing 26 June.