NYSC Verification of Certificate 2020 for Foreign Candidates Date Announced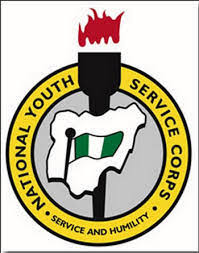 NYSC Verification of Certificate 2020: This is to inform all foreign-trained graduates who registered online for the 2020 Batch 'A' service year, whose credentials and travel documents are yet to be physically verified that the verification exercise has been scheduled to hold from Monday 6th to Friday 17th of July, 2020.
While the dates for the centres will be communicated to individual prospective corps member on their dashboard, the exercise for those who chose the FCT as their centre will commence from Monday 6th to 9th July 2020.
Centres and locations for the exercise are listed below:
1. ENUGU
NYSC Secretariat, No. 2 Abakaliki Road, G.R.A., Enugu state
2. BAUCHI
Shadawanka Barracks, Nigerian Army, Bauchi
3. EDO
No. 2 Red cross Road, Off Ikpokpan G.R.A., Benin city, Edo state
4. FCT(ABUJA)
NYSC Orientation Camp, Kubwa, Abuja
5. KANO
Children's park, Bakavu Barracks, Nigerian Army, Airport Road, Fagge, kano
6. LAGOS
NYSC Orientation Camp, Iyana Ipaja, Lagos state
7. OSUN
NYSC Secretariat, New Ikirun Road, Osogbo, Osun state
8. RIVERS
NYSC Secretariat, 40 Ikwere Road, Port-Harcourt, Rivers state
9. SOKOTO
Eagle officers Mess, 8 Division Garrison, Nigerian Army, Ginginya Barracks, Gusau Road, Sokoto
NOTE for NYSC Verification of Certificate 2020 for Foreign Candidates Date Announced
You will receive SMS or check your dashboard for the date and time assigned to you.
As part of measures to ensure social distancing and smooth conduct of the exercise, you are expected to strictly report on the date and time specified for you at the venue you indicated when you registered online.
You are to present all original credentials and travel documents as uploaded online during registration.
Furthermore, you are to adhere strictly to the National Centre for Disease Control (NCDC) COVID-19 safety protocols of hand washing, as well as carry along hand sanitizers and face masks and maintain personal hygiene.
You are also to note that only persons whose credentials are duly physically verified and cleared will be deployed, Exempted or Excluded from National Service.
Exited Npower Volunteers Will Be Paid As Soon As FEC Approve Budget – NSIP Spoke Person
We Will Pay Disengaged Npower Volunteers June, July outstanding stipends (backlog) As Soon As FEC Approve Budget – NSIP Spoke Person (We have no reason holding your stipends, there is no fund available at the moment)
According to the statement made by NSIP spoke-person, the Minister of Humanitarian Affairs, which means that there is no money at hand to pay disengaged volunteers, volunteers have to wait, pending when the Federal Executive Council Approve the fund presented to her as regards to stipends.
The spoke man as assured all disengaged volunteers, not to worry over the matter, as soon as FEC approves the budget presented to them, payment will be initiated.
"We have no reason holding your stipends, there is no fund available at the moment, as soon as the FEC approves the Budget we gave them, we will settle all affected volunteers" Illia added.
When asked when will FEC approves the budget, she tactically dodged the questions, declined to tell the audience of the time, funds will be approved FEC sat virtually this week, but no money release to this effect, we hope when next week comes, something will be said about it at FEC meeting.
Download WAEC 2020 Timetable PDF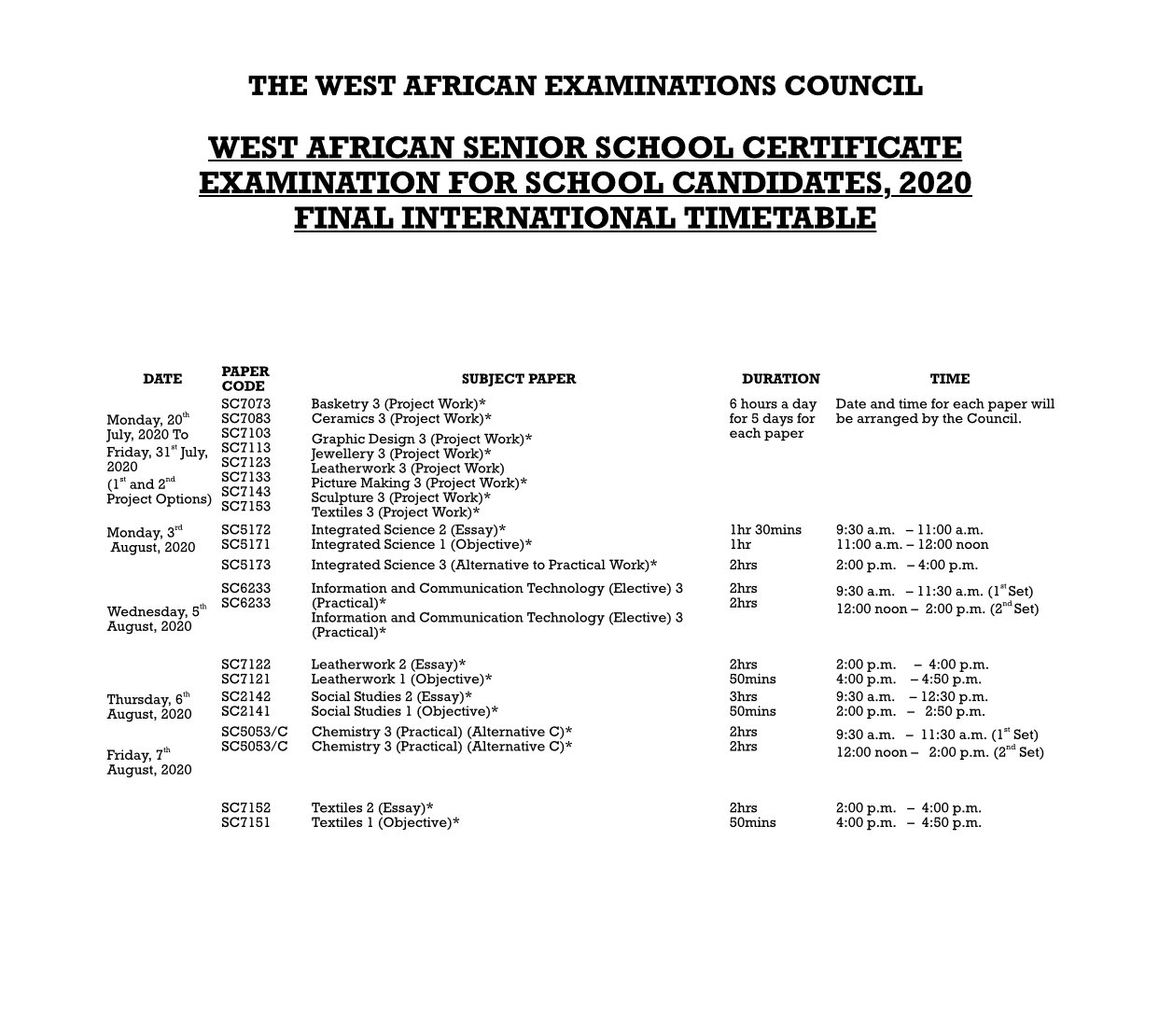 Download WAEC 2020 Timetable PDF: We are pleased to inform the general public especially those are hoping to seat for the 2020 Senior Secondary School Certificate Examination that the Board has officially released WAEC 2020 Timetable and is available for download.
Final International Timetable for the Conduct of WASSCE for School Candidates, 2020
The West African Examinations Council has released the timetable for the 2020 West African Senior School Certificate Examination.
It is will be noted that the Federal Government has earlier announced that graduating student will resume August 4 and WASSCE will begin August 17, 2020, through September 2020.
According to the timetable published by WAEC, the examination will begin on Monday, August 17, 2020, and end on Saturday, September 2020.
Kindly find below and download WAEC timetable 2020 PDF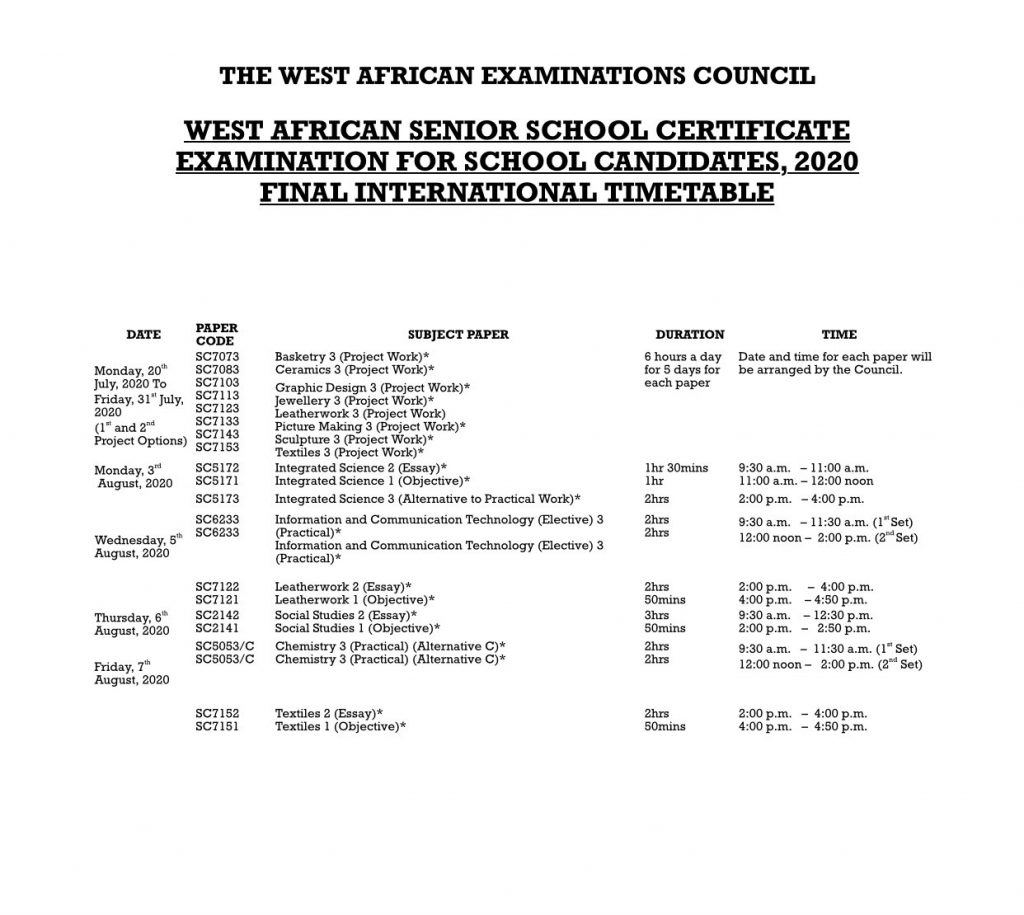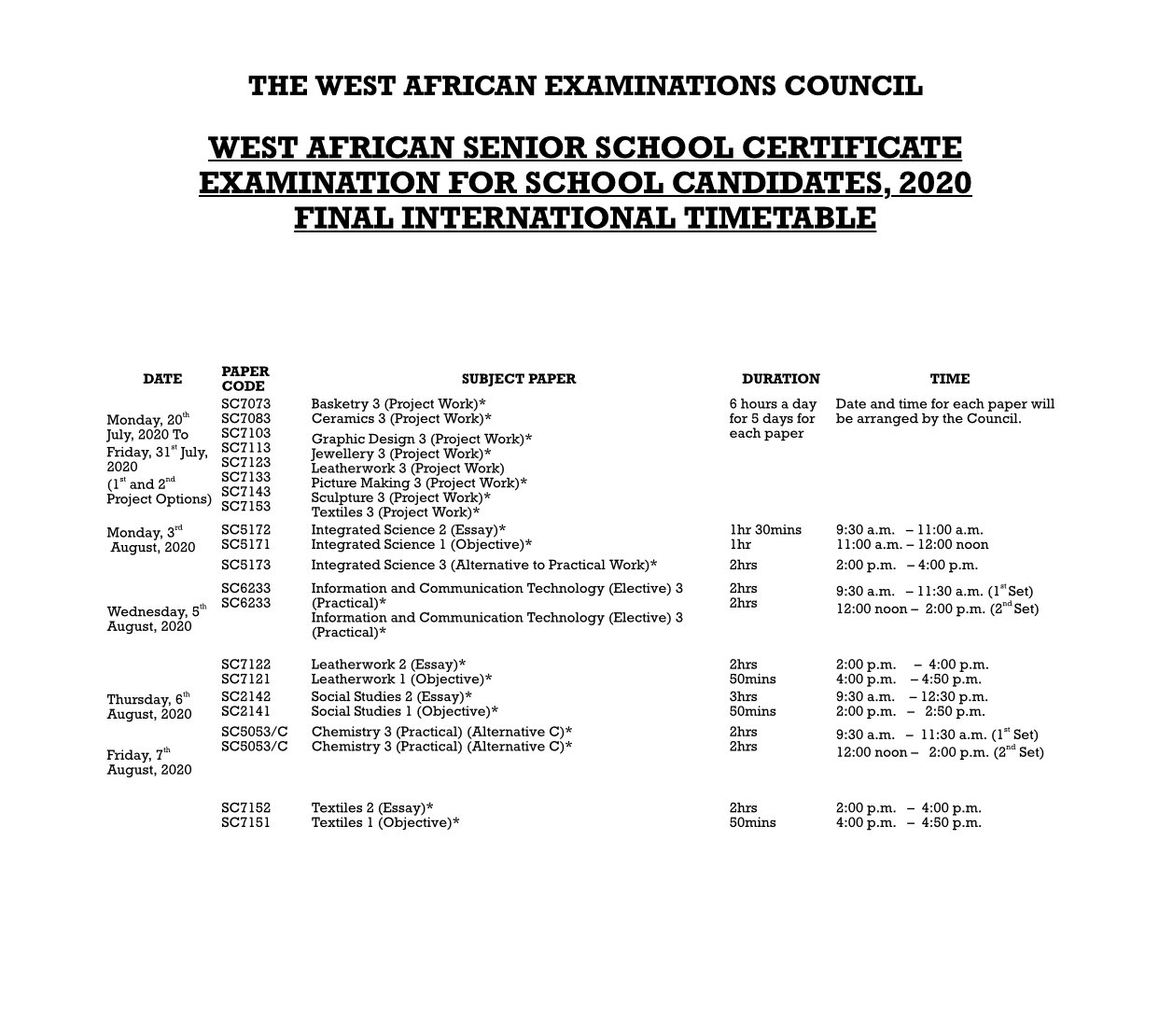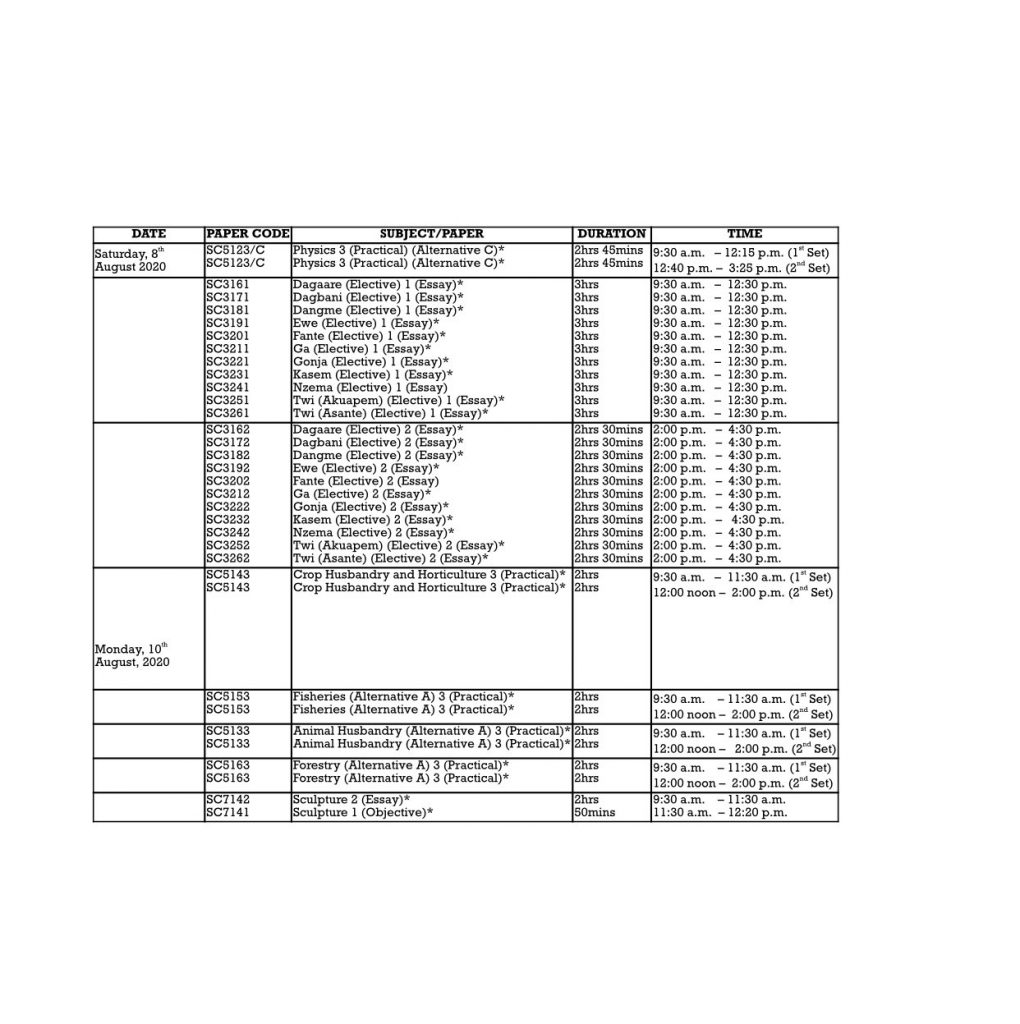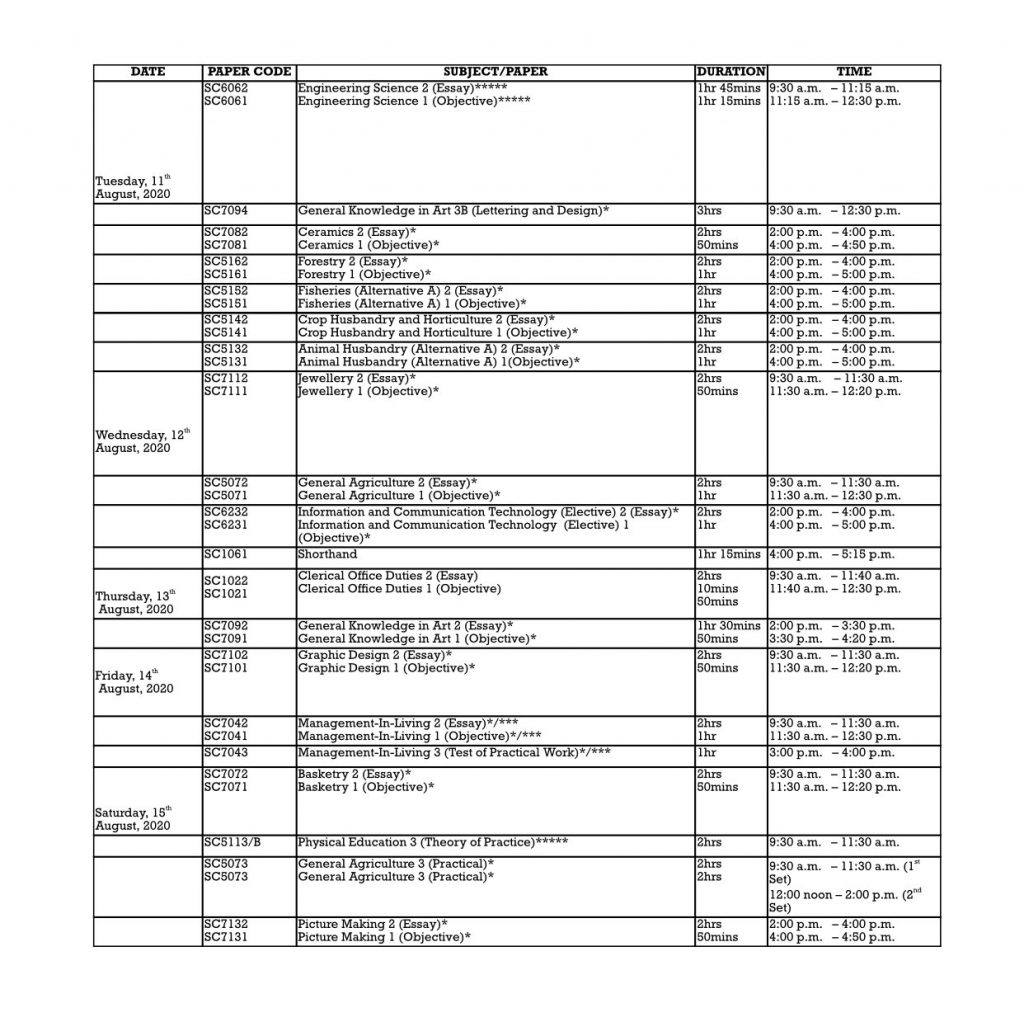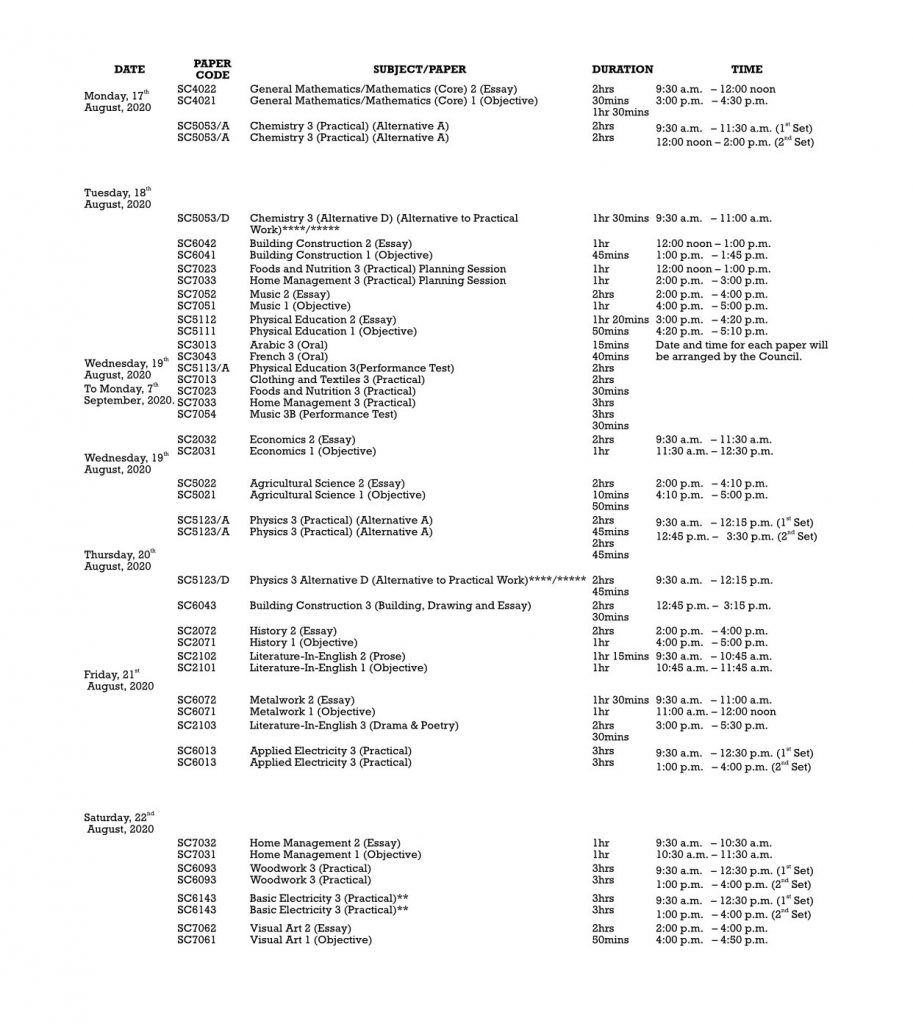 WAEC 2020 Timetable PDF: The board advise candidates to obey the rules and regulations guiding the conduct of the examination by avoiding all forms of exam malpractice and obeying all COVID-19 guidelines that WAEC has put in place.
UK School Employes a 10-year-old Nigerian Girl as Coding Instructor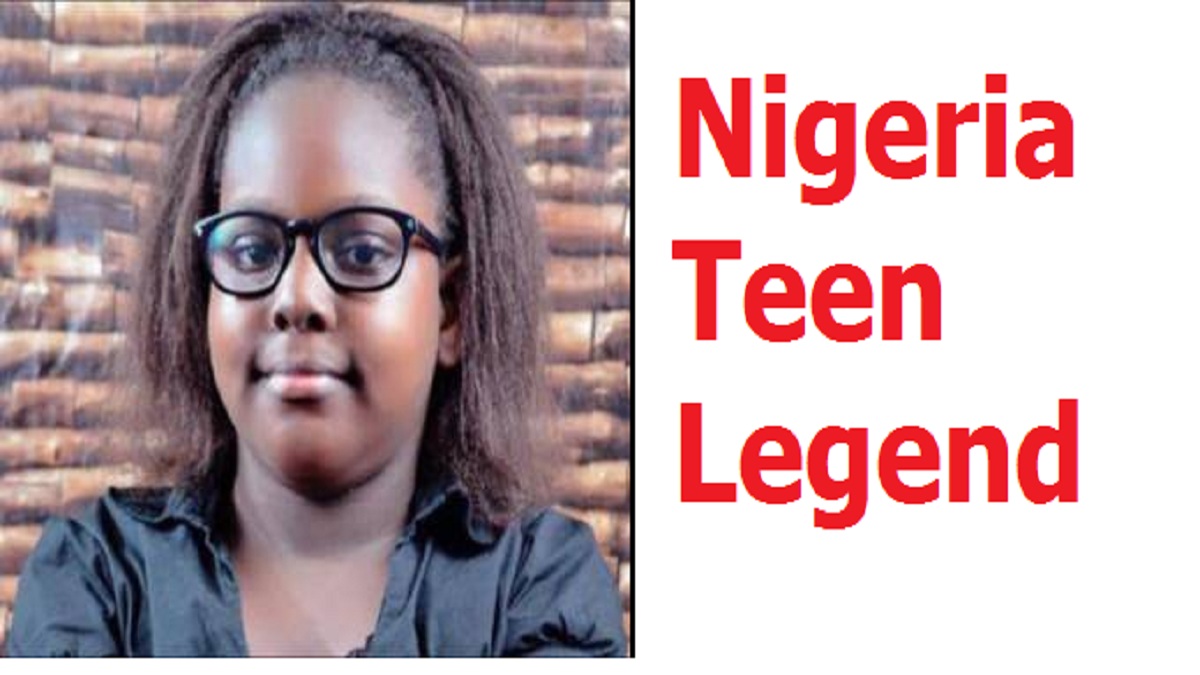 A 10-year-old Nigerian girl identified as Emmanuella Mayaki, has gone viral after she was recently hired by a school in the United Kingdom to be a coding instructor.
Emmanuella was selected by the school management for the job because of her extraordinary skill and knowledge for coding. She received the job at the Southfield Primary School in Coventry, England, as the after school coding club teacher and will be responsible for teaching other kids her age about the basics of coding including HTML and CSS.
According to Emmanuella, her passion for technology started at age 7 and by age 9, she had already obtained a diploma with a speciality in multiple software programs including Advanced PowerPoint, Desktop Publishing, and Advanced Excel. She also has an Academy App on Google Play store for coding and graphics.
Let give a thumbs up for her!