Apply For The Gates Cambridge Scholarship Programme 2020 to study in United Kingdom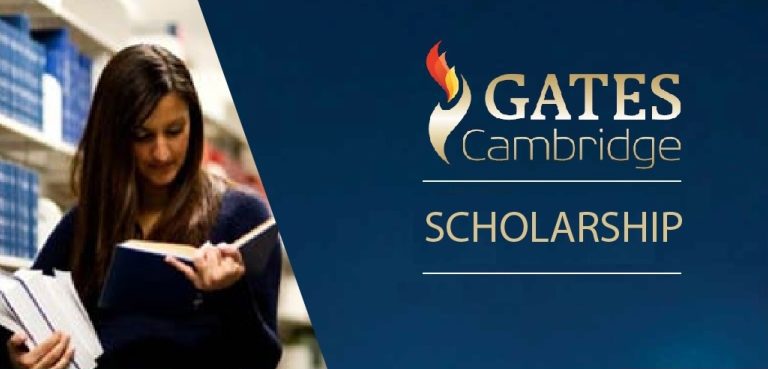 (Fully-funded) Gates Cambridge Scholarship Programme 2020 to study in United Kingdom
Gates Cambridge Scholarship Programme 2020 to study in the United Kingdom are now open. The scholarships are awarded to outstanding applicants from countries outside the United Kingdom to pursue a full-time postgraduate degree in any subject available at the University of Cambridge. The aim of the Gate Cambridge programme is to build a global network of future leaders committed to improving the lives of others.
The Gates Cambridge Scholarship programme was established in October 2000 by a donation of US $210m from the Bill and Melinda Gates Foundation to the University of Cambridge; this is the largest ever single donation to a UK university. For 2020 entry, Gates Cambridge will offer 80 full-cost scholarships to outstanding applicants from countries outside the UK to pursue a full-time postgraduate degree in any subject available at the University of Cambridge. Approximately two-thirds of these awards will be offered to PhD students, with approximately 25 awards available in the US round and 55 available in the International round.
Scholarship Value:
The Gates Cambridge Scholarship is one of the most generous international scholarships available. It covers the following costs:
The University Composition Fee at the appropriate rate
A maintenance allowance for a single student (£17,500 for 12 months at the 2020-21 rate; pro data for courses shorter than 12 months) – for PhD scholars the award is for up to 4 years
One economy single airfare at both the beginning and end of the course
Inbound visa costs & the cost of the Immigration Health Surcharge
The Trust also considers applications for several types of additional funding on a discretionary basis:
Academic development funding – from up to £500 to up to £2,000, dependent on the length of your course, to attend conferences and courses
Family allowance – up to £10,120 for a first child and up to £4,320 for a second child (2020-21 rate). No funding is provided for a partner
Fieldwork – you may apply to keep up to your normal maintenance allowance while on fieldwork as part of your PhD (the Trust does not fund other fieldwork costs as these should be funded by the University Composition Fee)
Maternity/Paternity funding – should you require it, you may apply to intermix your studies for up to 6 months and continue to receive your maintenance allowance during this time
Hardship funding – for unforeseen difficulties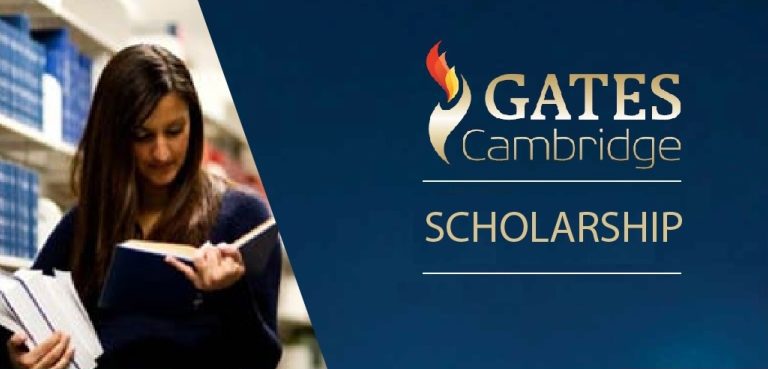 Eligibility:
You can apply for a Gates Cambridge Scholarship if you are:
Any Undergraduate degree such as BA (undergraduate) or BA affiliated (a second BA)
Master of Business (MBA)
Master of Finance (MFin)
MBBChir Clinical Studies
MD Doctor of Medicine degree (6 years, part-time)
Graduate Course in Medicine (A101)
Part-time degrees
Non-degree courses
Selection Criteria:
The selection criteria are:
Outstanding intellectual ability
Reasons for choice of course
A commitment to improving the lives of others
Leadership potential
HOW TO APPLY
Click on the link below 
fill the information
summit the form
DEADLINES:  October 9, 2019 (US Citizens) / January 7, 2020 (Other Applicants)
To apply and for more information visit here
Exited Npower Volunteers Will Be Paid As Soon As FEC Approve Budget – NSIP Spoke Person
We Will Pay Disengaged Npower Volunteers June, July outstanding stipends (backlog) As Soon As FEC Approve Budget – NSIP Spoke Person (We have no reason holding your stipends, there is no fund available at the moment)
According to the statement made by NSIP spoke-person, the Minister of Humanitarian Affairs, which means that there is no money at hand to pay disengaged volunteers, volunteers have to wait, pending when the Federal Executive Council Approve the fund presented to her as regards to stipends.
The spoke man as assured all disengaged volunteers, not to worry over the matter, as soon as FEC approves the budget presented to them, payment will be initiated.
"We have no reason holding your stipends, there is no fund available at the moment, as soon as the FEC approves the Budget we gave them, we will settle all affected volunteers" Illia added.
When asked when will FEC approves the budget, she tactically dodged the questions, declined to tell the audience of the time, funds will be approved FEC sat virtually this week, but no money release to this effect, we hope when next week comes, something will be said about it at FEC meeting.
Download WAEC 2020 Timetable PDF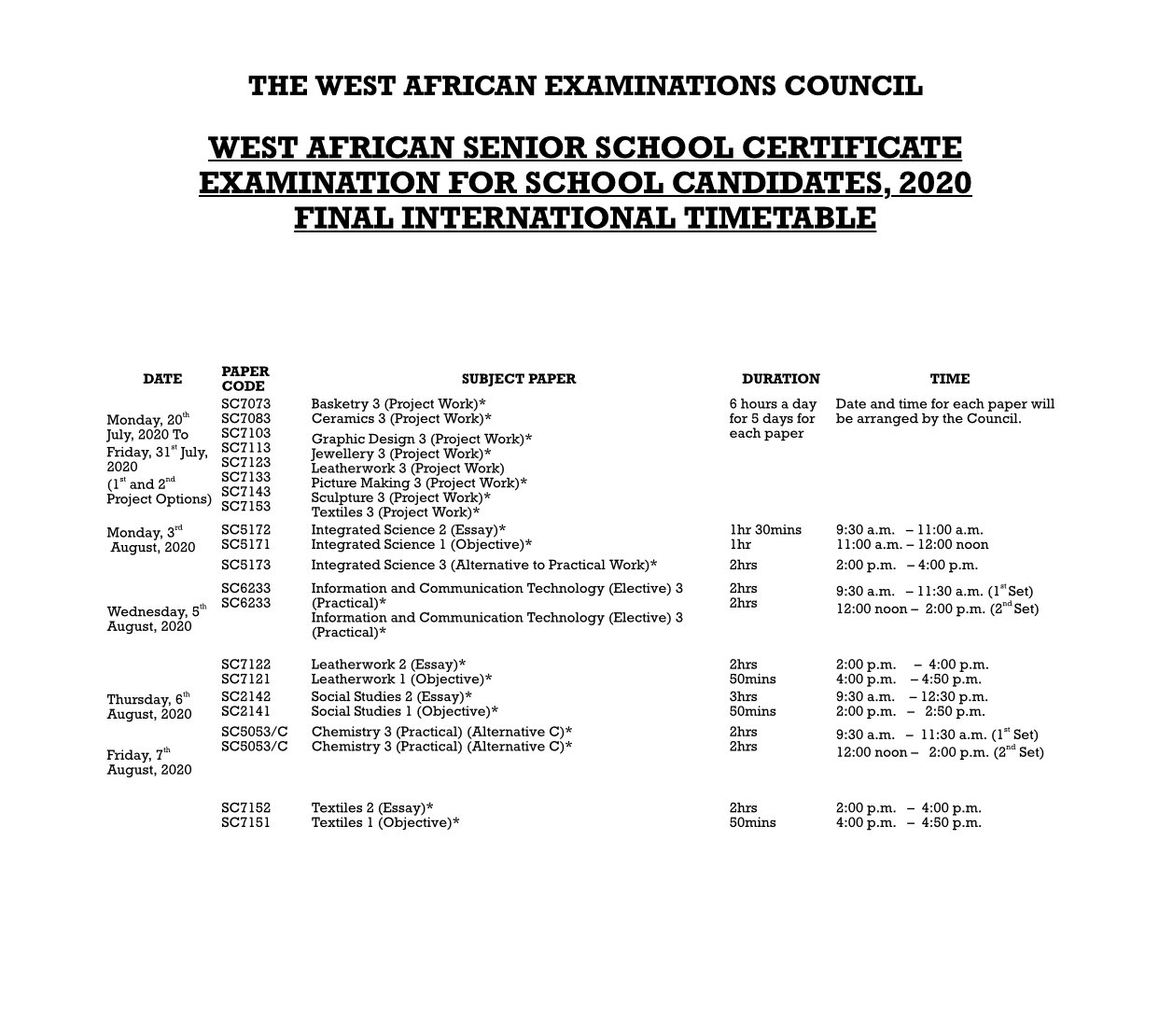 Download WAEC 2020 Timetable PDF: We are pleased to inform the general public especially those are hoping to seat for the 2020 Senior Secondary School Certificate Examination that the Board has officially released WAEC 2020 Timetable and is available for download.
Final International Timetable for the Conduct of WASSCE for School Candidates, 2020
The West African Examinations Council has released the timetable for the 2020 West African Senior School Certificate Examination.
It is will be noted that the Federal Government has earlier announced that graduating student will resume August 4 and WASSCE will begin August 17, 2020, through September 2020.
According to the timetable published by WAEC, the examination will begin on Monday, August 17, 2020, and end on Saturday, September 2020.
Kindly find below and download WAEC timetable 2020 PDF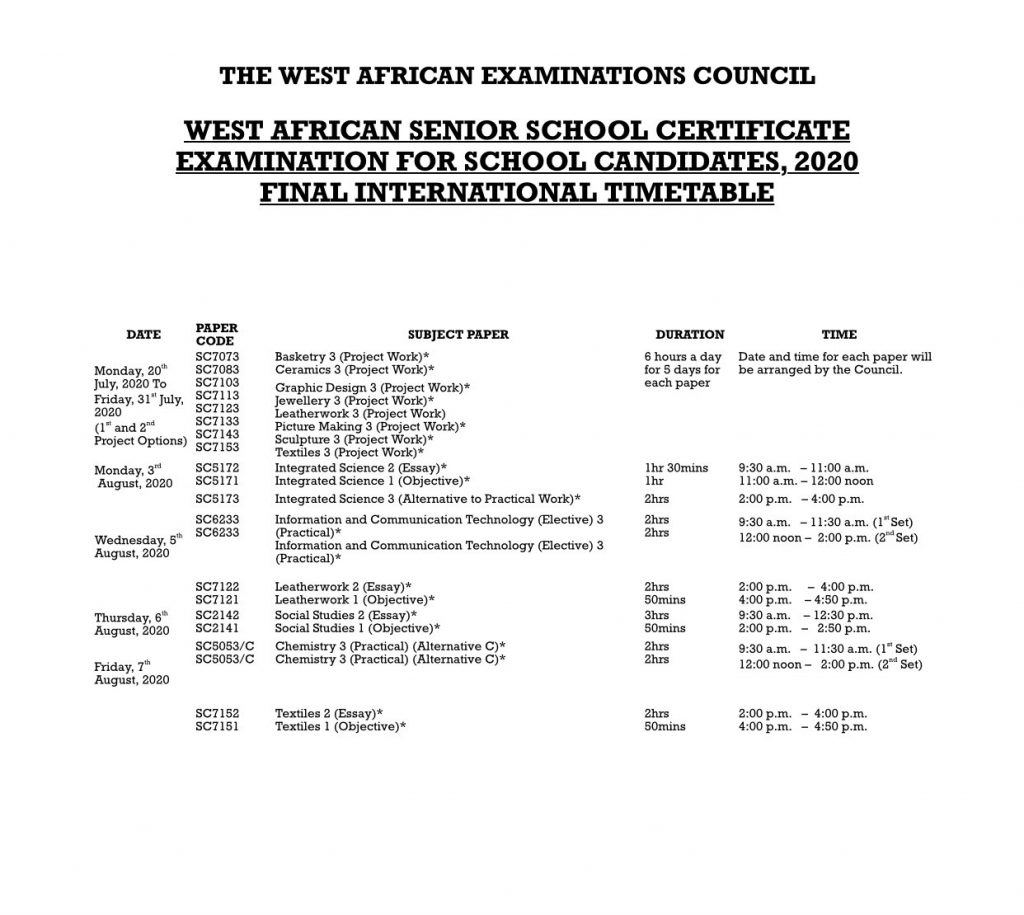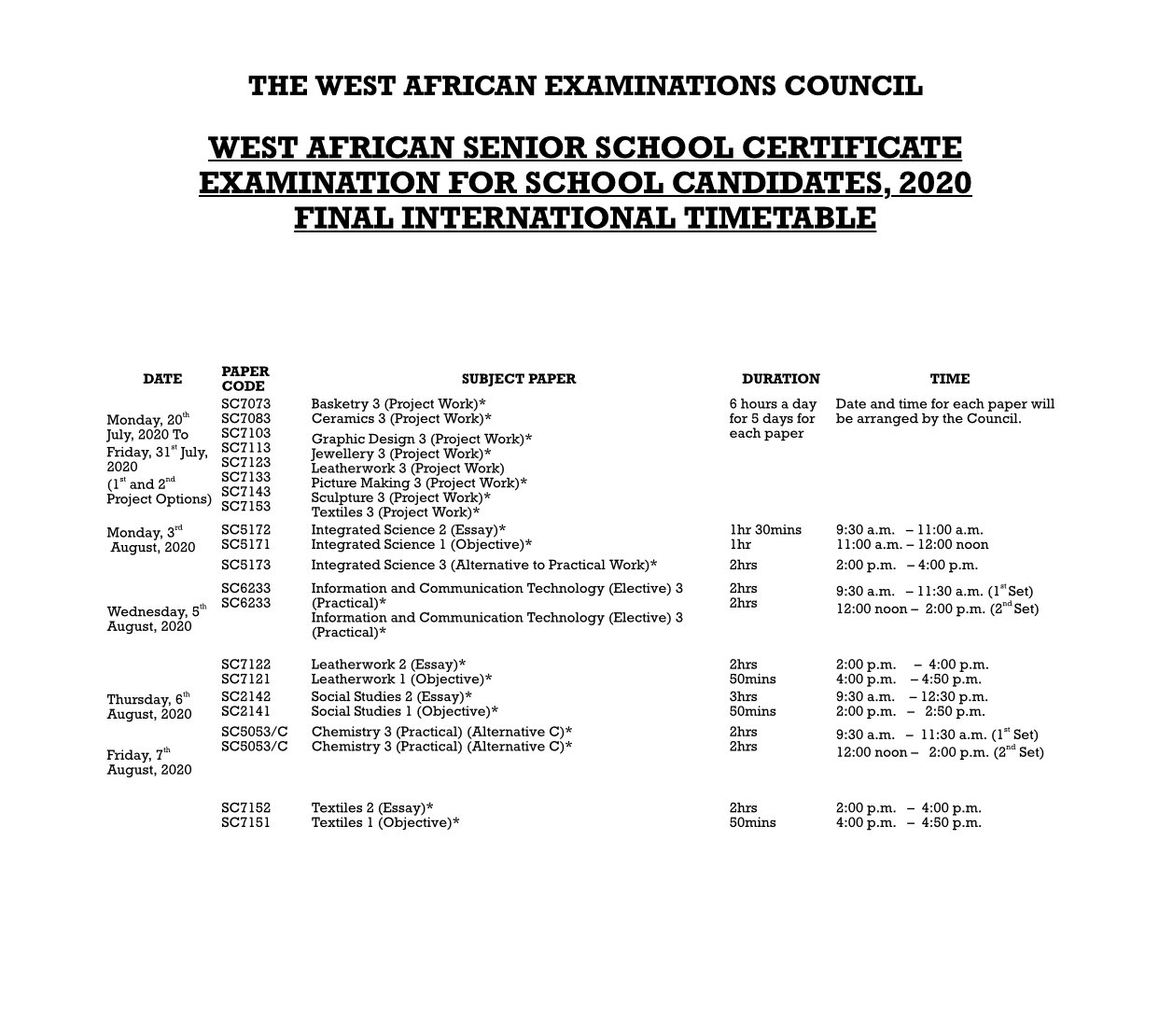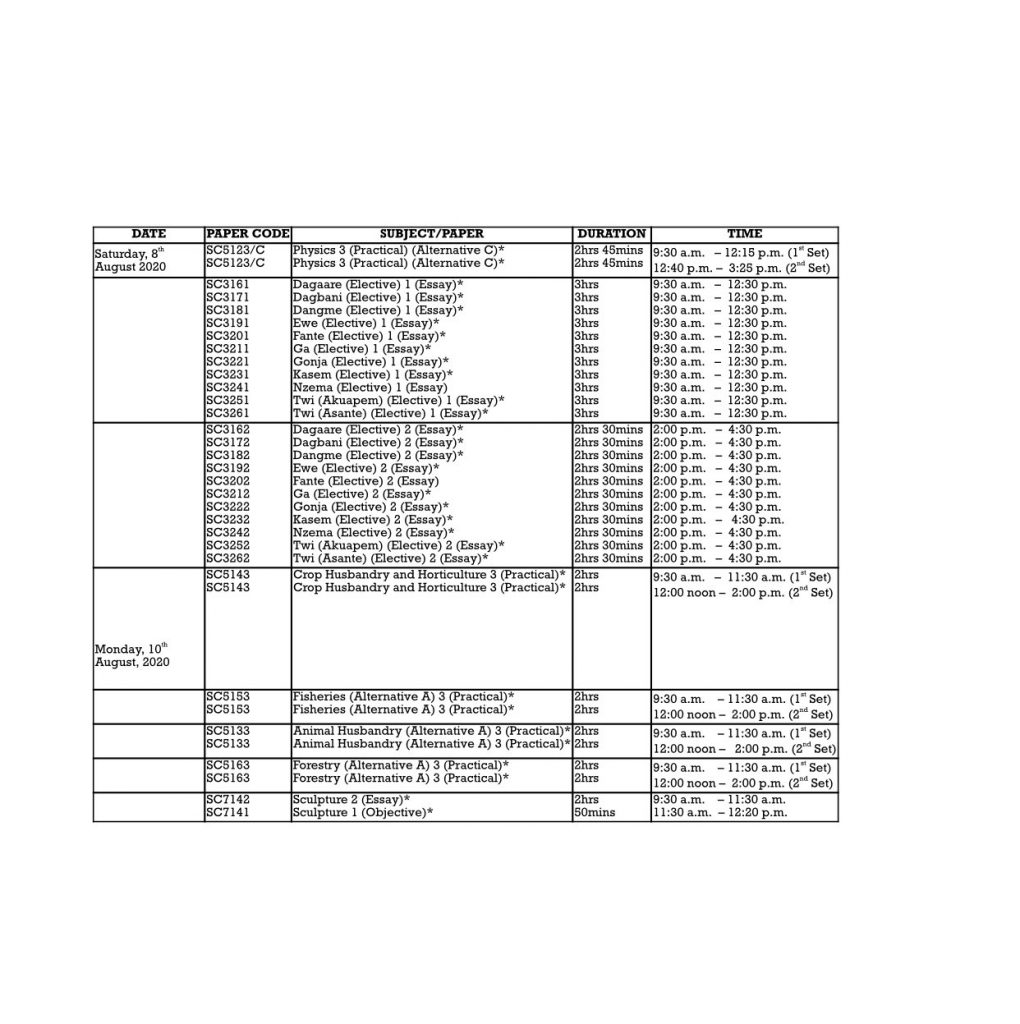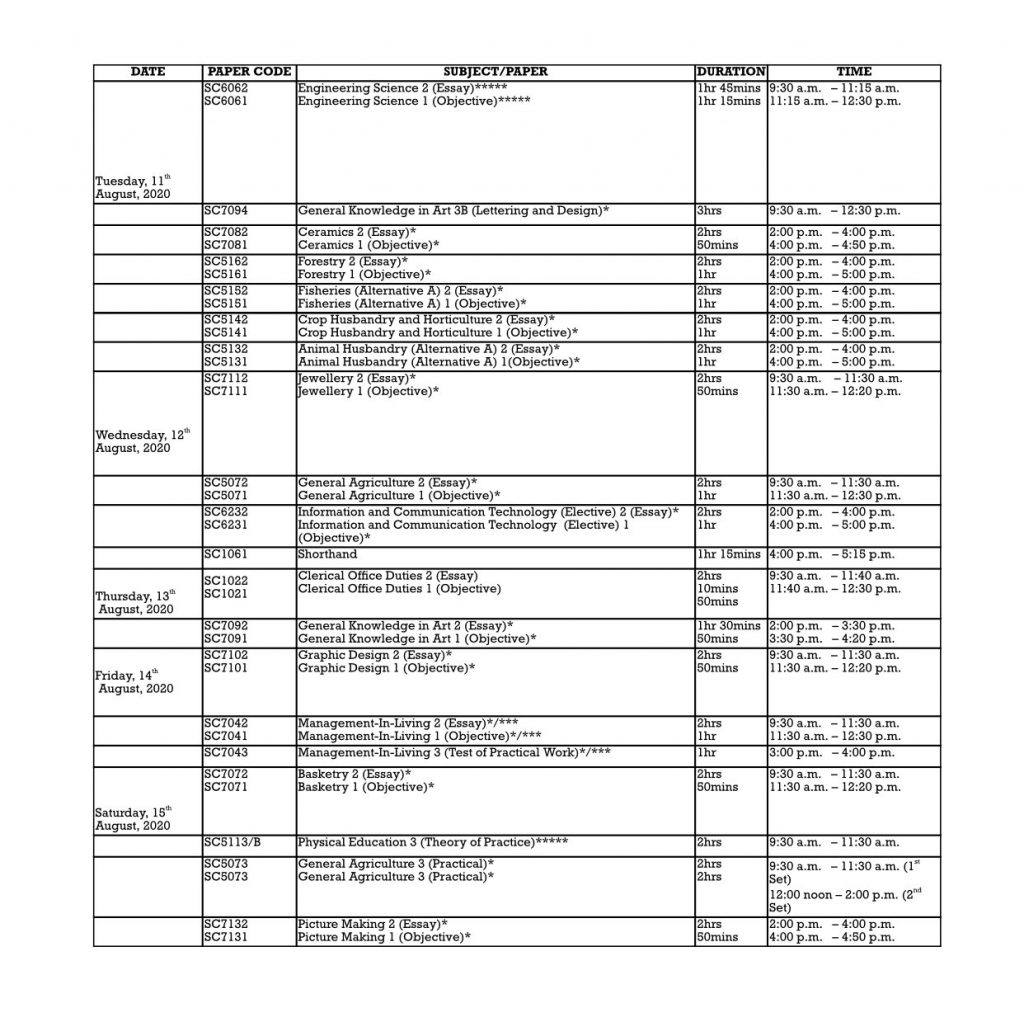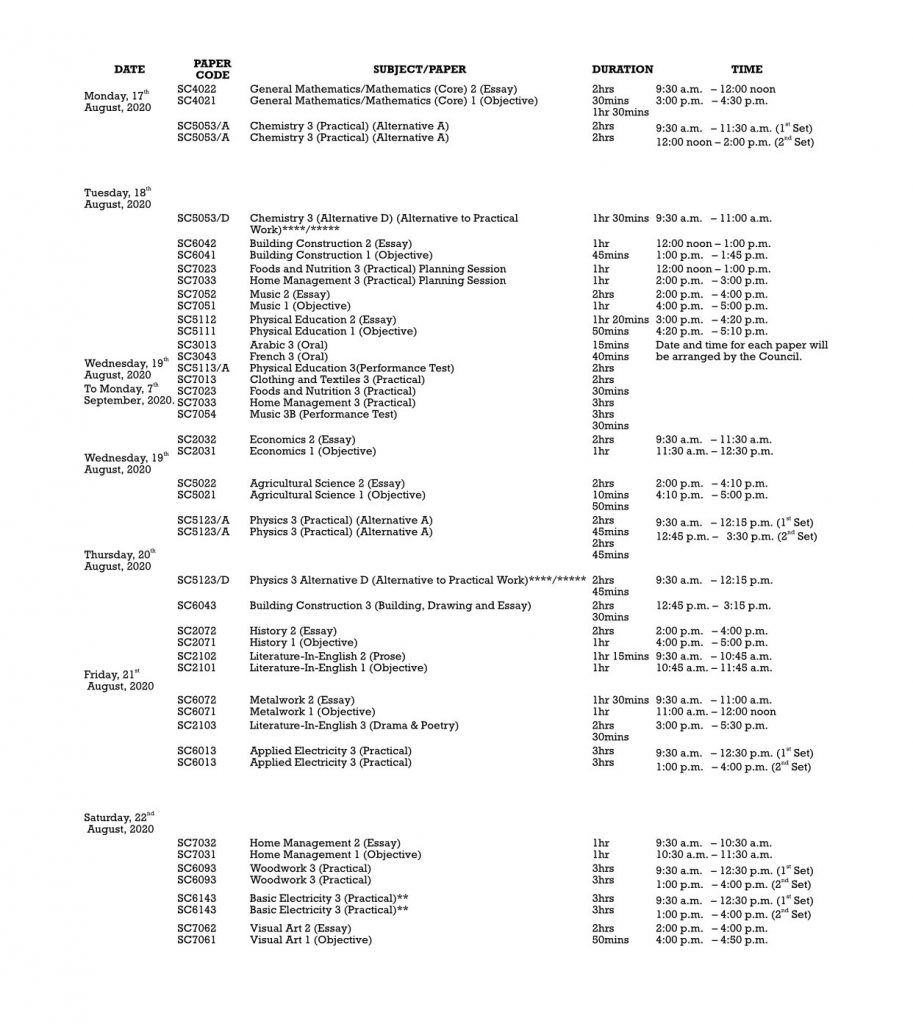 WAEC 2020 Timetable PDF: The board advise candidates to obey the rules and regulations guiding the conduct of the examination by avoiding all forms of exam malpractice and obeying all COVID-19 guidelines that WAEC has put in place.
UK School Employes a 10-year-old Nigerian Girl as Coding Instructor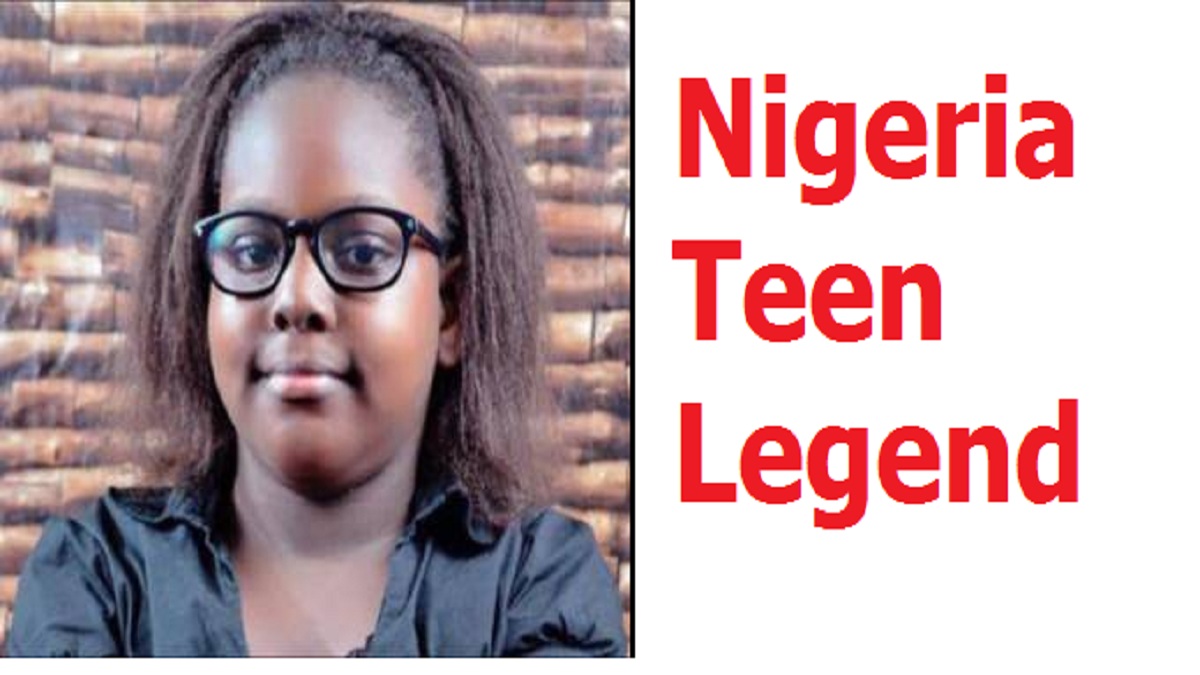 A 10-year-old Nigerian girl identified as Emmanuella Mayaki, has gone viral after she was recently hired by a school in the United Kingdom to be a coding instructor.
Emmanuella was selected by the school management for the job because of her extraordinary skill and knowledge for coding. She received the job at the Southfield Primary School in Coventry, England, as the after school coding club teacher and will be responsible for teaching other kids her age about the basics of coding including HTML and CSS.
According to Emmanuella, her passion for technology started at age 7 and by age 9, she had already obtained a diploma with a speciality in multiple software programs including Advanced PowerPoint, Desktop Publishing, and Advanced Excel. She also has an Academy App on Google Play store for coding and graphics.
Let give a thumbs up for her!