WAEC EduStat: Login, Registration & Review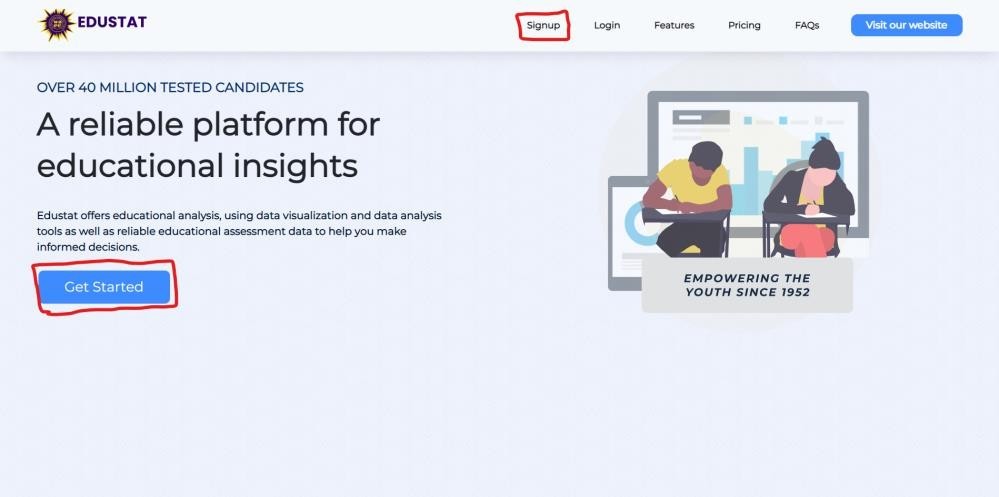 WAEC EduStat offers rich and unique statistical insights into education and assessment in West Africa, using historical and current data to provide detailed intelligence for stakeholders across the globe.
Users can easily go to the portal, sign up, select parameters, select their preferred method of report generation (Summaries, Charts, Maps, Trends, etc), make payments, and collaborate with external systems (If permitted).
TRENDING NOW
Getting started with WAEC EduStat
This article explains the" how-to" of the WAEC EduStat product.
The user flow of the product has been explained in detail starting from the WAEC EduStat landing page, which is the beginning of the user experience, user registration & activation (sign up), and user authentication (sign in) to the actual usage of the product by various categories of users. The use of images has also been adapted to further explain probable user flow.
How to sign-up and login into your personal account
When a first-time user opens the link to the WAEC EduStat website, it takes you to the landing page, this is the home page of the WAEC EduStat portal which introduces users to the general concept of the portal, where you would find useful information about the product and also links that take you to the sign up, login, features, pricing, and FAQs pages also a "visit our website" and a "get started button".
NOTE: The "visit our website" button takes you to the West African Examinations Council (WAEC) official website.
How to Sign-up
Click on the sign-up page link on the nav-bar at the top of your screen labeled "signup" or click on the "get started" button.
On the sign-up page you would find a sign-up form.
NOTE: You are required to fill in all input fields and accept the WAEC EduStat Terms of Service & Privacy Policy.
After your registration is complete you would need to open the link sent to your e-mail for verification. This is very IMPORTANT.
NOTE: You have to confirm your e-mail address to successfully create an account on WAEC EDUSTAT
On confirmation of your e-mail address by clicking on the link attached to the e-mail you received from WAEC EduStat, click on the "proceed to login" page link to move to the sign-in.
How to sign-in
Click on the "Login" page link on the nav-bar.
Fill in your user credential (username and password) in the input text field, then click the login button.
NOTE: If you wish to automatically sign in without having to always fill in your username and password, you can move your mouse to the checkbox where you have "Remember me" and click on it.
As a new user (on your first login only), you would be asked to pick a category e.g., government, researcher, funding agency, school, parent, student, private sector, NGO and individual.
NOTE: You may be asked to provide additional information depending on the category you pick.
As a new user (on your first login only), you would be asked to pick an interest.
After you submit your category choice and interests., you would see a pop-up Click on "OK". Congratulations you have successfully completed the sign up and login process. we hope you have a great experience.
The sidebar is a tool for navigation on the platform, it houses the links to the different features and pages on the WAEC EduStat web application namely my dashboard, invoices, wallet, FAQ, support, feedback, and insight (which is a group of the free insights, generate insights and my reports). You can expand or close navigation bar by clicking on the three row lines on the left side of the navigation bar.
Free Insight Page
The free insight page has free data you can use to get familiar with the analysis tool. If you
click on the "GENERATE INSIGHTS" button, it will take you to the report groups.
How To Generate Insights/Data/Statistics on The Application
Click on "Generate Insights" on the side navigation bar or "Generate Insights" on the free
insights page
Generate Insights
This is where you find the report groups that lead you to all the statistics, graphs, data you are seeking, and also the FIRST STEP OF HOW TO GENERATE A REPORT.
Procedures for Generating Report
Click on one of the report groups. After selecting a report group, you would then be taken to the "report type" page.
Click on a report type, it will open the filter selection panel to the right of your screen.
On the filter selection panel, you would find filters you can use to create reports
tailored to your needs. When done selecting your filters you can click on "SUBMIT". On clicking the Submit button, an invoice page showing the cost of the report will be displayed.
NOTE: The filter selection panel has different filters for each report group, so please follow and keep an eye out for instructions.
This is your invoice page where you pay for your report, edit filters selected and download invoice
To pay for your report click on "Pay for Your Report" button. The system will attempt to deduct the cost of your report from your wallet. If your wallet has not been created, you will be directed to create your wallet and fund it immediately.
(Click here to See how to Create or Fund a wallet page for guidance).
If your Wallet has been created and funded, you will be prompted with a successful payment prompt, please click ok.
To view your report, click on "view report" button that pops up after you complete payment.
The Report Page
The report page is accessible by the user after payment has been confirmed. On this page, the user is allowed to work with filters, visualization tools, graph types, and navigation buttons.
To save your report click on "Save Report" button at the top of your report. We strongly advise you to save your report if you intend to download it as a PDF for offline use or for any future use. To access or download your report, Click Save report, after saving, click "Your Downloads" on the top of your generated report or "My Reports" on the left side navigation bar
The My Report Page
My report page shows the users saved reports. This is where you can view past saved reports, and where you can download your reports into PDF.
The Invoice Page
The invoice page shows the users saved invoices.
How To Create, Fund Wallet and See Transaction History
This wallet can now be used to store funds that can be used to pay for reports.
Procedures for Creating Wallet
Click on create wallet if you have not set up your wallet and answer the pop-up.
Enter the amount you want to fund your wallet with, then click on the "Deposit"
button
NOTE: The maximum amount a user can deposit into the wallet is N9,998,000.
Click on "OK" to proceed to our online payment window
Transaction History
If you want to see your transaction history or status, Click on the "transaction history"
button.
On this page you will find transactions you have made on WAEC EduStat.
My Profile / The User Profile Dashboard
This can be found by clicking on your initials on the top right corner, and clicking on "My Profile". On this user dashboard page, the user can view and make changes to their personal details and interests.
Frequently Asked Questions Page
The FAQs (Frequently Asked Questions) page is a feature that provides answers to common questions that users may have about the website or the company behind it. The purpose of a FAQs page is to help users quickly find answers to their questions without having to search through the entire website or contact customer support.
Support Page
If you're having a problem with our product or service, using the support page is a great way to get the help you need. we have dedicated support teams who are trained to assist with a wide range of issues, and they can often provide quick and effective solutions to your problems. Additionally, using the support page allows you to easily access a wealth of information and resources that can help you resolve your issue on your own.
Feedback Page
A feedback page is a webpage provided by a company or organization where users can share their thoughts and opinions about a product or service. This page allows users to provide feedback on their experiences, whether they're offering suggestions for improvement or praising a product or service for its quality.
Using the feedback page is a great way to help our company improve products and services. By sharing your feedback, you can provide valuable insights and suggestions that the company can use to make their products and services even better. Additionally, providing feedback can help our company understand how their products and services are being used and perceived by their customers, which can help them make more informed decisions about their products and services.
Overall, using a feedback page is a simple and effective way to make your voice heard and help a company improve their products and services. So, if you have thoughts and opinions about a product or service, don't hesitate to share them on the feedback page.