JAMB Reprint 2023 – Check Date, Venue and Time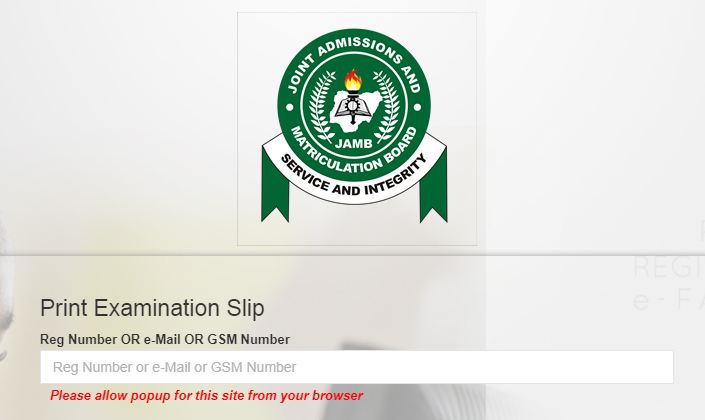 JAMB Reprint 2023 begins on 20th April 2023, know your JAMB CBT examination venue, date and time and make sure you are in the venue right on time.
The only official website to reprint your JAMB Exam slip is https://portal.jamb.gov.ng/
The JAMB slip reprinting will start a week (7 days) or few days before the commencement of the 2023 UTME. The Joint Admissions and Matriculation Board (JAMB) has announced that the reprinting of examination slips for the 2023 UTME would begin on April 20, 2023.
This post will guide you through the step-by-step method of how to carry out your JAMB reprint in 2023. The steps listed below are the simplest and easiest ways to reprint your JAMB UTME Examination slip.
Recent Post
What is JAMB UTME Examination Slip?
The JAMB UTME Examination slip is a document that showcases the candidate's biodata and most importantly the candidate's examination town, date and time to write his or her UTME examination.
Examination Slip Printing is Not Allowed
JAMB Reprint 2023 is showing Examination Slip Printing Not allowed. Yes, you may likely see this message if you are just attempting it, as at the time of writing this post. the JAMB Reprint 2023 has not yet started and hence, calls for this message.
How to Reprint JAMB UTME Examination Slip 2023
Kindly follow the steps below to carry out JAMB Reprint 2023
Visit the official JAMB Website
Login with your Email Address and Password
Located "Reprint Examination Slip"
Enter your UTME Examination Number
Click on "Print" from the Pop Out
Can I Reprint My Jamb Slip in a Cyber Cafe?
Yes, you can reprint your JAMB UTME Examination Slip in a Cyber Cafe, walk up to any cyber cafe close to you and request for a JAMB Slip Reprint 2023, Take note that the charges must not be more than N200 only.
How to Reprint JAMB UTME Examination Slip 2023 Without Email
The steps below are a guide on how to reprint JAMB UTME Examination Slip 2023 without entering your email address:
Important Information to all JAMB UTME Candidates 2023
Ensure you carry out your JAMB Reprint 2023
Do not pay more than N200 in a cyber cafe or jamb accredited centre
Your JAMB UTME Examination slip contains your exam centre, date, venue and time, do not mistake it for another town. Kindly pay attention!
On the day of your examination, ensure you arrive at your centre early
Do not go to your exam centre with a calculator, rough piece of paper, smartwatches and phones.
Adhere strictly to the rules and regulations guiding the examination
Your Result will be released in batches starting two days after the commencement of the JAMB UTME Examination.
Finally, if you have any questions regarding JAMB Reprint 2023 or of any kind, kindly send us an email via searchngr24@gmail.com and I or any of my team will reply to you in a jiffy.