Application Status for BEEI South Africa Employment Initiative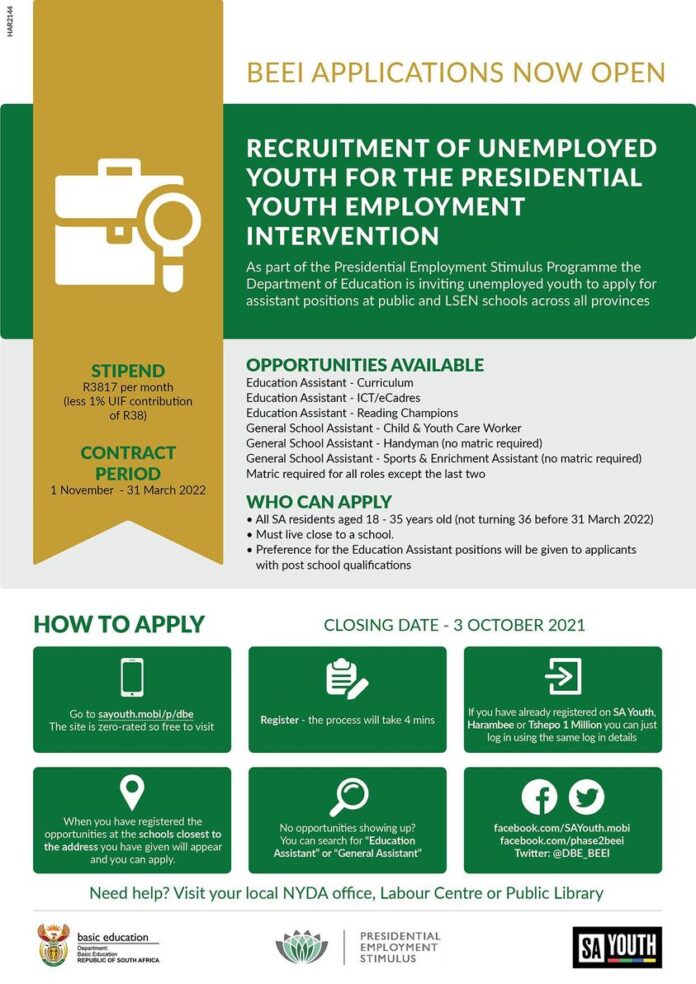 APPLICATIONS FOR THE Department of Basic Education South Africa EMPLOYMENT INITIATIVE ARE OFFICIALLY CLOSED!
Congratulations to all those who applied for the BEEI South Africa Employment Scheme.
Application Status BEEI South Africa Employment Initiative
TRENDING NOW
What is SA Youth's role?
To make the opportunity free and fair for everyone to apply. Do you realise that for every job, the interview and the selection is made by the manager who is hiring not the job platform? The manager you are applying to is the school principal.
How will I know if my application done via Mobi was received?
Once you apply, the mobi site will display a message saying that your application has been received. Next, ff you look at your "My Applications" tab, you will see your applications there as well. In addition, if you try to apply again it will tell you that you have already applied.
I made mistake in my application, and I would like to edit it
Don't worry, This will not adversely effect you in the shortlisting process as you are shortlisted based on your application and "My Journey" profile only, if you do get a call from a principal, you will have an opportunity to supply them with the correct information.When will I hear back if I have been successful?
How do I know if my application is successful?
Those shortlisted for an interview at a school (these are not "successful applicants" but rather shortlisted applicants) will get an SMS inviting them to an interview by the 24th of October 2021.
What documents do I have to supply and when / how do I supply it?
If you are shortlisted and receive an SMS inviting you to an interview at a school you will be required to bring: 

A certified copy of your ID
Matric Certificate or NQF 4 qualification or any other higher certificates achieved. (Certified as well)
CV (Curriculum Vitae)
Testimonial

Below documents will be required and provided as follows (Do NOT need to bring to 1st interview):
Police clearance certificate (submit within 2 months of appointment);
Declaration Document (will be provided by the school) to confirm applicant is:
1. not in Education, Employment or Training (NEET)
2. not receiving any other form of salary/wages
3. registered on SA Youth
4. only person in household appointed in Phase 2
6. What questions will they ask me at the interview?
The questions that are asked during an interview are up to the interviewer. As SAYouth, we can provide you with general guidance with how to get ready to make a good first impression at an interview. Please check out our mobi site for tips and guidance in our Content section.
7. How are young people being shortlisted?
Applicants are shortlisted based on their eligibility:
Matching the criteria
Matching the criteria
How close do they live to the school
Community Involvement – (make sure you have updated your "My Journey" on sayouth.mobi)
8. Do I need to be vaccinated to an EA or GSA position?
For the safety of the students and teachers it is preferred that all young people that will be working in schools are vaccinated however the final decision on this will be made by the schools themselves.
9. If there are any concerns about nepotism/corruption regarding the selection process where can these queries be directed?
beei@dbe.gov.za
10. What happens if I don't live near the schools that I applied for and get shortlisted?
If you misrepresented your address and proximity to the school you will be terminated with immediate effect.
11. When does this programme begin?
Interviews for various positions will start from 18 October 2021. This will be communicated to you via SMS if your interview is successful. 1st November is the opportunity start date.
Have more questions? Call us Mon-Fri between 9am – 4:30pm on 0800 72 72 72 Toll-free our Guides will assist you.
You can also chat to us via our SA Youth Facebook page or send us an email via support@sayouth.org.za.