Apply for GTBank Quick Credit Loan Application Form 2022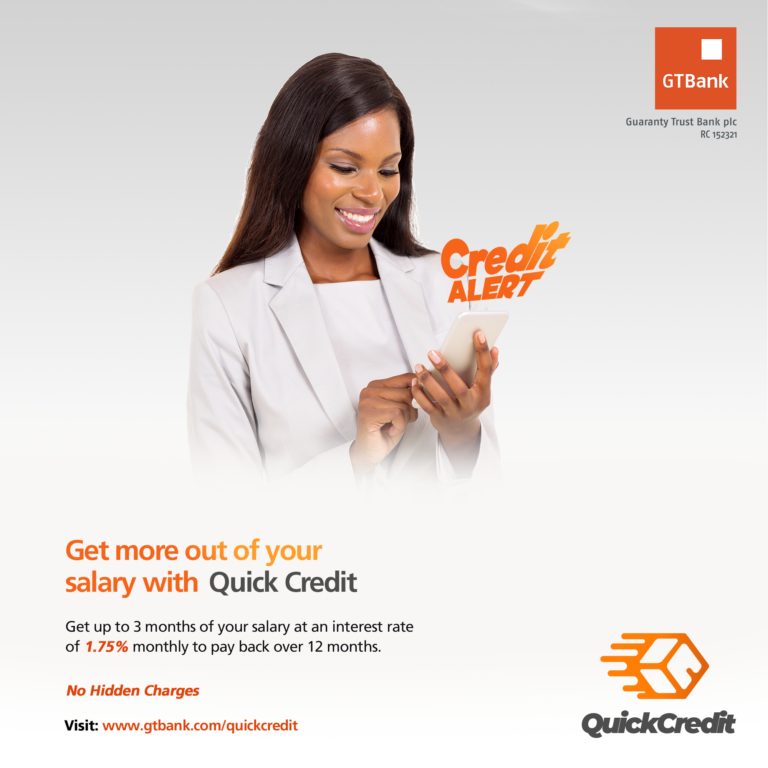 GTBank Quick Credit 2022 is on, persons who are interested in the Guarantee Trust Bank Quick Credit loan should take note of the following.
Gtbank Quick Credit loan gives you access to funding of up to 3 months worth of your salary with a competitive interest rate of 1.75% per month.
TRENDING NOW
Are you a salary earner? Do you want quick funding for your upkeep or to start a mini-business? The GTbank Quick Credit loan gives you the opportunity to get all that fulfilled.
What is Quick Credit?
This is a loan facility that gives you funds worth up to three months of your salary in less than two minutes.
Launched by Guaranty Trust Bank plc, Quick Credit offers quick loans to salary earners whose account is domiciled in GTBank.
How much loan can I get?
You can get a minimum amount of N10,000 and a maximum of N5m.
Repayment Plan and Interest Rate
Quick Credit offers a convenient repayment plan spread over 12 months at a competitive interest rate of 1.75% per month. There are no hidden charges incurred, it is cheap, easy to access, and readily available.
Who can Apply for GTbank Quick Credit Loan?
Workers earning at least N10,000
Salary earners whose account is domiciled in GTBank (if you don't have a salary account with GTBank you can open one now to access the loan).
Salary earners who have received a monthly payment from the same employer for at least three consecutive months.
How to apply
You can get Quick Credit by dialling *737*51*51# from the phone line that is linked to your salary account.
Also, you can apply for the Quick Credit Loan via GTbank Mobile App and Online Banking.