Call for Applications: Account Officer at YouthHubAfrica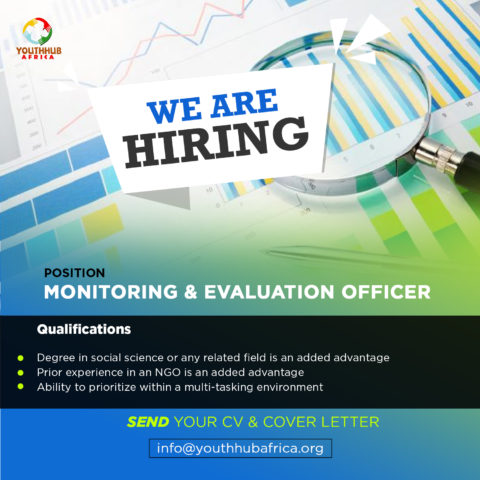 Call for Applications: Account Officer at YouthHubAfrica
The job holder will process and reconcile a wide variety of accounting and financial documents such as invoices, departmental billings, employee reimbursements, bank reconciliation, cash receipts, vendor statements, and journal vouchers; review and code financial information; prepare and process documents to disburse funds, make deposits and prepare reports; compile and review the information for accuracy; and maintain records.

Specific responsibilities:
Improve the accounting and financial policies to ensure the financial security and integrity of the organisation.
Prepare accurate and timely monthly reports and financial statements by collecting, analyzing, and summarizing account information and trends. Reports include Income Statement, Statement of Financial Position, Cash Book, Bank Reconciliation Statements and other relevant reports.
Maintain Payroll records of all staff including making Pension and PAYE Remittances.
Documents financial transactions by entering account information into the office Accounting Software.
Prepare and Manage the office Budget as well as Donor-Budgets- ensure that the office operates at all times in accordance with donor-specific and organizational finance rules and regulations.
Cash flow forecasting and management by ensuring that funds are spent in line with approved budgets.
Oversee the processing of invoices from vendors/suppliers, Payments received staff retirements in line with the correct code, date and authenticated authorization.
Prepare Transaction Listings before journals are posted.
Proper filing/archiving of financial reports online and offline.
Prepare schedules and make timely remittance of statutory deductions to relevant authorities.
Ensure that funds advanced are retired with full supporting documents that are authentic and complete.
Reconciles financial discrepancies by collecting and analyzing account information.
Complies with federal, state, and local financial legal requirements, policies and regulations by studying existing and new legislation, enforcing adherence to requirements, and advising management on needed actions.
Qualifications:
Degree in Accounting relevant field of study (a Master degree will be an added advantage)
Chartered Accountant
Fluency in English, including exceptional written English
High level of computer literacy (Word and Excel Essential)
Ability to prioritize within a multi-tasking environment
Prior experience in an NGO is an added advantage
Knowledge of Accounting Software, especially Quickbooks will be an added advantage
Interested Candidate should send an updated CV (No longer than 3 pages) and a cover letter to apply@youthhubafrica.org with "Account Officer " as the subject.
DEADLINE: May 23, 2021.
Also Read: Call for Applications: Account Officer at YouthHubAfrica