BOI Loan: Apply for BOI Manufacturing Loan 2021 (Get Up to 10 Million)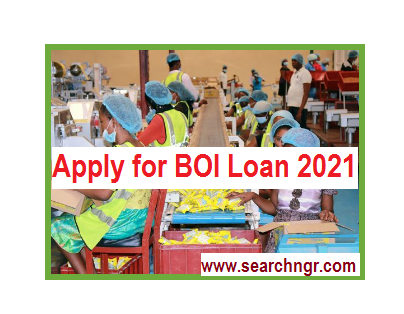 BOI Manufacturing Loan 2021: Target Market – For manufacturers as well as other Original Equipment Manufacturers (OEM's) in the Nigerian oil and gas industry who are contributors to the Nigerian Content Development Fund to procure :
To apply go to https://ncifportal.boi.ng/ncif/public/
TRENDING NOW
The Nigerian
Content Intervention Fund
The Nigerian Content Intervention (NCI) Fund is a Nigerian Content Development & Monitoring Board (NCDMB) fund managed by Bank of Industry Limited (BOI). The fund is designed to achieve the following strategic objectives:
To increase indigenous participation in the oil and gas industry, build local capacity and competencies.
To promote the growth and development of Nigerian Content in activities connected with sectors of the Nigerian oil and gas Industry.
To deepen the creation of linkages to other sectors of the national economy and boost industry contributions to the growth of Nigeria's National Gross Domestic Product.
To address persistent funding challenges that have hindered the capacity and growth of local service providers in oil and gas.
To facilitate the growth of community-based companies in the upstream oil and gas sector.
To spur productivity and job creation in the Oil and Gas Industry.
To attract investment capital into the sector and boost the contribution of the sector to Nigeria's economic growth.
The procedure for BOI Manufacturing Loan 2021 are
Fixed Assets
Working Capital
Leasing of Industrial and business equipment
Loan Type – Term Loans, Working Capital Finance (Time Loans) and Leasing
Amount – Up to $10million
Equity Contribution – 10% of total project cost
Interest Rate – 8 %
Moratorium – From 6 Months to a maximum of one (1) year moratorium on principal repayment subject to review of company's cash flows
Tenor – Maximum of five (5) years but tied to the payment tenor of the contract.
Security arrangement
Bank Guarantees from the Eligible Banks as approved by BOI
Treasury Bills or Federal Government Bonds
BOI Manufacturing Loan 2021 Loan Application Checklist
Formal Application Letter on Company Letter Head
Certificate of Incorporation/Registration
Memorandum and Articles of Association (MEMART)
Certified True Copy of Form CAC 2.5 (Allotment of Shares)
Certified True Copy of Form CAC 2.3 (Particulars of Directors)
Certified True Copy of Form CAC 2.1 (Appointment of Company Secretary)
Recent Tax Clearance Certificate of the company
Recent Tax Clearance Certificates of two (2) Directors of the company
Means of identification (i.e. photocopy of International Passport or Driver's License or National Identity Card or Permanent Voter's Card)
Feasibility Report/Business plan
Evidence of required permits by the Oil and Gas Industry regulators such as DPR, NCDMB and Nigerian Petroleum Exchange(NIPEX) (where applicable) to operate in the oil and gas industry.
Evidence of the requisite approval from regulatory bodies for the manufactured goods
A valid contract from an International Oil Company (IOC)
Evidence of performance on similar contracts.
Transaction documents typical of the project to be financed
Quotation/Proforma Invoice for the supply of the items of Machinery & Equipment
Sources and Quotations for Raw Materials expressed in quantity and amount
Evidence of approved Environmental Impact Assessment (EIA) Report on the manufacturing plant
Recent three (3) years Audited Account of the Company, Institutional Investors or any other Company owned by the Chief Promoter
Recent Bank Statements of the Company for the past one (1) year
Curriculum Vitae (CV) of the Directors and Key Management Staff
Evidence of collateral (e.g. Letter of intent from Commercial Bank for Bank Guarantee, Treasury Bills, etc). The letter of Intent must be signed by the Chief Risk Officer and/or an Executive Director of the issuing Bank.
Bank of Industry Questionnaire
Have any questions regarding this loan? Reach us through the comment box or kindly send us a mail via searchngr24@gmail.com