Enugu State Teachers Recruitment for Basic Education 2023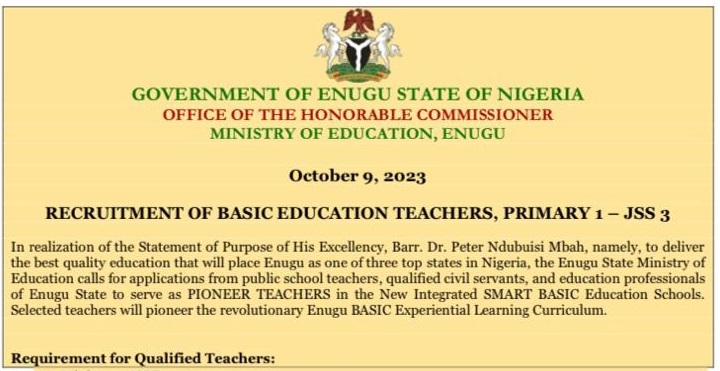 Are you passionate about shaping the future of education in Enugu State, Nigeria? The Enugu State Ministry of Education is thrilled to announce the recruitment of Basic Education Teachers for Primary 1 to Junior Secondary School 3.
This significant initiative, in alignment with His Excellency, Barr. N. Peter Ndubuisi Mbah's vision, aims to provide top-tier quality education that positions Enugu State among Nigeria's top three states.
Qualifications for Aspiring Teachers
As we embark on this transformative journey, we are seeking dedicated and qualified individuals to serve as PIONEER TEACHERS in the innovative Integrated SMART BASIC Education Schools. To be eligible, you should meet the following requirements:
Minimum Qualification: NCE (National Certificate in Education)
Preferred: TRCN (Teachers Registration Council of Nigeria), Bachelor's Degree (B.Sc., B.A., B.Eng., B.Tech., HND)
Desired: MA, MSc., and PhD.
Evidence of subject content knowledge.
Commitment to continuous professional development and adherence to public service ethics.
Willingness to reside near the school location.
Subjects in Demand
The Enugu State Ministry of Education is looking for educators proficient in the following subjects:
Mathematics
English Language
Basic Physics
Basic Chemistry
Basic Technology
Basic Science
Health and Physical Education
Agricultural Science
ICT Competency
Basic Robotics and Programming
Basic Mechatronics
Basic Electrical Engineering
Basic Mechanical Engineering
Basic Building Engineering and Architecture
Business Studies
Home Economics
Civic Education
Security Education
Social Studies
History
Christian Religious Studies
Igbo Language
French
Music
Art
Application Process
To apply for this remarkable opportunity, you can choose one of the following methods:
Submit your application online at Application Form.
Hand in your application to the respective Chief Supervising Principals and Education Secretaries.
Important Dates
The deadline for application submission is Friday, October 13, 2023. An examination/interview is scheduled for Tuesday, October 17, 2023 (Venue: Invitation Only).
Conclusion
Join us in our mission to revolutionize education in Enugu State. Your expertise and passion can help shape a brighter future for our students. This initiative is your chance to make a lasting impact and be a part of Enugu State's educational transformation.
Signed By: Prof. Ndubueze L. Mbah, PhD The Honorable Commissioner for Education, Enugu State