Filling Station Attendants Arrested in Abuja for Conniving With ATM Fraudsters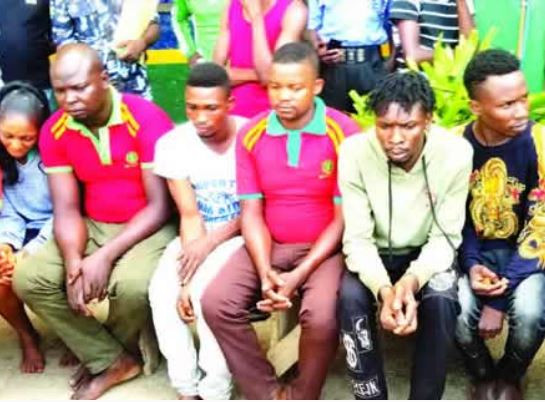 Four filling station attendants and their manager were arrested by the Police Command in Abuja for allegedly conniving with suspected fraudsters who stole an ATM card belonging to one Alhaji Usman Ahmadu and which they made a withdrawal of N950,000 from his account.
The suspected fraudsters are Ernest Mensah, 23 year old, a Ghanaian, who claimed to have been born in Anambra State; Obiuwevbi Ogheneovo, 23 year old; and Urunmatsoma Hendrix, 21 year old, explained that they swapped Ahmadu's card with a fake card when he approached Mensah for assistance at an ATM point in Gwarimpa, Abuja, on March 29.
On Tuesday 14th May, the Commissioner of Police, Bala Ciroma, explained that Ahmadu complained to the police that his card got stuck in the ATM, adding that around 1.30am on March 30, he received a debit alert of N950,000. Ciroma stated that upon receiving the complaint, police detectives with the cooperation of the bank officials identified and arrested the suspects.
He said, "The suspects, who admitted to the crime, stated that on that fateful day, the victim, who went to withdraw money at the ATM was finding it difficult to do so.

"He then asked them for assistance and in the process, they swapped his card with their own fake card. On how they got his PIN, they said the gang leader stood directly behind the victim and since the card was fake, he had to enter the pin several times.

"They then moved to the filling station on the Kubwa Expressway, where they have an accomplice by name Henry, who used POS to transfer the money into their account and remitted cash equivalent to the company."
The CP stated that other filling station attendants were also arrested for allegedly assisting the suspected fraudsters to withdraw the N950,000. Names of other filling station attendants:
Henry Elvis, 34 years old
Taiwo Aderinto, 36 years old
Solomon Ojuola, 35 years old
Mary Igoh,26 years old
and the station manager, Elizabeth Okeagu, 43 years old
Mensah told the journalists that he swapped Ahmadu's ATM card with the fake one, adding that he enlisted the support of one of the filling station attendants to withdraw money through the station's POS.
Mensah said:
She transferred the N950,000 from the account to NNPC's account and gave me cash. I tipped her N5,000 for assisting me. Adding he said that he had similarly stolen three ATM cards belonging to unsuspecting bank customers.