Download GREAT GOD by Bishop Flamez mp3 (Lyrics)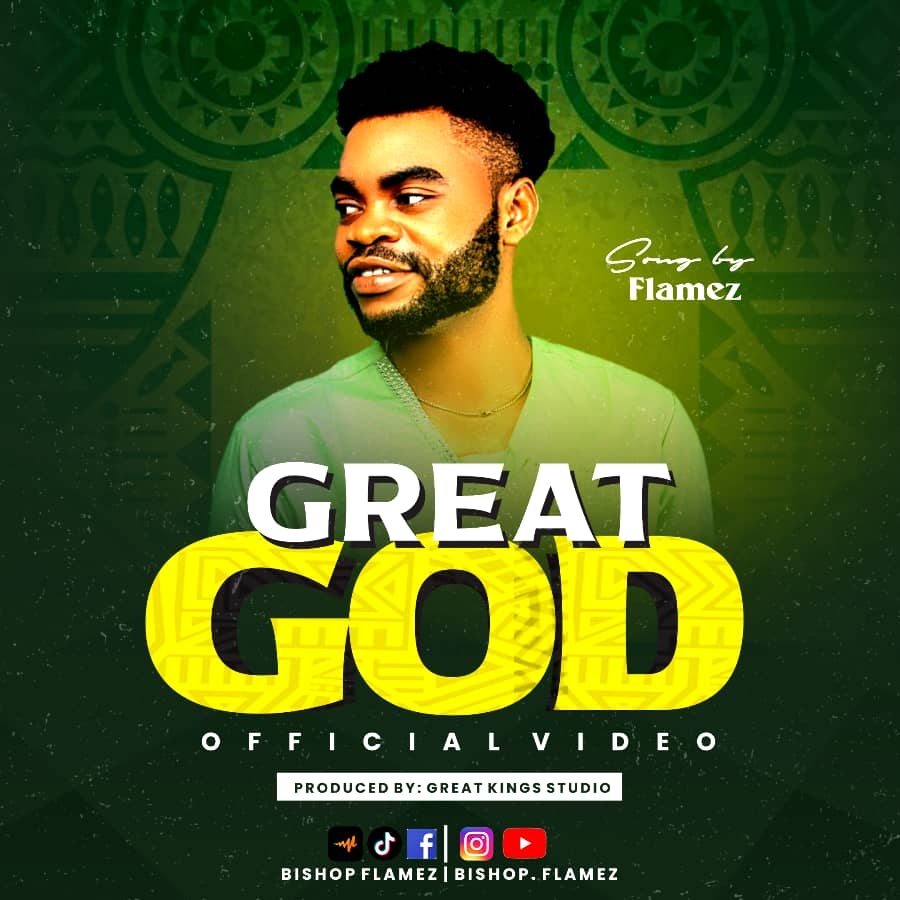 Bishop Flamez is a Gospel rap minister and Singer. He infuses soul-lifting rap lines into his powerful lyrics for that heavenly sensation. He is passionate about using his music to proclaim the Good News (the Gospel of Jesus Christ) to millions of souls worldwide.
Download also Frank Edward "No Other Name" Mp3, Video, Lyrics
The music "GREAT GOD" is a way to spread the gospel of Jesus Christ.
You can play and download the song below:
GREAT GOD by Bishop Flamez Lyrics
Ooooooh Uuuuuyeah Ooooooh Uuuuuyeah
At de mentioned of ur name knee must bow and every tongue confess ( x 2)
( Hook chorus )
At de mentioned of ur name knee must bow and every tongue confess ( x 2)
( chorus ) U are great oh Jehovah eeeh U are greater Jehovah eeeh U are great oh Jehovah eeeh U are greater Jehovah eeeh U are great oh
Jehovah eeeh U are greater Jehovah eeeh U are great oh Jehovah eeeh U are greater Jehovah eeeh
( Solo vers )
At de mentioned of ur name
knee must bow
and every tongue must confess that u alone mighty and stil great De same one de great GOD Heaven and earth adore u
U alone is al true
Non like u
U ve never change Yesterday till date U are still de same
U never changed oh GOD
( Hook chorus )
At de mentioned of ur name knee must bow and every tongue confess ( x 2)
( chorus )
U are great oh Jehovah eeeh U are greater Jehovah eeeh U are great oh Jehovah eeeh U are greater Jehovah eeeh U are great oh Jehovah eeeh U are greater Jehovah eeeh U are great oh Jehovah eeeh U are greater
Jehovah eeeh
( Bridge solo ) Hale hale Hallelujah eh Glory to ur name Na u b de GOD wey I fit praise oh Arugbo ojo
We adore u lord
We give u glory glory
Great GOD u are still de same Jesus always de same mighty mighty all in ur ways look how ur name is so great
just how can I worship ur name
for u have never ever to fail always de same always de great u are de same great great
master master
u are de Lord GOD u are de master when u rise in battle much ballance u are de Lord GOD u are de faster just like lightning u are too faster
de holy book is feeled with ur chapters
were ever enemies are gathered
u step in on de place enemies scarters u are de master master master
u are de Lord GOD u are de father u are de faster
u are de chapter u are de master u are de father
( Chorus )
U are great oh Jehovah eeeh U are greater Jehovah eeeh U are great oh
Jehovah eeeh U are greater Jehovah eeeh U are great oh Jehovah eeeh U are greater Jehovah eeeh U are great oh Jehovah eeeh U are greater Jehovah eeh
( Ending chorus ) Great great great Is ur name
Great great great
Is ur name
Great great great Is ur name ( x 6)
( Add lip solo )
U de make me wonder with ur name oh In JESUS name we raise de deaths oh U are bigger than what they say
So much power in ur name
Ooooh ooooh ooooh
Yeeeah Yeeeah Yeeeah
( Final chorus )
We adore u ( x 12)
( Add lip solo )
Take it all
Daddy take it all ( x 3)
( Final Chorus ) continues
( Add lip solo )
There's so much power in ur name Greater what people say
Watch the video below