How to Apply for a Carbon Paylater Loan | Quick Loan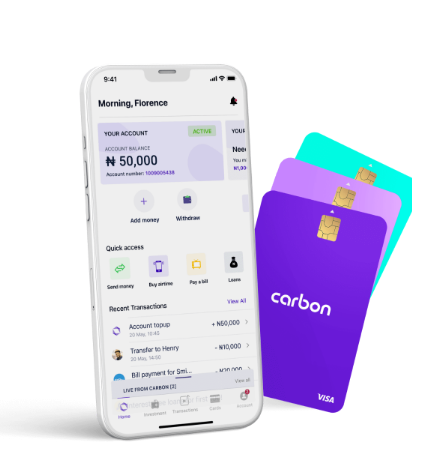 Use the Search Button below for more details.
How to apply for carbon paylater laon: Carbon Loan is a product of One Finance and Investment Ltd. which started out as One credit in 2012. 
TRENDING NOW
The company at the time only provided loans to salary earners, using a complete paper-based approach to its operation which required substantiating documents.
In 2015, after even considerable growth in operation and turnover of its business, One credit evolved into OneFi. With the involvement of the Credit Bureau of Nigeria and the introduction of unique Bank Verification Number (BVN), the company could extend its services to non-salary earners by leveraging on its field agents.
How To Use The Carbon Paylater Loan
Search for the app "Carbon" on Play Store or App Store to download
Download the App
Create your account in minutes
Get instant access
There are four sections with distinct features you may find useful.
Loan Section: This is the first section where you can request for a loan.
Payment Section: In this section, you can carry out various payment activities. These include buying airtime, sending money to someone, subscribing to the internet and paying electricity bills.
Financial Tools Section: This section offers investment opportunities such as opening a fixed deposit account. You also get a free credit report here.
Transactions Sections: Here, you get an overview of all transactions you carried out on the App.
How To Get a Carbon Paylater Loan
Follow the steps as mentioned above up till step 4
Register to provide all the details. Name, phone number, email, etc
Upload your photo before you can access loans. The picture can be taken directly from the App
Click on the "Request a Loan" button
Wait for your loan approval. This usually takes only a few minutes
After loan approval, you accept the offer and provide your card details. Usually, the duration of the loan ranges from 30 days to 12 months.
Carbon Paylater Loan USSD Code
The Carbon Paylater USSD code can be used on both MTN and 9mobile platforms by dialing *1303#. You can check out this post to see other USSD code for loans in Nigeria. To make things easier, you can compare loan offers from different lenders through the loanspot africa platform. This enables you to select the best option that perfectly suits your needs in a matter of minutes.