List of 10 Best Websites to Get Free Things in Canada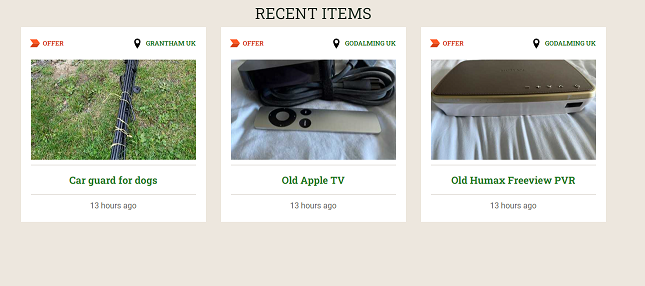 In the digital age, it's no surprise that the internet has become a treasure trove for individual and people, you can not just buy things only in the internet, you can also get free things without any cost.
If you're living in the Great White North and are looking to score some fantastic freebies, you're in luck! Canada has a plethora of websites dedicated to helping you get free stuff, from samples and coupons to products and experiences.
In this article, we'll explore the top websites where Canadians can find amazing freebies and enjoy the thrill of receiving surprises in their mailbox.
List of Websites to Get Free Things in Canada
1. Freecycle
Website: Freecycle
Freecycle is all about community and sustainability. It's a platform where people can give away items they no longer need for free. It's an excellent way to both declutter your home and find items you might need. Join your local Freecycle group, and you'll be amazed at the variety of things available.
2. BzzAgent
Website: BzzAgent
BzzAgent is a product testing and review platform. Sign up, complete surveys, and qualify for product campaigns. If selected, you'll receive free products to try and share your honest opinions with others. It's a fantastic way to discover and review new products.
3. Freeflys
Website: Freeflys
Freeflys is a comprehensive source for free samples, coupons, and deals. The site regularly updates its offerings, so you can discover a wide range of freebies from various brands. You can also find tips on how to save money and get the best deals.
4. I Love Free Things
Website: I Love Free Things
As the name suggests, this website is all about freebies. It offers a curated list of free samples, including beauty products, food, household items, and more. You can easily browse and request the freebies that interest you.
5. Influenster
Website: Influenster
Influenster is a product discovery and review platform that offers free products, known as VoxBoxes, to its members. To qualify, you'll need to engage with the Influenster community by reviewing products and participating in discussions. It's a fun way to try out new products and share your thoughts with others.
6. Just Free Stuff
Website: Just Free Stuff
Just Free Stuff is a straightforward and user-friendly website that compiles a list of freebies, samples, and giveaways available to Canadians. It covers a wide range of categories, from beauty and health to household and food items.
7. PINCHme
Website: PINCHme
PINCHme is a product sampling platform that sends members free samples in exchange for feedback. After signing up, you'll complete a member profile to help match you with relevant samples. On Sample Tuesdays, you can select samples to be sent to your door.
8. SampleSource
Website: SampleSource
SampleSource is known for its seasonal sample events. Sign up for a free account and complete your profile. When sample events occur, you'll receive an email notification to request your free samples. This platform offers a wide variety of products to try.
9. Smiley360
Website: Smiley360
Smiley360 is a product review and testing community. Members are invited to join missions and receive free products to try and share their feedback through social media and reviews. It's a great way to discover new products and have your voice heard.
10. Totally Free Stuff
Website: Totally Free Stuff
Totally Free Stuff is a treasure trove of freebies, including samples, coupons, contests, and giveaways. It's regularly updated with the latest free offers, making it a go-to site for Canadians looking for complimentary products and savings.
Conclusion
Canada offers a wealth of opportunities to snag free stuff, from samples and coupons to full-sized products and experiences. These websites provide a convenient and enjoyable way to explore new products, save money, and be part of a thriving community of freebie enthusiasts. So, don't miss out on the chance to discover exciting freebies in the Great White North—start exploring these websites today!
Frequently Asked Questions (FAQs)
1. Are the freebies and samples on these websites really free?
Yes, the freebies and samples offered on these websites are genuinely free. Companies provide these free products as a way to promote their brands and products. In exchange, they often request your feedback or reviews.
2. Do I need to pay for shipping or handling fees for these freebies?
In most cases, you should not be required to pay for shipping or handling fees for the freebies listed on these websites. However, it's essential to read the terms and conditions for each offer carefully. Some offers may have specific requirements or restrictions.
3. Do I need to provide personal information to receive freebies?
Yes, you may need to provide some personal information, such as your name and mailing address, to receive freebies. This information is typically used to send the free products to your doorstep. Be cautious about sharing sensitive information, and only provide information to reputable and trusted websites.
4. How often can I expect to receive freebies from these websites?
The frequency of receiving freebies can vary depending on your participation and the availability of offers. Some websites may have regular sample events, while others may offer freebies sporadically. Being an active and engaged member of these platforms can increase your chances of receiving free products.
5. Are there any restrictions on who can sign up for these websites?
Most of these websites are open to residents of Canada. However, it's essential to check the specific eligibility criteria for each platform, as some may have age restrictions or other requirements.
6. Can I trust the quality of the free products I receive from these websites?
Yes, the products offered on these websites are typically from well-known and reputable brands. Companies often use these platforms to introduce consumers to their products and receive feedback. Rest assured that the products you receive are genuine and safe to use.
In general, there should not be any hidden costs or obligations associated with the freebies. However, it's crucial to read the terms and conditions of each offer carefully. Some companies may ask for your feedback or reviews in exchange for the free products, but this is usually the only expectation.
8. Can I request specific types of freebies or products?
While some websites allow you to select specific samples or offers based on your preferences, the availability of such customization may vary. Keep an eye on the available offers and choose the ones that interest you the most.
9. How can I ensure my privacy and security when signing up for these websites?
To protect your privacy and security, it's advisable to use a dedicated email address for signing up on these platforms. Additionally, be cautious about sharing sensitive personal information and only provide it to trusted websites. Avoid websites that appear suspicious or ask for excessive personal information.