How to Download & Print Improved NIN Slip Using NIMC Mobile App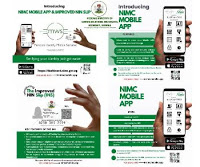 NIMC Mobile App: The Honourable Minister of Communications and Digital Economy, @DrlsaPantami, has approved the development and release of an improved National Identity Number (NIN) slip and a Mobile App.
To download the app go to NIMC Mobile App
TRENDING NOW @ https://searchngr.com
Key Features Of NIMC Mobile App
Improved NIN Slip INS can be seif-printed by ID holder for a fee payable to Remita
No special paper required. Is to be printed on regular A4 paper, front end back
Slip is much smaller (slightly larger than an ATM card), can be laminated for a lower cost, and printed as many times as the ID Holder requires
Verification is near-instantaneous. it requires a special app ( to control who has access t0 verify someone)
There is a secure record of the transaction, which the ID Holder can request for (or appears in the Mobile ID app if they choose to install it on their Smartphone.
Important of NIMC mobile app
Allows you to prove your identity with your smartphone on the go.
Used to verify and authenticate citizens and legal residents who already have N
Allow for its use across various other government services including FIRS, FRSC, NHIS, NPF, NYSC, etc.
How to use the NIMC Mobile App
Firstly, Download the App via the play store
Log in using your nin
Dial *346*3# from the mobile number you enrolled with, your user ID and an OTP will be sent to your phone
Input your user ID and OTP in the spaces provided
Finally, you will then receive a pop up congratulatory message that you have now been granted access.
NOTE: You need to have obtained the national identification number to access the app.
The mobile number used for the NIN enrollment must be used to generate your OTP and user ID from the NIMC Mobile App.