NYSC COVID-19 LOAN AND GRANT (SAED-CONNECT)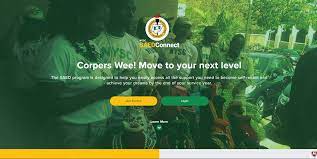 NYSC COVID-19 LOAN AND GRANT
SAEDConnect gives you access to a wealth of information, tools, programs and opportunities to help you get a job or start your business during your service year.
ABOUT SAEDCONNECT
SAEDConnect is the official youth empowerment accelerator platform of the Skill Acquisition and Entrepreneurship Development (SAED) Department of the NYSC that is designed to enable you access the full benefits of the SAED program from anywhere you are. It is packed full of information, programs. tools and solution to help you develop yourself, get a job, start and grow your business, learn new skills, find trainers and business partners near you, and more.
On SAEDConnect, you can do the following:
Career Development Features
Meet experts that will help you clarify your career direction and provide other guidance and counseling support.
Build and download your CV
Meet experts that will help you create your CV, cover letter and social media profiles.
Post and view full-time, contract and volunteer job opportunities.
Monetize your existing skill by creating a freelancer profile.
get expert career advise and mentorship from recruiters and career professionals..
More career development tools and solutions are continously added..
Entrepreneurship Development Features
Feature your business in the ventures directory and attract investors to you.
Get expert advice and mentorship on entrepreneurship in the online entrepreneurship incubator.
Overcome your small business challenges by engaging with experts in the online business clinic.
Meet and learn from other people all over the country doing over 50 specific small businesses like Fish Farming, Cosmetology, etc-in the Side Hustle Communities.
Meet and intract with expert mentors in over 50 business types that will provide expert guidance to enable you start your own side hustle.
Showcase your products and services for the world to see and engage with you.
Request for product and services (e.g raw materials for your small business) from a nationwide community and get connected for by potential suppliers.
Request and meet co-founders and business partners for your business.
And many more features and tools added daily.
Other Features
Find trainers and training across a variety of skills near you.
Keep in touch with local and innovative programs like grants, scholarships, competitions, loan schemes business incubation programs, etc, being offered by NYSC partners, through the opportunity centre.
Get your eSAED Certificate that demonstrates that you have acquired core entrepreneurship and career development skills.
New features are continously added.
Signing up on SAEDConnect is free and you can access SAEDConnect and all its benefits anywhere you are in the country from your phone.
To get started, visit https://www.saedconnect.org
For enquiries
Email: hello@saedconnect.org
WhatasApp: 08104477275
Twitter/instagram: @saedconnect
Telegram: t.me/saedconnect
How To Apply For The SAED Loan
All Eligible Applicant Should Access the form through Portal
All Applicant should must have an active email address and phone number