Open Heaven 13th November 2021 RCCG Daily Devotional (Help From Above)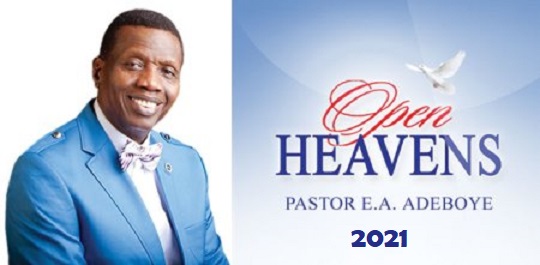 Open Heaven 13th November 2021 is an RCCG Daily devotional manual that is written to ingest into the heart of the Christians. Today's daily devotional is talking about the topic " Help From Above"
Open Heaven 13th November 2021 RCCG Daily Devotional (Help From Above)
OPEN HEAVENS DAILY DEVOTIONAL
DATE: SATURDAY 13TH NOVEMBER 2021.
THEME: HELP FROM ABOVE.
MEMORISE:
My help cometh from the LORD, which made heaven and earth. Psalm 121:2
READ:

Psalm 121


1. I will lift up mine eyes unto the hills, from whence cometh my help.

2 My help cometh from the LORD, which made heaven and earth.

3 He will not suffer thy foot to be moved: he that keepeth thee will not slumber.

4 Behold, he that keepeth Israel shall neither slumber nor sleep.

5 The LORD is thy keeper: the LORD is thy shade upon thy right hand.

6 The sun shall not smite thee by day, nor the moon by night.

7 The LORD shall preserve thee from all evil: he shall preserve thy soul.

8 The LORD shall preserve thy going out and thy coming in from this time forth, and even for evermore.

Open Heaven 13th November 2021 RCCG Daily Devotional (Help From Above)
MESSAGE:
When there was a famine in Samaria, two women conspired to take turns to kill their children for food. After they ate the child of the first woman, the other refused to surrender her own son for food. The first woman cried to the king for help but he replied, according to 2 kings 6:27 "….If the LORD do not help thee, whence shall I help thee? out of the barnfloor, or out of the winepress?"
The Psalmist is right in saying that his help comes from the Creator of heaven and earth, according to our memory verse today. Genuine help can only come from above. The Lord said in Psalm 50:15 "And call upon me in the day of trouble: I will deliver thee, and thou shalt glorify me."
Many people however, trust other humans, to their disappointment. The Bible discourages us from putting our trust in men. Jeremiah 17:5 says "…..Cursed be the man that trusteth in man, and maketh flesh his arm, and whose heart departeth from the LORD." Whereas verse 7 of the same chapter says "Blessed is the man that trusteth in the LORD, and whose hope the LORD is."
Many years ago, someone heard that I was building a house and volunteered to supply blocks since he was a block manufacturer, offering to let me pay at my convenience. The moment this man realized I was roofing the house, he began to pester me to pay for the blocks he had supplied, in spite of our agreement that I could pay at my convenience. I reminded him that he was the one who offered that I could pay at my convenience but he insisted that I have to pay immediately. I cried to God for help with a promise that I would never make such a mistake again and He recued me. Beloved, I prophesy to your life that the help which would not expose you to ridicule afterwards will come your way this season, in Jesus' name.
You must however put your trust in the Lord; you must choose not to have a 'Plan B' to your Present Help- the Almighty God. More importantly, you must surrender your life totally to Jesus Christ and abstain from all appearance of evil according to 1 Thessalonians 5:22.
The Lord will send you help from above, in the mighty name of Jesus.
Open Heaven 13th November 2021 RCCG Daily Devotional (Help From Above)
PRAYER POINT:
Father, please send help from above today and don't let me be put to shame, in Jesus' name.
BIBLE IN ONE YEAR: ISAIAH 45-50.
AUTHOR: PASTOR E. A. ADEBOYE
HYMN 14: O GOD OUR HELP IN AGES PAST.
O God, our help in ages past,
Our hope for years to come,
Our shelter from the stormy blast,
And our eternal home.
Under the shadow of Thy throne
Thy saints have dwelt secure;
Sufficient is Thine arm alone,
And our defense is sure.
Before the hills in order stood,
Or earth received her frame,
From everlasting Thou art God,
To endless years the same.
Thy Word commands our flesh to dust,
"Return, ye sons of men":
All nations rose from earth at first,
And turn to earth again.
A thousand ages in Thy sight
Are like an evening gone;
Short as the watch that ends the night
Before the rising sun.
The busy tribes of flesh and blood,
With all their lives and cares,
Are carried downwards by the flood,
And lost in foll'wing years.
Time, like an ever-rolling stream,
Bears all its sons away;
They fly, forgotten, as a dream
Dies at the op'ning day.
Like flow'ry fields the nations stand
Pleased with the morning light;
The flow'rs beneath the mower's hand
Lie with'ring ere 'tis night.
O God, our help in ages past,
Our hope for years to come,
Be Thou our guard while troubles last,
And our eternal home.