Open Heaven 21st May 2021 RCCG Daily Devotional (Make Your Request Known To God 1.)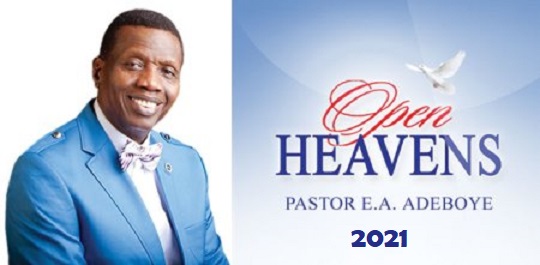 Use the Search Button below for more details.
Open Heaven 21st May 2021 is an RCCG Daily devotional manual that is written to ingest into the heart of the Christians. Today's daily devotional is talking about the topic "Make Your Request Known To God 1."
OPEN HEAVENS DAILY DEVOTIONAL.
DATE: FRIDAY 21ST MAY, 2021.
THEME: MAKE YOUR REQUEST KNOWN TO GOD (1).
MEMORISE:
"Ask, and it shall be given you; seek, and ye shall find; knock, and it shall be opened unto you:"
(Matthew 7:7)
READ:

2 Kings 2:9 (KJV)

And it came to pass, when they were gone over, that Elijah said unto Elisha, Ask what I shall do for thee, before I be taken away from thee. And Elishap said, I pray thee, let a double portion of thy spirit be upon me.
Open Heaven 21st May 2021 RCCG Daily Devotional (Make Your Request Known To God 1.)
MESSAGE:
While God indeed knows all things, He still wants His children to make their requests to Him.
Despite knowing that Bartimaeus was blind, Jesus still asked him what he wanted (Mark 10:51). He did this because He knows that our needs differ from person to person and from time to time.
For example, while Elisha wanted the double portion of his master's anointing, Gehazi wanted money and other material gifts. Esau wanted food instead of the right of the firstborn, whereas Jacob wanted the privileges of the first born.
Some people ask for peanuts when they should be asking for things of eternal value.
David desperately sought the Lord (Psalm 42:1), and had only one desire in his lifetime: to dwell in the house of the Lord all the days of his life (Psalm 27:4).
Beloved, it is the intensity of your desire for a thing that would spur you to ask whoever can give it to you. You must, however, also be willing to pay the price. Paul desired to know Jesus and so gave up everything to gain Him. God is willing to answer you.
Philippians 4:6 says:
Be careful for nothing; but in every thing by prayer and supplication with thanksgiving let your requests be made known unto God.
How soon you want answers to your request also matters. Some people unknowingly postpone their season of celebration.
Some people are like Pharaoh who told Moses he would want the plague of frogs to disappear from the land by "tomorrow" (Exodus 8:8-10). Why tomorrow and not now? You may be asking the right thing at the wrong time. (2 Corinthians 6:2) says "…I have heard thee in a time accepted, and in the day of salvation have succoured thee: behold, now is the accepted time; behold, now is the day of salvation."
The greatest request a man could make to God is salvation and it must be today if you are yet to encounter the saving grace of Jesus. Elisha did not waste time in telling his master that all he wanted was the double portion of his anointing.
It was a hard thing, yet he got it because he knew what he wanted, why he wanted it and when he wanted it. The Lord will grant your request today, no matter how difficult it may appear, in Jesus' name.
Open Heaven 21st May 2021 RCCG Daily Devotional (Make Your Request Known To God 1.)
PRAYER POINT:
Father, please help me to be precise and direct in my requests to You, in the mighty name of Jesus.
AUTHOR: PASTOR E.A ADEBOYE.
BIBLE IN ONE YEAR:
Mark 14-16
HYMN 28: WHAT A FRIEND WE HAVE IN JESUS.
What a friend we have in Jesus,
All our sins and griefs to bear;
What a privilege to carry
Everything to God in prayer!
Oh, what peace we often forfeit,
Oh, what needless pain we bear;
All because we do not carry
Ev'rything to God in prayer.
Have we trials and temptations?
Is there trouble anywhere?
We should never be discouraged,
Take it to the Lord in prayer!
Can we find a friend so faithful,
Who will all our sorrows share?
Jesus knows our ev'ry weakness,
Take it to the Lord in prayer.
Are we weak and heavy laden,
Cumbered with a load of care?
Precious Saviour, still our refuge,
Take it to the Lord in prayer!
Do thy friends despise, forsake thee?
Take it to the Lord in prayer.
In His arms He'll take and shield thee,
Thou wilt find a solace there.