How to Apply for Student Loan in Nigeria 2023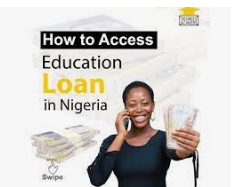 Student Loan in Nigeria is a concept initiated by President Bola Ahmad Tinubu Administration to help curb the inability of students to pay for higher education fees.
President Bola Ahmed Tinubu, on June 12, 2023 (Democracy Day), enacted the Nigerian Student Loan Act to establish an education bank offering interest-free federal loans. This program aims to provide financial assistance to needy Nigerian students pursuing higher education.
TRENDING NOW
Here's a comprehensive guide to accessing the student loan in Nigeria 2023, including eligibility criteria, the application process, repayment options, and other important details.
Who Can Apply for a student loan in Nigeria?
To be eligible for the student loan, Nigerian students must meet the following requirements:
Admission: Students must have secured admission into a Nigerian university, polytechnic, college of education, or vocational school established by the Federal Government or any State government.
Income Limit: The student's or family's income must be less than N500,000 per annum.
Guarantors: Two guarantors are required, who must meet specific criteria such as being civil servants or lawyers with sufficient experience.
Disqualification Factors
Students will be disqualified from accessing the loan under the following circumstances:
Previous Loan Default: Defaulting on a previous loan will disqualify the student.
Exam Malpractice: Students found guilty of exam malpractice will be ineligible.
Conviction of Felony or Offenses of Dishonesty or Fraud: Students with a criminal record involving dishonesty or fraud will be disqualified.
Drug Offenses: Students with a conviction for drug offences will not be eligible.
Parental Loan Default: If any of the student's parents have defaulted on a loan, the student will be disqualified.
Application Procedure and Required Documents
Applications must be submitted through the applicant's bank to the Chairman of the Student Loan Committee. The following documents are required:
Student's admission letter.
Cover letter signed by the institution's vice-chancellor, rector, or head, along with the student affairs officer.
Letter from the guarantors recommending the student for the loan and accepting liability.
Passport photographs and employment details of the guarantors.
Additional information and documents for self-employed individuals.
The Committee will inform applicants of their application status within 14 days.
Loan Disbursal and Repayment
Loan Disbursal: Processing and disbursement of loans should be completed within 30 days.
Loan Repayment: Repayment begins two years after completing the National Youth Service Corps program.
Repayment Procedure: For salaried individuals, 10% of their salary will be deducted at source by the employer. Self-employed individuals are required to remit 10% of their total monthly
profit to the loan fund.
Job Change: If beneficiaries change jobs, they must inform the Committee within 30 days and provide details of their new employment.
Self-employed Information: Self-employed individuals must submit relevant business details to the Committee within 60 days.
Default Consequences: Defaulting on the loan or assisting in default is considered a crime. If convicted, the defaulter may face a fine of N500,000, a prison sentence of two years, or both.
Loan Repayment Terms: The repayment terms and penalties are designed to ensure timely and responsible repayment, ensuring the program's sustainability and availability for future students.
How to Apply for the student loan in Nigeria
Applications will be submitted to the Students Affairs Offices of the respective institutions alongside relevant documents and qualified applications will be forwarded officially by the institution to the Chairman of the Education Bank in their territory.
Implementation and Benefits
The Nigerian student loan act, signed by President Bola Ahmed Tinubu, aims to make education more accessible to ordinary Nigerians. Through the establishment of the Nigerian Education Bank and interest-free federal loans, the government is committed to supporting students in their pursuit of higher education. By alleviating the financial burden, this program enables deserving students to focus on their studies and opens doors to a brighter future.