American Film Club – US Mission Nigeria Nomadland Film Screening Invitation 2021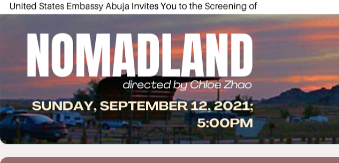 American Film Club: The U.S. Embassy, in collaboration with IICD Center and Transcorp Hilton, invites you to the screening of Oscar Award-winning film "Nomadland" on September 12, 2021 by 5:00pm. This film is screening exclusively as part of Global Media Makers Presents.
TRENDING NOW
Synopsis: Following the economic collapse of a company town in rural Nevada, Fern packs her van and sets off on the road exploring a life outside of conventional society as a modern-day nomad. The third feature film from director Chloé Zhao, Nomadland features real nomads Linda May, Swankie and Bob Wells as Fern's mentors and comrades in her exploration through the vast landscape of the American West. Winner of 3 Oscars, including Best Picture, 'Nomadland' is a meditative exploration of life as a modern-day nomad.
Run time: 107 minutes
Rating: Rated R for mild use of profanity, alcohol and drugs, and nudity.
For inquiry, please contact: iicdcenter@gmail.com.
Limited seating available in adherence to NCDC COVID-19 Guideline. Kindly sign up to confirm your participation. An email confirmation will be sent to confirmed guests.
Method of Application
provide a valid email address
First and Last name
Organization 
WhatsApp Number if you want to be added to the Film Club GroupYour answer
Have you attended AFS Screening before? *
Will you stay till the end of the screening and be part of the conversation? *
Do you have a disability *
If yes, please specifyYour answer
How did you hear about this event? *
I will observe Covid19 Protocol and wear my face mask throughout the event *
Submit