Application for Sahara Group 2023 Graduate Management Trainee Program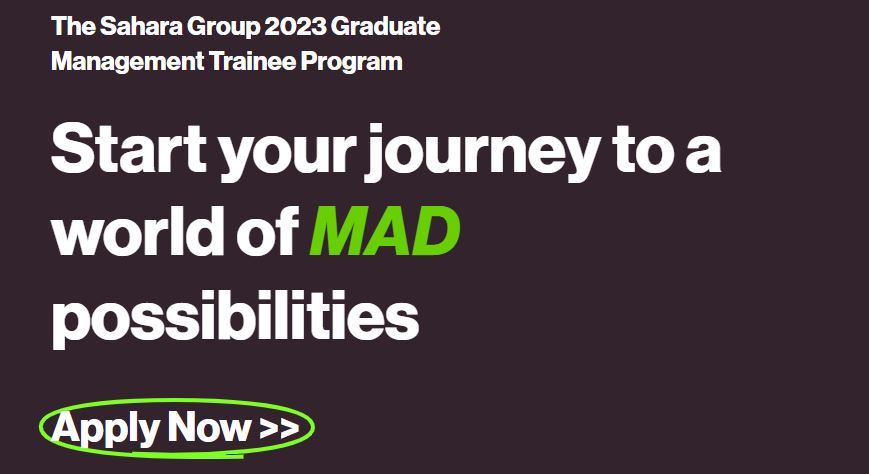 Sahara Group is a leading international energy and infrastructure conglomerate with operations in over 42 countries across Africa, Asia, Europe and the Middle East. Sahara is a dynamic and transformative leader in various energy sub-sectors via its power (generation and distribution), downstream, midstream, upstream and infrastructure businesses.
TRENDING NOW
Sahara continues to explore new frontiers; creating innovative and sustainable ways of bringing energy to life responsibly through the men and women who embody Sahara's irrepressible spirit as well as a global network of customers and business partners.
With over 5000 employees from multiple nationalities, Sahara is a uniquely diverse and inclusive organization committed to delivering innovative energy solutions and promoting sustainable environmental, social, and governance impact across key national, regional, and global markets.
About the Program
The Sahara Group Graduate Management Trainee Program identifies and develops future leaders to drive Sahara Group's business growth aspirations.
Program Structure
The Sahara Group GMT Program is a career boost for recent graduates and young professionals with the potential and desire to become future leaders at Sahara. It's a 9-month program that combines theoretical business know-how with practical application on the job.
The program is mainly experiential, focusing on developing meaningful and impactful skills. It includes foundational skills training, assignments and rotations, stretch projects, coaching, and mentoring—ultimately making you globally competitive.
Your journey to being MAD starts here…making a difference in a global environment.
Qualification and Experience
Bachelor's degree with a minimum of 2:1 in any discipline
0- 2 years of post-graduate formal working experience
Must have completed NYSC Program (Nigerian Nationals only)
A master's degree from a recognised university and professional qualifications will be a plus
Fluent in English
The ability to speak French is an advantage
Must be 25 years (or below) at the time of application
Apply Now
Application closes on the 15th of February 2023