Apply For 2019 Pan-African Awards For Entrepreneurship in Education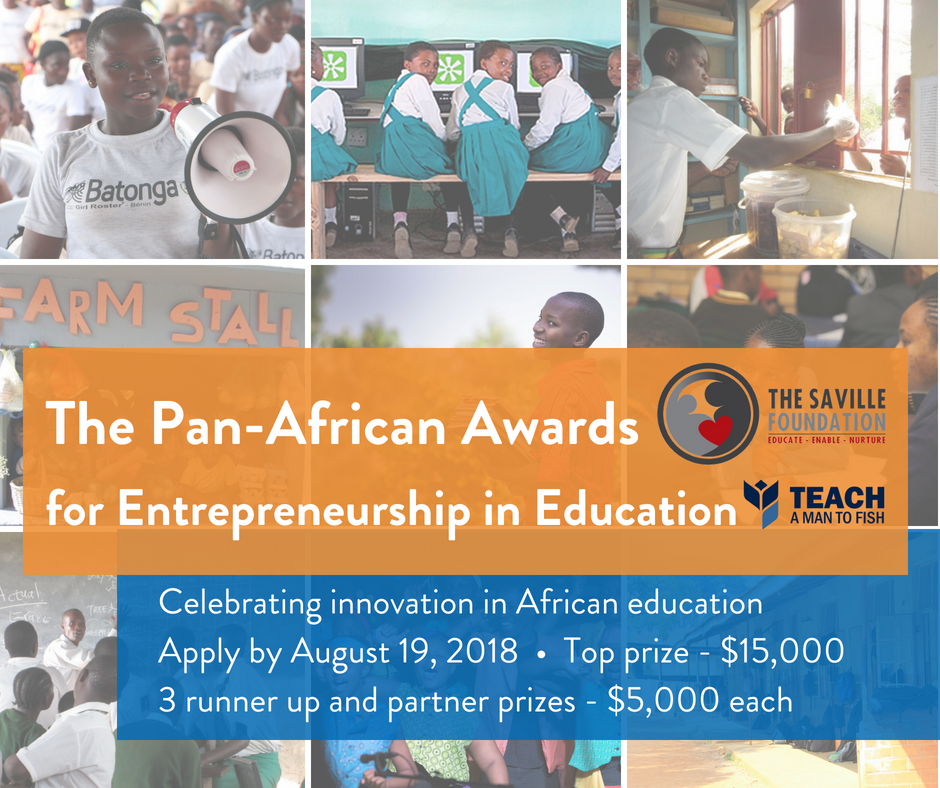 Application form for 2019 Pan-African Awards for Entrepreneurship in Education
Apply today for the Pan-African Awards for Entrepreneurship in Education; an annual competition run with the generous support of The Saville Foundation. For over 11 years, the Pan-African Awards have celebrated the work of organisations teaching young people about entrepreneurship or using innovative business strategies to fund education in Africa. The Pan-African Awards is one of the only competitions recognising organisations from across all sectors working to enhance communities, curb youth unemployment and promote education through enterprise. The recognition and celebration of innovative and sustainable initiatives not only supports winning organisations to grow their impact but also helps to promote new models for change to more communities. 
WORTH
Winners receive: 
Unrestricted funding: $15,000 for the top place winner, $5,000 for our 3 runner-up and partner winners
A fully-funded spot for a delegate to attend a Teach A Man To Fish event
Publicity on the Teach A Man To Fish platform including our Members' Network made up of leaders in education, development and entrepreneurship from around the world
ELIGIBILITY
 The competition is open to all organizations with a focus on education located in one of the 55 African countries for which awards are available
Entries can be submitted on behalf on another organization – e.g. by non-African NGOs on behalf of their local partner / office – however prize monies and conference travel bursaries must be claimed by and used for the benefit of, the Africa-based organization itself.
All entries must be accompanied by work contact details of a suitable referee who is able to confirm that the contents of the entry are a true and accurate representation of the entrant's work
Referees must be i) independent of your organisation and ii) either a government official, qualified professional, or senior employee of an internationally recognized institution.
Qualified professionals for the purpose of this competition include: teachers (employed by a different institution), doctors, lawyers, judges, accountants, bankers, engineers.
METHOD OF APPLICATION 
Interested Applicant should visit the following Web site www.teachamantofish.org.uk
Click on the APPLY NOW botton 
Fill in the following information
Summit the form 
Wait for a confirmation of the email