Apply for Cascador Program 2022 (Nigeria & United States)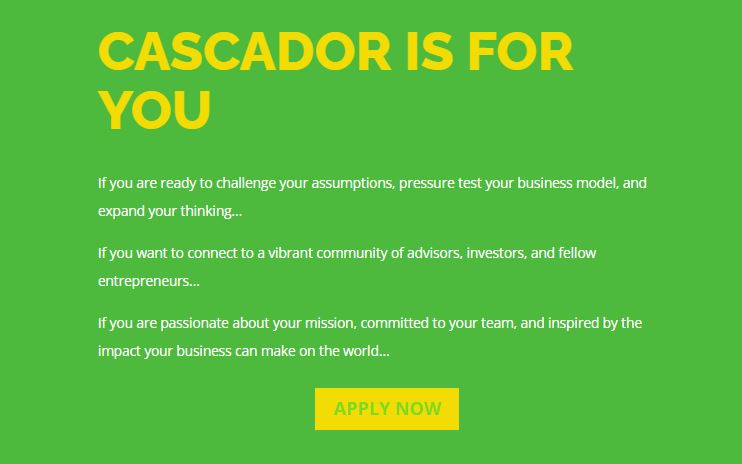 Applications are now open for the Cascador Program 2022, an intensive, in-depth examination of your leadership skills, business model, and value proposition by veteran faculty. The program includes six months of mentorship post-program to ensure their fellows can apply what they learn in the real world.
TRENDING NOW
Cascador is a ground-breaking program for mid-stage entrepreneurs in Africa who are scaling mission-driven companies.
Their fellows are dedicated to accelerating business growth, improving their leadership skills, and refining their value proposition with the guidance of successful American and Nigerian entrepreneurs.
Their goal is that you leave the Cascador program as a Strong, Transformative Leader with a strategic plan to scale, and the connections, resources, and capital required to execute your plan.
Cascador has elevated three successful cohorts of African entrepreneurs and their companies through a unique blend of education, self-discovery, mentoring, pitch training, and personalized advisory support.
Program Details
2022 Dates: October 31 – November 4, 2022
Venue: Lagos Business School (housing and meals are provided)
Cohort Size: Limited to 10 entrepreneurs
Application Requirements: Two years in business, >$50K USD annual revenue or >$250K USD capital raised
What can you Expect during the Program?
Pre-Program

Their pre-program preparation involves orientation to Cascador as well as a review of your value proposition and submitted business documentation. They also engage in self-discovery, including an exploration of your personality type, strengths and weaknesses, and coaching on how to work best with people of other styles. They practice these interpersonal skills during Cascador with the faculty and your peers. Lastly, you will have a kick-off meeting with your personal mentor to map out how to get the most out of the program.

Power Week Intensive

Day 1: Increase self-awareness, improve leadership skills and learn how to build and manage a high-performing team
Day 2: Sharpen your value proposition and brand positioning, clearly defining your customers, the problem you are solving, and the marketplace opportunity
Day 3: Review your equity and/or debt fundraising plans, and meet personally with lenders and investors
Day 4: Enhance your scale-up strategy and corporate governance
Day 5: Practice your pitch to an expert panel for feedback

Post-Program Mentoring & Support

Each participant will have monthly mentor calls for six months to support the implementation of new business plans and leadership skills.
For more information find out at https://cascador.org/