Apply for the Reward and IDDO HR Manager (LAGOS) | FRIGOGLASS Industries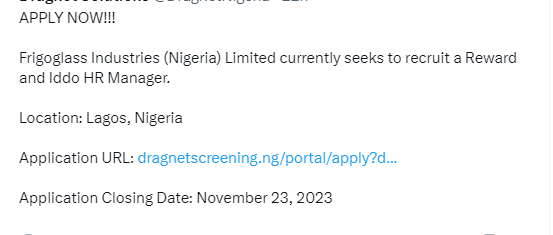 Are you a seasoned HR professional with a passion for driving talent retention through strategic compensation and benefits? If so, we have a compelling opportunity for you.
We are seeking a Compensation and Benefits Manager to lead our efforts in designing, implementing, and managing compensation and rewards programs that align with our organizational objectives. Your expertise will be vital in attracting and retaining top-tier talents while ensuring cost-effectiveness and flexibility in our workforce planning.
Key Responsibilities:
As the Compensation and Benefits Manager, you will play a pivotal role in shaping our talent strategy and ensuring our employees are rewarded fairly and competitively. Your key responsibilities will include:
Alignment with Business Requirements: Collaborate closely with the Nigeria Operations Team to align compensation and benefit plans with our business needs, ensuring a fair and competitive approach.
Market Surveys and Implementation: Lead remuneration and benefit market surveys, and implement insights gained. Provide HR business partnership support to Function Heads.
Competitive Compensation: Ensure that our compensation structures remain competitive in the market and are consistently synchronized across the organization.
Efficient Payroll Management: Establish efficient and effective mechanisms for payroll management across all operations.
Talent Retention: Develop and implement initiatives to retain the talent necessary for the organization's profitability and success.
Professional Work Environment: Assist corporate office Function Heads in maintaining a structured and professional work environment for all employees.
Performance Management Support: Support the Organization Development Team on Performance Management and act as the Technical Support Expert on the Online Performance Management Platform.
Data-Driven Decisions: Compile relevant data and recommendations to guide decision-making related to compensation, HR Key Performance Indicators (KPIs), and other People Operations activities.
Market Trends Analysis: Analyze trends in the organization, the economy, and the employment marketplace to identify opportunities to enhance workforce planning strategies.
HRIS Management: Continuously monitor and update the HR Information System (MS Navision) in collaboration with the ERP team, proposing changes as necessary.
Qualifications & Experience:
To excel in this role, you should possess the following qualifications and experience:
Bachelor's degree or Higher National Diploma (HND) in Human Resources, Business Administration, or related fields.
Proven experience of 7-10 years in a multinational compensation and benefits role within a fast-paced environment.
Professional Certification (CIPM) is an added advantage.
Knowledge of Microsoft Dynamics Navision or other Enterprise Resource Planning (ERP) software.
Proficiency in Microsoft Excel and PowerPoint presentation skills.
Self-motivated with strong project management skills, capable of taking initiative and working independently as well as within a team.
Strong business and financial acumen, including problem-solving, critical thinking, and business analysis skills.
Excellent communication skills, both verbal and written, with the ability to analyze, organize, and convey complex ideas effectively.
Collaborative approach with the ability to inspire colleagues to meet deadlines.
Highly numerate with HRIS data management experience.
Enthusiastic, proactive, and capable of operating at both strategic and operational levels.
How to Apply:
If you are ready to take on this exciting challenge and make a significant impact on our organization, we encourage you to apply. Visit the portal to apply