Society for Family Health Recruitment 2023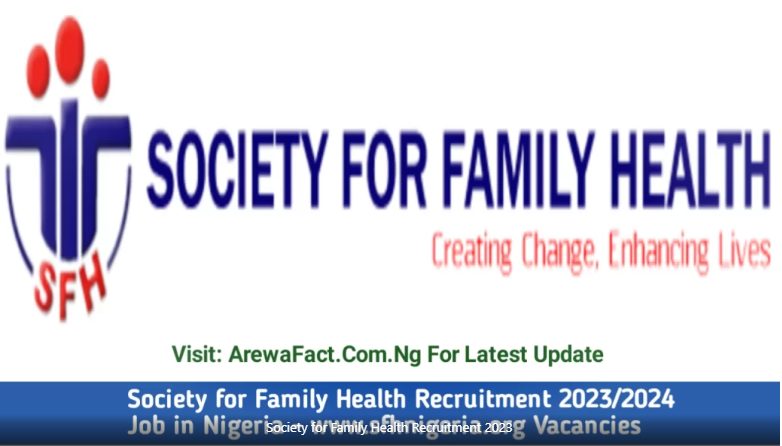 Are you eager to secure a job with the Society for Family Health (SFH) in Nigeria? Great news! The SFH Nigeria Recruitment Portal is now open for qualified applicants to apply for the latest job vacancies. In this article, we'll outline the essential requirements and qualifications you need to know for the Society for Family Health Recruitment.
Society for Family Health (SFH): Your Path to a Health-Focused Career
SFH is a prominent non-governmental organization (NGO) dedicated to public health initiatives in Nigeria. We are currently in search of exceptional individuals to join our dedicated team as Finance and Operations Advisors for our Key Population Community HIV/AIDS Services Action and Response (KPCARE-2) project. This is a unique opportunity, especially for those looking to work in the field of finance and operations.
Job Role Description: Making a Difference
As a Finance and Operations Advisor at SFH, you'll play a pivotal role in ensuring effective financial management for the KP CARE 2 project. This includes adhering to all relevant state rules and regulations. Your responsibilities will encompass a wide range of tasks, including managing the project's state bank, vendor payments, audit processes, budget creation, and financial reporting. You will also be responsible for overseeing the operations, compliance, cleaning, and security staff of the KP CARE 2 project. Your contributions will be integral to the success of our projects in Kano and Taraba.
Qualifications and Skills: Your Path to Success
To excel in this role, you should possess the following qualifications and abilities:
Educational Background: A first degree in Accounting or a related field is essential. A strong foundation in accounting and finance is a must.
Professional Qualification: Additional qualifications like ACA or ACCA are highly desirable and showcase your commitment to excellence.
Relevant Experience: With a minimum of six years of experience, including progressively responsible roles in financial management, reporting, operations, and office management, you bring valuable expertise to our team.
Analytical Skills: Strong analytical skills are crucial for sound decision-making and effective strategic planning.
IT Proficiency: Intermediate IT skills, including familiarity with accounting software, are vital for streamlining financial processes.
Communication Skills: Effective collaboration with various teams and stakeholders necessitates strong communication skills.
Why Choose SFH?
By becoming a part of SFH, you join a dynamic group dedicated to improving community access to healthcare and treatment outcomes. Our collaboration with international sponsors and governmental organizations means you'll have the opportunity to work on impactful initiatives. As a Finance and Operations Advisor, you'll make a significant contribution to the success of our projects and play a pivotal role in transforming lives.
Application Closing Date: Act Now!
The application deadline for this position is October 27, 2023. We encourage candidates who meet the requirements to apply through the official application site link.
Join Us on a Journey to a Healthier Future
At SFH, we firmly believe in the power of individuals to create positive change. If you are passionate about making a difference and meet the qualifications for the position, we invite you to apply and join our mission to build healthier, more empowered communities in Nigeria. Together, we can create a better and healthier future for all. Apply today!