Apply For TWAS-SN Bose Postgraduate Fellowship Programme, 2019/2020 Session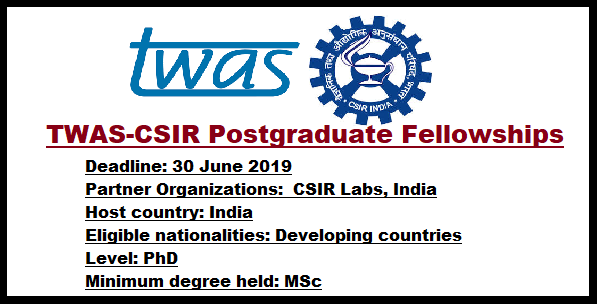 TWAS and the S.N. Bose National Centre for Basic Sciences in Kolkata, India have agreed to offer fellowships to young foreign scientists from developing countries who wish to pursue research towards a PhD in physical sciences.
TWAS-SN Bose Postgraduate Fellowship Programme Details.
TWAS-SN Bose Postgraduate Fellowships are tenable at the S.N. Bose National Centre for Basic Sciences in Kolkata, India for studies leading towards a PhD degree in the physical sciences for four years with the possibility of a one-year extension.
The Centre carries out the following research activities:
– Linear and Non-linear spectroscopy, Ultrafast molecular processes and spectroscopy, Ultrafast dynamics in biological macromolecules and magnetization, Ultrafast laser induced processes, Soft condensed matter systems of chemical and biological interests, mesocopic physics, ionic liquids, multi-component liquid mixtures, supercooled melts, supercritical fluids, bio-nano interface, nano-magnetism, magnonic crystals, micromagnetic simulations, Nanomaterials in general, and Physics of Correlated oxides, low dimensional systems, magnetic shape memory alloys, dilute magnetic semi-conductors, multi-ferroic materials, thin films of metals and oxides, electronic, magnetic and structural properties of complex materials, superconductivity,  strongly correlated electronic systems, quantum many-body physics, micromagnetic and monte carlo simulation of static  and dynamic properties of nanomagnets, theoretical study of thermalconductivity, Ab initio plane wave pseudo-potential calculation, strongly correlated electron systems, electronic structure and transport through nano-materials.
– Quantum field theory, mathematical physics, cognitive science, granular physics, non-commutative quantum mechanics, statistical physics, non-linear dynamics, turbulences, lattice gauge theories, representation theory of lie groups and coherent states, quantum optics, black holes, constrained dynamics, quantum gravity, quantum spin systems, collective behaviour and emergent phenomena, explosive percolation, complex networks and critical phenomena.
– Cosmology, Relativistic Astrophysics, ionospheric science, Astrochemistry.
Applicants may be registered for a PhD degree in their home country (SANDWICH option), or may enrol in a PhD course at the S.N. Bose National Centre (FULL-TIME option). In both cases, the programme entails only one journey to the host country.
Admission to the PhD programme at the S.N. Bose National Centre will depend on the successful completion of coursework (about one year's duration).
S.N. Bose will provide a monthly stipend to cover living costs and food. The monthly stipend will not be convertible into foreign currency. Free on-campus accommodation will be provided. The monthly stipend does not cover comprehensive health insurance.  The Centre does however deduct a small contribution towards a Contributory Medical Scheme. The benefits are partial reimbursement of Doctor's fees, medicines and/or hospitalization costs, if any, and only for costs incurred in Kolkata. The reimbursement structure is along the lines of the Central Government Health Scheme (CGHS) of the Government of India.
The S.N. Bose Centre  does not provide comprehensive health or medical insurance to its staff or students. All SN Bose-TWAS fellows must have their own "Medical Insurance" before joining the programme to cover medical emergencies.
The language of instruction is English.
TWAS-SN Bose Postgraduate Fellowship Programme Eligibility.
Candidates for these fellowships must meet the following criteria:
Be a maximum age of 35 years on 31 December of the application year;
Be nationals of a developing country (other than India);
Must not hold any visa for temporary or permanent residency in India or any developed country;
Hold a Masters Degree in physics, mathematics or physical chemistry. S/He must have completed at least a total 5 years of undergraduate and postgraduate studies in a recognized university or institute.
Be accepted by a department of the S.N. Bose National Centre. Prospective applicants are advised to visit the S.N. Bose National Centre's website www.bose.res.in Requests for acceptance must be directed to the Dean (Academic Programme), S.N. Bose National Centre for Sciences by e-mail (deanap@bose.res.in) or fax: (+91) 33 2335 3477. In contacting the Dean (Academic Programme), applicants must accompany their request for an Acceptance Letter with copy of their CV, a research proposal outline and two reference letters
Provide evidence of proficiency in English, if medium of education was not English;
Provide evidence that s/he will return to her/his home country on completion of the fellowship;
Not take up other assignments during the period of her/his fellowship;
Be financially responsible for any accompanying family members.
How to Apply for TWAS-SN Bose Postgraduate Fellowship Programme.
The deadline for receipt of applications is 30 June 2019.
Applicants must submit an Acceptance Letter from a department of the S.N. Bose National Centre when applying, or by the deadline at the latest. Without preliminary acceptance the application will not be considered for selection.
Visit our online Platform: 
Applications for the TWAS-SN Bose Postgraduate Fellowship Programme can ONLY be submitted via the online portal. A tutorial on how to use the online application form is available below for download.
Please be advised that applicants may apply for only one programme per calendar year in the TWAS and OWSD portfolio. Applicants will not be eligible to visit another institution in that year under the TWAS Visiting Professor programmes. One exception: The head of an institution who invites an external scholar to share his/her expertise under the TWAS Visiting Professor programmes may still apply for another programme.
The deadline for submission is 30/06/2019.
Npower 36 states And FCT Coordinators To Hold A World Press Conference Today
On today's latest N-power news, the 36 states coordinators including FCT has organized a world press conference which is scheduled to hold today 21 st September 2020 at the the city of of llorin.
Many of our states coordinators are currently in llorin for today's briefing. The following media outlet will cover the event:
Channels television
TVC
AIT
Sahara reporters
The punch newspapers.
We will update you as the Npower volunteers continue to fight this struggle. Npower volunteers are not given up on their agitation for permanency from the federal Government led administration under President Muhammadu Buhari.
READ ALSO: 200k Npower Volunteers To Be Used To Test Run Transition First Phase – Minister
They are also planning to embark on nationwide protest after the press conference. We shall update you on all of these program as the event unfold.
Please let's continue to pray for them and the success of today's briefing.
Best regards.
University of Ibadan Resumption Date for 200, 300, 400 level students announced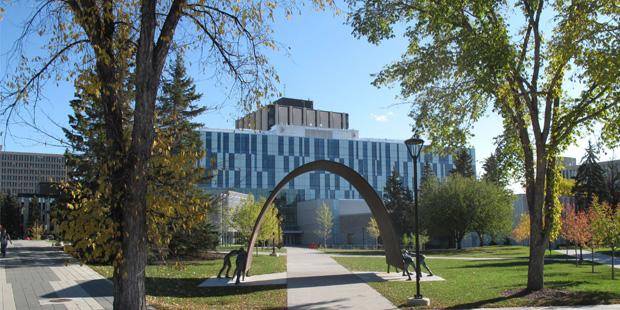 The University of Ibadan (UI) line with the directive of the State Government for all tertiary institutions to resume academic activities after the lockdown due to the spread of the Corona Virus Disease (COVID-19), the College Management has directed that all 300 level and 400 level students are to resume on Monday 14th September 2020 for academic activities.
You are to take note of the following;
400 and 300 Level students are resuming on Monday 14th September 2020 for REVISION
200 Level students are resuming a week later for REVISION
400 and 300 Level students will commence the 2019/2020 academic session first-semester examination on Monday 21st September 2020
200 Level students will commence the 2019/2020 academic session first-semester examination on Friday 25th September 2020
100 Level students will be on the date of resumption at a later date.
Students that are resuming are to maintain social distancing at all times
All students are to appear with their individual face masks before admittance into the College premises
Students are also advised to make use of Hand Sanitizers at each entry point in the College Premises.
All Students must come with their identity cards and examination pass to the examination venues
Federal Teachers Scheme (FTS) Recruitment 2020 Application Form Commenced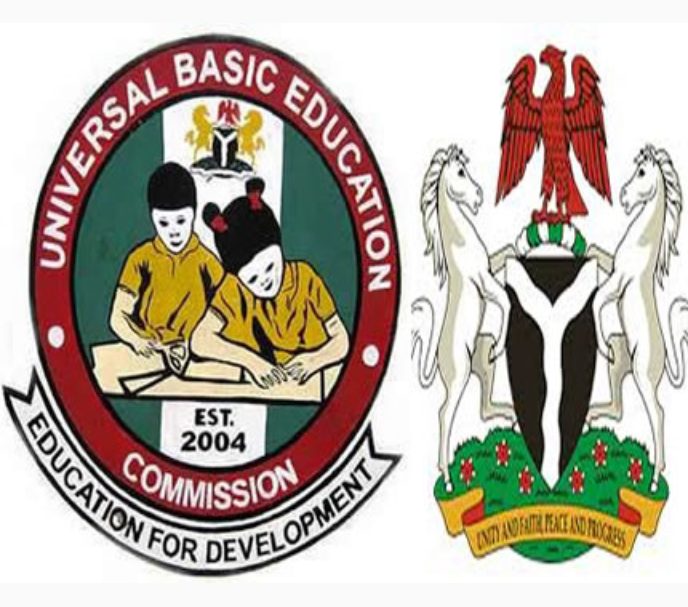 Applications are invited from eligible candidates for recruitment into the Federal Teachers' Scheme (FTS) for 2020/2021 service period. The Federal Teachers' Scheme (FTS) is a two-year intervention programme established by the Federal Government in 2006 to assist States in addressing teacher shortage at the basic education level.
ELIGIBILITY FTS Recruitment 2020
Only candidates who fulfill the following conditions need to apply for FTS Recruitment 2020
Must possess a Bachelor's degree in Education or Bachelor degree with Postgraduate Diploma in Education (PGDE), of not lower than Second Class (Lower Division) and not earned earlier than 2014.
Must have completed or been exempted from the NYSC Scheme.
Nigeria Certificate in Education (NCE) with credit passes in Teaching Practice and the Teaching Subjects, and not earned earlier than 2014, with specialisation in any of the following subjects:
a. English Language
b. Mathematics
c. Integrated Science
d. Biology, Chemistry and Physics
e. Agricultural Science
f. Home Economics
g. Computer Science
h. Technical/Technology Education
i. Computer Science or Information Technology
j. Nigerian Languages
k. Physical and Health Education
iv) Not more than 35 years of age.
v) Not currently employed or enrolled under the NYSC, N-Power or any similar programme.
DURATION:
The service period is for two (2) years or as may be determined by the Universal Basic Education Commission.
REMUNERATION
The Federal Government shall pay each participant an allowance of N30,000.00 per month.
METHOD OF APPLICATION FOR FTS Recruitment 2020
Application Form shall be completed online. Interested candidates who fulfil the above-listed eligibility criteria should visit https://fts.admissions.clouds to complete and submit their application Forms online. Candidates will be required to upload their credentials (as listed on the site) together with their most recent passport photograph.
Federal Teachers Scheme Recruitment 2020 application portal shall be open for two (2) weeks, from 10th – 24th September 2020. There will be no extension.
ENQUIRIES
All enquiries relating to the online application should be directed to: ftssupport@flexisaf.com and +2347036662931.
SCREENING TEST
Shortlisted candidates will be required to sit for a Computer-Based Test as scheduled below:
Date: Saturday, 10th October, 2020
Venue: At designated CBT Centres in each State Capital (Information on this will be provided by the State Universal Basic Education Boards (SUBEBs) and UBEC Zonal and State Offices).
Time: 9.00 am