Ashden Award 2023 Application – Get Up to £25,000 in Grant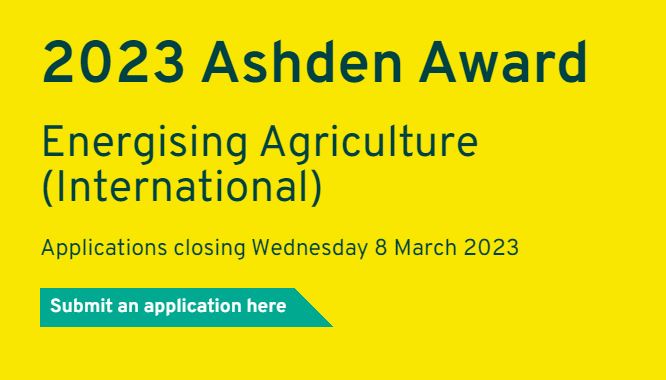 Ashden Award 2023 Application is open, any interested persons who meet the requirements are wishes to apply for the Ashden Award can now apply by following the instructions outlined below.
TRENDING NOW
Ashden's mission is to accelerate transformative climate solutions and build a more just world. Our awards, events, networks and analysis support climate innovation in the UK and developing countries around the world.
Ashden supports proven climate innovation in the UK and developing countries – because on-the-ground solutions will drive the system changes our planet needs. For two decades the Ashden Awards have accelerated the most exciting climate innovators. We find our winners through a rigorous global search, then work with them to scale up their impact and inspire others. The insights of these climate innovators power everything we do.
If you have a sustainable project with a vision-driven project, you can apply for the Ashden award 2023 application and stand a chance to win a whooping £25,000 in grants.
Why Apply for Ashden grants 2023?
Winning this Ashden Award brings a prize of £25,000  as well as ongoing development support.
We put winners in front of funders, investors, policymakers, journalists and others who know the unique value of an Ashden Award and the strength of our rigorous assessment process.
We create promotional films about your winners' work and tell their stories in mainstream and specialist media, and through our growing digital channels. We've helped previous winners gain coverage at Sky News, The Telegraph, Times of India, Al Jazeera, New Scientist and other leading platforms.
Award winners', views, needs and insights are at the heart of our influential reports, toolkits and events – which shape the views of key climate decision-makers.   
All winners join the Ashden network – giving them the chance to connect with new partners through masterclasses, investor pitching events and introductions to influential policymakers.   
Who can Apply for the Ashden Award 2023 Application
Businesses, NGOs, government organisations, social enterprises and community groups are all eligible. Work must be currently available to clients, customers or beneficiaries. 
How to apply?
There are two stages to the application process – both need to be completed by the closing date of Wednesday 8 March 2023.
Please read this carefully and ensure you give yourself sufficient time to complete both stages before the closing date.
1. Register your interest using our initial Expression of Interest form.
This can be completed in English via our online application portal here. 
To apply in French, Spanish, Portuguese or Arabic, follow the relevant link below to download a form to register your interest. Send the completed form to apply@ashden.org  
Ashden will then review your form and invite you to submit a full application form if you meet all of the award criteria.  
2. If you are invited to do so, please complete the full application form.
If you are applying in English, this must be submitted via our online application platform. You will be prompted to register for an account before you begin your application – please check your junk folder if you don't see an email from us (or contact apply@ashden.org).
If you have been invited to submit a full application in French, Spanish, Portuguese or Arabic, we will email the form to you directly. Please return the completed form to us at apply@ashden.org
Your Call?
Is your project helping off-grid, small-scale farming communities grow, store and process their crops?
Are your accessible solutions raising incomes, improving nutrition and creating resilience in the face of rising temperatures and extreme weather?
Apply to the 2023 Ashden Award for Energising Agriculture by Wednesday 8 March.
Winning prize fund: £25,000
Supported by: Department for Business, Energy and Industrial Strategy
Note that the deadline for submission of both the registration of interest AND the full application form is Wednesday 8 March 2023.