Edwin and Stella Ajaere Foundation Grant for Small Business owners and students (Get up to N250,000)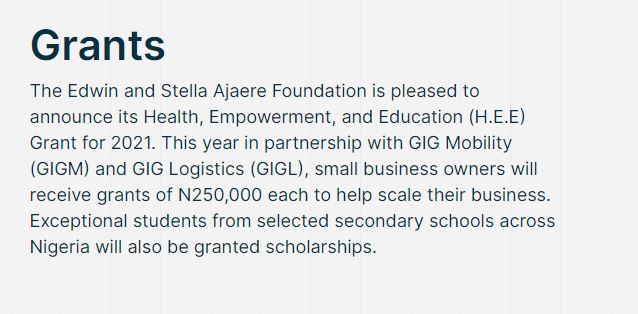 This year in partnership with GIG Mobility (GIGM) and GIG Logistics (GIGL), small business owners will receive grants of N250,000 each to help scale their business.
The only official website to apply is http://esajaere.co/grant
TRENDING NOW
Exceptional students from selected secondary schools across Nigeria will also be granted scholarships.
To access the grant, participants will be required to write a descriptive essay of 200 words on their product, business, service as well as upload picture evidence.
Participants for the education category will be required to also write a descriptive essay on dream profession in 200 words and upload a picture of their last term grades(result)
Visit http://esajaere.co/grant to apply for the grant.