Are you a young Nigerian who wants to access up to 5 million Grant to finance your small business?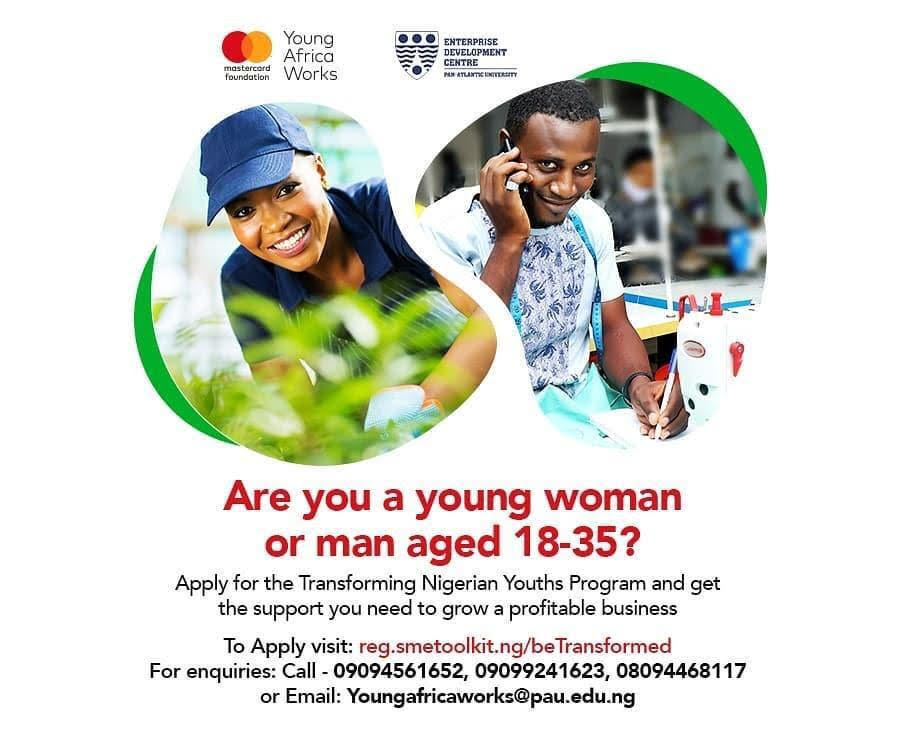 Hello, are you a young Nigerian who wants to access up to 5 million to finance your small business, and also enhance your entrepreneurial skills?
The only official website to apply, visit: https://reg.smetoolkit.ng/beTransformed
So thanks to the 'Transforming Nigerian Youths' program brought to you by 'MasterCard Foundation' in partnership with Enterprise Development Centre.
TRENDING NOW on searchngr.com
The youth program aims to remove sector restrictions and reduce unemployment, by supporting entrepreneurs with the resources and learning required to start, grow, and expand their businesses.
Through this free training program, young Nigerians can access funding to finance their businesses. You also get free weekly data and airtime to aid easy learning.
Good thing is, there are other amazing benefits to gain. The program provides an avenue to sell to a wider audience and access to personalized business development experts to work with. You also get a free logo and website for business identification!!
The training is open to 40,000 young people, especially women-owned businesses in Nigeria with the provision of entrepreneurial Skills and learning required to take their businesses to the next level.
Lessons can be taken wherever you are, with training delivered via the EDC's online learning platform.
It is open to all but with special interest with those who live in Lagos, Kano, and Kaduna states, by creating opportunities for them to expand and grow their business.
The Transforming Nigerian Youths program aims to create a network of entrepreneurial and managerial change-makers specifically youths and women across the Micro, Small and Medium Enterprises (MSMEs) sector in Nigeria but with special interest with those who live in Lagos, Kano and Kaduna states.
This program is brought to Nigeria by the Young Africa Works-Mastercard Foundation in partnership with the Enterprise Development Centre, Pan-Atlantic University.
EDC is teaming up with the Foundation to build the capacity of 40,000 MSMEs with special focus on agriculture and creative sectors especially women-led businesses in Lagos, Kano and Kaduna states. The training will be delivered via EDC's online learning platform and IVR( Interactive Voice Response) to enable all learners to take part in the lessons on the go wherever they are.
The following are the core objectives of the program:
To completely transform the mindset of youths in Nigeria to become more entrepreneurial, and to equip them to be self-employed or job creators.
To create market access and provide support services to existing business owners especially those being run by young people.
Change the way learning or information is received in Nigeria through EDC Beam.
How to apply
Applications are opened to young Nigerians, especially women within the age range of 18-35. What else are you waiting for?  To apply, visit: https://reg.smetoolkit.ng/beTransformed
You can also contact 09094561652, 09099241623, 08094468117 for details/ email: Youngafricaworks@pau.edu.ng