How to Apply For Equip Youth Empowerment Programme 2021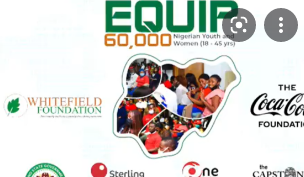 Equip Youth Empowerment Programme 2021 – Are you looking for how to apply for the equipped empowerment programme to help boost your business and career? if yes, then this article will guide you through the process of application.
TRENDING NOW
EQUIP Programme is build employability, entrepreneurship and money-making skills with courses taught for free by experts and professionals in easy to understand and practical way. Interest applicants should follow the link below.
What is EQUIP Programme?
Equip Programme is popularly known as education, quench, illuminate, pivot. Whitefield Foundation is passionately committed to poverty eradication in Africa and especially Nigeria through economic empowerment.
Requirements for Equip Youth Empowerment Programme 2021
1) Be a Nigerian2) Be between the ages of 18 yrs to 45 yrs.
This initiative is designed to equip 60,000 participants with FREE employability and entrepreneurship skills that will help them generate income to rise out of poverty, gain economic power, cater to their personal and immediate family needs. The program is FREE. Online and Offline Hybrid
Note: Kindly ensure the correct information is entered to avoid disqualification
How to Apply For Equip Youth Empowerment Programme 2021
Interested applicants should click https://www.equip.whitefieldfoundation.ng/register to apply Now 
Other Partners include Capstone Resource Centre, Sterling One Foundation, SterlingBank, Megalios IT Foundation, MSMEAfrica, AfricanFarmer, and Kano State Ministry of Youth & Sports Development.