How to Make Money On Steemit In Nigeria | How Does Steemit Make Money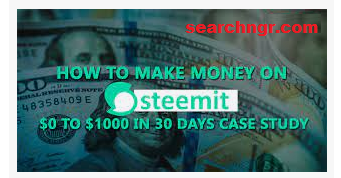 How Does Steemit Make Money – Steemit is a blockchain-based blogging and social media website, which rewards its users with the cryptocurrency STEEM for publishing and curating content, and is owned by Steemit Inc., a privately held company based in New York City and a headquarters in Virginia.
TRENDING NOW
This article is to teach beginners the fundamentals of how to make money as a content creator on steemit. One of your goals or achievement as a new beginner is to make high-quality content that will attract the mind of the reader on steemit.
More In-depth on Steemit
On July 4, 2016, Steemit was launched as the first app on the STEEM blockchain. It serves a community of users with an automated set of news and commentaries based on their choice. It provides them with a source to earn by posting content and offers cryptocurrencies rewards in return.
However, new beginners are then advised to establish an account on steemit to join the platform and to also comment on people's posts. this process will seem difficult but it will allow you to get your feet wet and determine how much value you as a beginner can truly add to the platform.
How to Make Money On Steemit In Nigeria | How Does Steemit Make Money
Below are some of the ways a beginner can make money on steemit
Blogging
Blogging might seem difficult to others but if you enjoy writing, the number one aspect of making money on steemit is to write and post content. there is no limit to what you can write, everybody has his or her own potential.
However, if you can generate more followers and readers, you should not be having a problem making money on a daily basis with steemit. Below image will show you some content posts.
Commenting
another great way to earn money from steemit is to comment on other posts. This can also help you make more stem dollars and rise the value of your steem dollars.
This is good for you if are looking at how to make money on Steemit but are too lazy or don't find writing long articles interesting. Just comment and upvote and you will make money.
But the money you will make commenting will not be as much as you will make writing unless you have a good Steem Power (SP).
Upvoting
As weird as it may sound, you can make money from Steemit by voting.  But this is most useful when you have built up your Steem Power. When you have a high Steem Power, you can comment on a post and upvote, your vote will take your comment right to the top and give you the potentials to make money. Once you build up your steam power, just a vote will make you good money.
Visit steemit and create an account today https://steemit.com/
If you have been looking for how to make money on steeemit, we hope this article is helpful.