How to Apply for a Masters Degree in the USA For Guaranteed Admission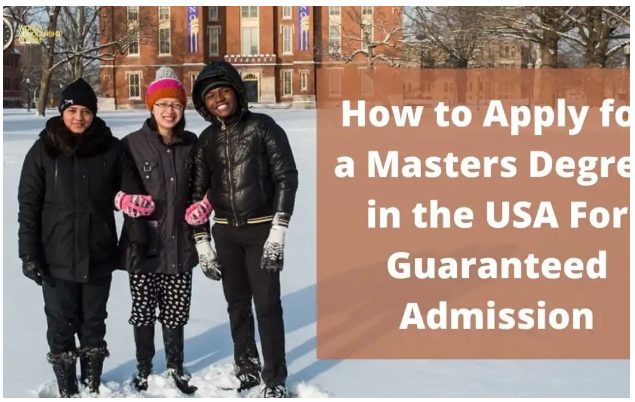 Acquiring a master's degree in the USA requires a much higher level of brain work and, of course, a huge amount of love and passion for what you are studying.
The decision to obtain a master's degree in a particular field of study is usually borne with true reasons. Therefore, the master's degree students should show a great sense of commitment toward the course.
TRENDING NOW
What are the Requirements for a Master's Degree in the USA?
Before you begin the application for masters in the US, it is important that you know the basic requirements.
1. Choose a University or College
The first step here is to pick a suitable US school where you want to study for the master's degree and the discipline you want to pursue. Also, you may decide to continue your master's study in the same area of study as your bachelor or go for a completely different field, this depends on you.
It is important you check the deadline of your preferred program of study before you begin application and deadline vary according to universities and courses, so check in with your host institution on your program application deadline.
2. Take English Proficiency Tests and Meet Scores
For international students from non-English speaking countries, they would have to take any of these two English proficiency tests – TOEFL (Test of English as a foreign language) and IELTS (International English testing service).
Your host institution sets the average test scores to pass any of the two tests above. So, you will have to contact the school on details concerning that.
To qualify for a master's degree program in the US, every American institution requires that applicants take any of two exams. These are the GRE (Graduate record examination) or the GMAT (Graduate management admission test).
3. Have a Bachelor's Degree
Another important requirement to be eligible for a master's program in the USA is that applicants must complete 16 or 15 years of formal education. This must include a completed bachelor's degree study. You must have a bachelor's degree with satisfactory CGPA (required CGPA varies from school to school).
Sometimes some USA university master's programs require applicants to have professional working experience before they can be admitted for a master's degree in the USA. The years of experience vary with schools and fields of study. Generally, it is at least one to two or more years of work experience.
After considering and passing all of the requirements above you can now begin your master's application into your preferred institution. But firstly, read the guide below on the documents required to apply for a master's degree in the USA as an international student.
Documents Required for a Masters in the USA
Here are the compulsory documents that you need for a master's degree in the US. You need to keep them handy to be able to initiate and make a successful application.
1. Statement of Purpose
This is also known as SOP and contains well-written, clarified details of your commitment to joining the master's program. It also includes your academic and professional interests, and how your admission into the program will add value to you, the academic community, and the world.
The following tips will help you in writing a proper SOP:
Start writing your SOP early and focus on self-motivation, passion, and potential.
Consider your audience, write only in active voice and try your best to keep the words and your system of writing formal and persuasive. Let your sentences show a high level of confidence.
Demonstrate interest in the school and mention why it is the school you want specifically amongst all the schools in the US. Let them know how much you value the opportunity of getting to do your masters in the school.
Create a draft first. Before ever you start writing your SOP make sure you have a quality draft to guide you and make your writing flow properly.
Be clear, concise, and straight to the point.
Are you done? Revise your SOP. This is very necessary, as necessary as the whole work you've put into creating the SOP put together.
The statement of purpose is very important in the master's application thus it should reflect clarity, be brief, and go straight to the point.
2. Letter of Recommendation
US universities may require two to three letters of recommendation and it is an independent assessment of the candidate's potential. To get the letters of recommendation, applicants should refer to their employers, lecturers/professors from their previous schools.
3. Essays
The essay requirement varies by institution, while some US universities may ask applicants to write about their interests others might offer applicants a random topic to write on. Also, the number of essays to submit for your master's program study differs by institution. However, it is no more than two or three essays submission.
4. Resume
Applicants will present their CV along with the application form which will contain basic information such as the date of birth, academic qualifications, positions, and achievements.
5. Academic Transcripts
This is a document that contains full details about your undergraduate level courses and the grades you obtained. You will submit this as part of your master's program application.
Other Required Documents
In addition to the above documents, you must also provide the following:
Satisfactory GRE/GMAT/TOEFL/IELTS score proofs.
International Passport.
Work experience certificates or prove, if required and if any.
Study permit for international students/Student Visa.
Prove of a source of funding: This is usually required to confirm that you have the financial capacity to complete the program if admitted.
Medical Insurance.
NOTE: In most cases, you don't have to figure how to get all of these ready all by yourself. The school you applied to will help you get some of the requirements ready, especially those required after an admission like the medicals, prove of funding, and others.
All I have listed above are mostly the basic requirements to apply for and successfully gain admission to a master's degree program in the USA. Your host institution may require more which may not be in this list. If your institution requests for more, they will certainly let you know how to go about getting them.
How Many credits Do You Need for a Masters degree in the USA?
Typically, it takes one and a half to two years of full-time study to complete a master's degree in the US, to earn the degree you will need to complete 36 to 54-semester credits of study or 60 to 90 quarter credits.
How much does it cost to study a masters degree in the USA?
For two years of a master's program in the USA, it could cost a total of about $60,000 to $80,000 on average which includes tuition fees, cost of living, and flight.
If you have gathered all the necessary documents and passed every required test and eligibility criteria you can begin your master's application. While some applications are done online, some are done offline or through both media, it varies with institution too.
Finally, it may interest you to know that you can also take part in a free master's degree course online and get your master's degree certificate upon completion.