How to apply for IMSG youth empowerment application form 2021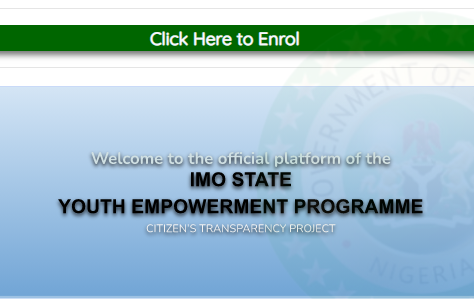 Use the Search Button below for more details.
The Imo state Government has call for application for the 2021 IMSG youth empowerment scheme. The scheme will enable the youth to engage in diverse business and upscale existing business.
The only official website to apply is https://www.imostate.gov.ng/IMSG/Youths/Youths
According to the governor, who noted that due to the outbreak of the COVID-19 Virus, the Imo State Government is concerned about the status and needs of the Micro, Small and Medium Enterprises (MSMEs) in the State.
Consequently, this appraisal form is to enable the State to empower you appropriately, in cushioning the economic effects of the Pandemic which has adversely affected the micro business activities in the State.
How to apply for IMSG Youth Empowerment Scheme 2021
Interest applicants willing to apply for the IMSG Empowerment Programme 2021 should follow the steps guided below accordingly:
Firstly, visit https://www.imostate.gov.ng and click on the 2021 IMSG youths Empowerment link or Click here directly to enroll.
Secondly input your phone number
Then, input the last 5 digits of your account number
Finally, input the first 6 digits of your BVN
Click Login and begin application process
Meanwhile, if you are stucked in any of the section, kindly send us a mail via searchngr24@gmail.com or leave a comment below this article and we would reply you in a jiffy.