Jobs: Massive Recruitment at UBA Bank 2021 (Jobs Available For Graduates)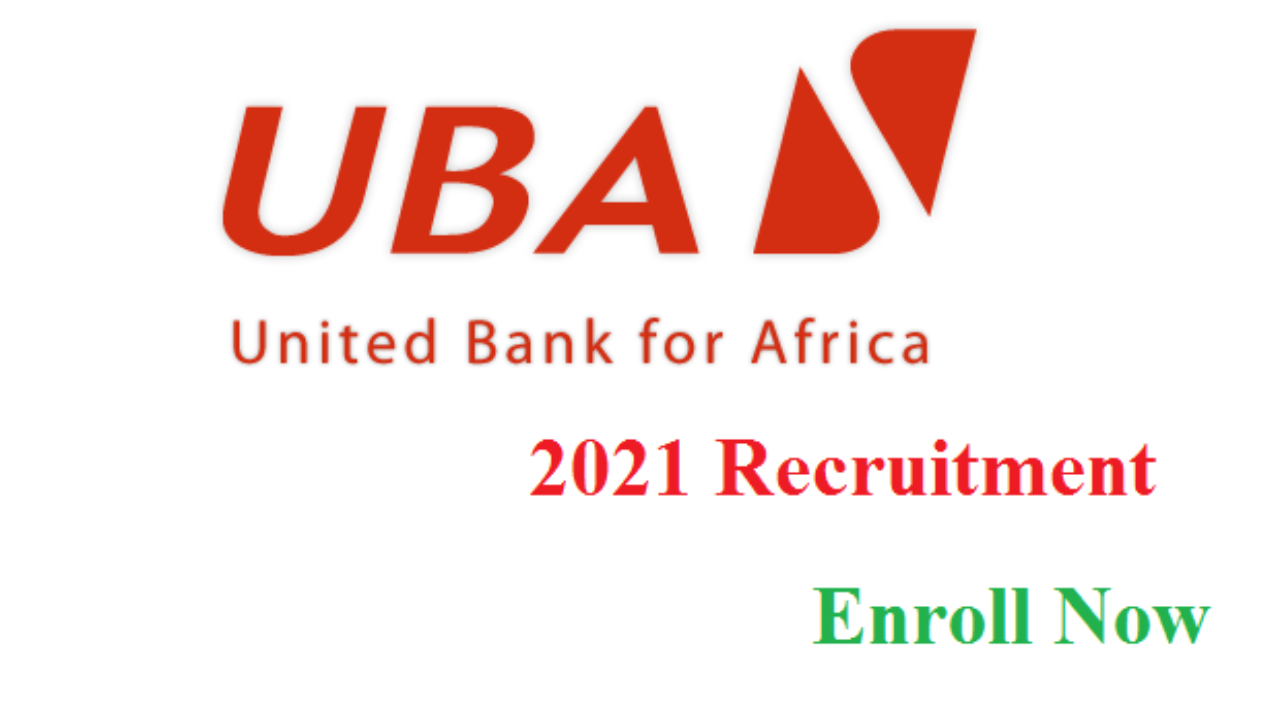 Recruitment at UBA Bank 2021: The United Bank for Africa is currently taking in employees to fill the available positions. Kindly read through the available jobs qualifications and eligibility to see if you qualify for the jobs.
TRENDING NOW
UBA Graduate trainee programme aims to inspire participants to discover the next stage of their lives after graduation. The mission is to facilitate new understanding and life-changing learning. Through our engaging classroom environment, participants will learn from industry experts, and cultivate a master's level business mind.
The table below shows the list of available jobs position to apply for the United Bank of Africa Recruitment 2021
Scriptwriter
Job Profile
We are looking for a Scriptwriter who can prepare high-engagement scripts and content for product videos, commercials, shows and other media platforms with a minimum of 3 – 5 years relevant experience
Job objective(s)
– Write and edit sales and marketing copies for a variety of projects (including print, web, mobile, video, and social media)
– Produce error-free content that adheres to the brand guidelines
– Interpret creative direction and adapt points from creative briefs into persuasive copy concepts
– Propose copy concepts and present underlying strategic thinking to business leaders
– Work closely with product marketers and designers to brainstorm ideas, create concepts, and develop messaging
– Conduct thorough research and interviews to understand trends (both industry and lifestyle) to ensure messaging is relatable to the target audience
– Analyse marketing metrics and use results to influence the content
Skills required
– Content creation and storytelling
– Good Analytical and Presentation Skills
– Proficiency in Microsoft Office Applications
– Excellent presentation Skills
– Good command of the English language
– Effective interpersonal communication skills
– Content Marketing Strategy
Minimum Education Qualifications
– Bachelor's Degree in any relevant field of study
Previous Work Experience Requirements
– Minimum of 3 – 5 years relevant work experience
Interested applicants should apply by sending your updated CVs with the role as subject matter to careers@ubagroup.com – Recruitment at UBA Bank 2021
Content Development Specialist
Job Profile
We are looking for a Content Development Specialist who can create high-engagement content and campaigns that reflects our brand's voice across various platforms such as web, television, social media and others with a minimum of 3-5 years' relevant working experience
Job objective(s)
– Write and edit sales and marketing copies for a variety of projects (including print, web, mobile, video, and social media)
– Produce error-free content that adheres to the brand guidelines
– Interpret creative direction and adapt points from creative briefs into persuasive copy concepts
– Propose copy concepts and present underlying strategic thinking to business leaders
– Work closely with product marketers and designers to brainstorm ideas, create concepts, and develop messaging
– Conduct thorough research and interviews to understand trends (both industry and lifestyle) to ensure messaging is relatable to the target audience
– Analyse marketing metrics and use results to influence the content
Skills required – Recruitment at UBA Bank 2021
– Good Analytical and Presentation Skills
– Cross-Functional & Technical Skills
– Good command of Microsoft Office Applications
– Excellent presentation Skills
– Good command of the English language
– Effective interpersonal communication skills
– Content Marketing Strategy
– Content creation and storytelling
– Highly creative and innovative
Minimum Education Qualifications
– Bachelor's Degree in any relevant field of study
Previous Work Experience Requirements
– Minimum of 3 – 5 years relevant work experience
Interested applicants should apply by sending your updated CVs with the role as subject matter to careers@ubagroup.com
Compliance Advisory Officer
Job Profile
Our ideal candidate must have between 4 – 8 years experience in Operations, Internal Control, Audit
Job objective(s)
– Ensure adherence to Policy and Regulatory Compliance
– To provide guidance to stakeholders on Compliance matters to ensure the bank's operations and business transactions follow all relevant regulatory provisions and internal policies
– To provide compliance and advisory services to executive management
– Ensure Compliance Advisory Portal is always properly manned, and all inquiries are responded to in a timely manner
– Respond to escalations and enquiries with respect to IMTOs
– Re-route STR/SAR escalations from business offices to Transaction Monitoring unit for proper filing
– Attend to all BVN related changes taking into consideration the provisions of the CBN BVN Framework by ensuring completeness of recommended documentation
– Attend to all Foreign Currency Transactions referred to Compliance for advice
– Respond to request for World-Check due diligence screening
– Ensure prompt response to Request for Information (RFI) from Nigeria Financial Intelligence Unit providing requested documents
– Review and approve account opening requests for PEPs and Public Sector Accounts
– Review and approve Domiciliary Account Tiering /Due Diligence alerts
– Conduct due diligence for Merchants and Payment Facilitators onboarding
– Review of Vendor Account Opening Requests prior to their commencing relationship with the Bank
– Provide general advisory support and guidance on all Compliance related enquiries
– Review and approve all agent banking a/c opening requests
Skills required
– Strategic thinking and problem-solving ability
– Analytic, Conceptual and Investigation Skills
– Proficiency in the use of the computer and basic applications like excel, PowerPoint, World-Check
– Firm, professional and result-oriented
– Excellent Interpersonal and Communication Skills
– Avid Reader
Knowledge
– Deep knowledge of the Bank's Products, Services, Processes and Policies
– Good Understanding of Sanction screening
Minimum Education Qualifications
– Bachelor's degree
Previous Work Experience Requirements
– Minimum experience of 4 years in operations, Internal Control and Audit
Interested applicants should apply by sending your updated CVs with the role as subject matter to careers@ubagroup.com
APPLICATION ENDS; AUG 21, 2021. PLEASE NOTE THAT ONLY APPLICANTS WHO MEET THE REQUIREMENT ABOVE WOULD BE CONTACTED – Recruitment at UBA Bank 2021
Team Member Investigation Monitoring & Enforcement
Job objective(s)
– Ensure policy and regulatory compliance
– Provide compliance and advisory function services to management
– Raise the culture of Compliance in the bank
– To manage and support the bank's compliance risk management strategy by monitoring and enforcing regulatory compliance and compliance with the bank's laid down rules
– Be involved in helping Cluster Compliance Officers in ensuring compliance with the external and internal rules guiding the bank across the various cluster arrangement
– Promote initiatives to ensure compliance with the bank's laid down policies/rules in order to enhance the compliance culture in the bank through spot checks, regular risk-based reviews etc
– Be involved in the activities of Cluster Compliance Officers to organize and facilitate AML training sessions, enforcing complete documentation/ applying adequate KYC controls, investigations and handling of unusual/suspicious transactions, records keeping
– Assist Cluster Compliance Officers to respond to and closeout enquiries on Compliance HelpDesk, respond to enquiries from regulatory and law enforcement agencies, review questionable transactions referrals (QTRs) from BOs
– Ensure Cluster Compliance Officers submit spot check reports etc to the Chief Compliance Officer are received as planned. etc
– Monitor regulatory changes, level of compliance to Internal and External regulations by through monthly incidence reporting
– Facilitate in Compliance training
– Monitor transactions according to Policy
– Dispose of Actimize alerts
– Track Compliance & AML Audit Review comments of the subsidiaries and Group Compliance to ensure that corrective actions are implemented and escalate to Chief Compliance Officer when necessary
– Track Regulatory Compliance examination comments of the subsidiaries and Group Compliance to ensure that corrective actions are implemented and escalate to Chief Compliance Officer when necessary
– Other ad hoc tasks
Skills required
– Strategic thinking & problem-solving ability
– Avid Reader
– Analytic and Investigation skills
– Conceptual skills
– Good interpersonal & communication skills
– Value-adding orientation
– Proficiency in use of excel, PowerPoint, World-Check, Finacle, Actimize etc
Knowledge
– Attention to detail
– Deep knowledge of the Bank's Products, Policies & Regulatory universe/directives
– Good understanding of sanction screening
Minimum Education Qualifications
– Minimum of a University first degree
Previous Work Experience Requirements
– Experience in Operations, Internal Control or Audit, Compliance, Risk
– Banking: Minimum of 2 years experience
Interested applicants should apply by sending your updated CVs with the role as subject matter to careers@ubagroup.com
Team Member Transaction Monitoring
Job objective(s)
– To carry out transaction monitoring reviews to identify, report and protect the bank from any transaction that may lead to ML/TF
– To render prompt compliance advisory support to ensure the bank's operations and business transactions follow all relevant regulatory provisions and internal policies
– To assist the GCCO to embed a culture of compliance in the bank by ensuring that the Banks AML and Counter Financing of Terrorism's efforts are in line with Group standards and international best practice thereby preventing the Group is exposed to the risk of sanctions and associated financial/reputational loss as a result of failure to comply
– Review of Actimize SAM (Suspicious Activity Monitoring) alerts to identify and report suspicious transactions
– Review of Actimize WLF (Watch-List Filtering) for Sanctions Compliance (both transactions and onboarding screening)
– Review of SWIFT Sanctions Screening alerts for Sanctions Compliance (only transactions screening)
– Risk Based Review of Accounts for suspicious activity
– Rendition of RBS and AML returns
– Periodic update of the Bank's Internal Watchlist
– Periodic Update of the Bank's PEP database
– Investigation of suspicious transactions and reporting on NFIU goAML Web
– Review of BVN discrepancies and IMTO Transactions
– Response to Information from Correspondent Banks
– Provide prompt compliance advisory support to all internal stakeholders
– Keep abreast of internal standards and bank's business goals
Skills required
– Strong Analytical skills
– Quantitative skills
– Proficiency in the use of the computer and basic applications like excel, PowerPoint, etc
– Good Interpersonal and Communication Skills
Knowledge
– Knowledge of Banking Operations
– Deep knowledge of the Bank's Products, Services and Processes
– Knowledge of MLPA 2011(as amended), CBN AML/CFT Regulations, 2013 (as amended), and other key AML/CFT regulations
Minimum Education Qualifications
– Minimum of a University first degree
Previous Work Experience Requirements
– Experience in Operations, Compliance, Internal Control or Audit, External Auditing, Risk Management
– Banking: Minimum of 1-year experience
Interested applicants should apply by sending your updated CVs with the role as subject matter to careers@ubagroup.com
Deputy Head, Customer Fulfilment Centre (Lagos, Nigeria)
Job Profile
We are looking to hire a talented and experienced individual to deputize the leadership within our Customer Fulfilment Centre;
– The ideal candidate must have worked extensively in a customer service supervisory/managerial role for a minimum of 5 years preferably in a Bank
– The ideal candidate must be able to demonstrate knowledge of contact centre metrics and KPIs; Knowledgeable and fully abreast of Call Centre Techniques, processes and procedures and ensure that best practice is entrenched within CFC
– Must be able to take decisions and actions on the spur of the moment to promptly recover service and close all identified gaps along the complaint resolution value chain (Leadership capability)
Job objective(s)
– Supporting the Group Head, Customer Fulfilment Center (GH-CFC) on day-to-day operations in the CFC, and ensuring that standards of care and structures that contribute to the seamless running of CFC are properly maintained
– Ensuring that the Service Level Agreement levels in all reporting LOBs, as well as vendor solutions, comply with the set standards and are effectively managed
– To ensure that effective reporting mechanisms and planning procedures are developed and adhered to
– To work with the GH-CFC and relevant stakeholders to disseminate business and organizational information clearly and concisely in the most appropriate manner
– Work closely with the GH, CFC and the heads of the unit towards developing the teams and ensuring a seamless process flow
– Managing escalations to ensure that they do not degenerate and closing out proactively
– To ensure timely rendition of weekly/monthly reports & ensure that all assigned tasks and action items are to be submitted at advised periodic intervals
– Communicate proactively, openly & directly with the CFC Platform, all units across the Bank, and ROA, towards achieving desired outcomes
– To work effectively with the operations' group, Business Offices and other Directorates to ensure that there is a smooth handshake between the frontline Team and back offices
– Knowledgeable and fully abreast of call Center Techniques, processes and procedures and ensure that best practice is entrenched within CFC
– Demonstrate understanding of the Bank's policies, processes, procedural guidelines, internal dynamics and regulatory provisions
– Able to take initiatives on the fly that will enhance the quality of service delivery, customer satisfaction and staff welfare
– Ability to evolve initiative and coordinate projects that will help ensure that CFC is able to function optimally
– Liaise effectively with requisite stakeholders to ensure that CFC, as well as the staff, are safe and stable in discharging their duties to the customers
– Able to take decisions and actions on the spur of the moment to promptly recover service and close all identified gaps along the complaint resolution value chain
– Constantly uphold the organizational culture and driving same across the platform
– Ensure discipline and orderliness is maintained at all times
Skills required
– Supervisory and Team leading skills
– Effective communication skills (verbal and written)
– Performance Management Knowledge
– Self-motivation and resilience
– Good knowledge of regulatory requirements
– An outgoing personality with a drive to work with young, restless, disruptive and enterprising minds
– The ability to build and sustain relationships with customers
– Ability to work under pressure, meet and surpass targets
– Computer proficient, with the ability to understand, and analyse reports/dashboards, to distil business intelligence, and actionable insights
– Knowledge of Contact Centre Metrics and KPIs
– Emotional and Business Intelligence skills
Minimum Education Qualifications
– First degree in any field
– Masters would be an added advantage
– Certifications in any customer service related field are also an advantage
Previous Work Experience Requirements
– Worked extensively in a customer service supervisory/managerial role for a minimum of 5 years
– A good knowledge of contemporary banking practices and financial/economic matters
– A sound understanding of the bank's products, processes and procedures
– Leadership role for a minimum of 5 years
– Minimum of 5years Banking experience
Interested applicants should apply by sending your updated CVs with the role as subject matter to careers@ubagroup.com
OR
Human Resources Business Partner, East & South (Port-Harcourt, Nigeria)
Job Profile
– Our ideal candidate must have practical/hands-on HR business partnering experience
– He/she has to be knowledgeable about HR processes, employee lifecycle and the business
– He/she must have strong Business Acumen, Interpersonal, Relationship management and Analytical skills
– He/she must reside in Port-Harcourt or be willing to relocate to PH
Job objective(s)
– To ensure an effective business partnering relationship in assigned regions, in line with the strategic objectives of the bank
– To provide strategic input on Talent Management issues to Business Leaders
– Build partnerships and maintain a strong relationship with business leaders to achieve Revenue Budget
– Ensure optimal staffing in assigned region
– Create exceptional candidate & employee experience throughout the employee journey in the Bank
– Drive Talent retention through career development, performance management, succession planning and employee engagement
– Ensure timely resolution of disciplinary cases, conflicts & Complaints in line with the Bank's policies
– Ensure consistency in the implementation of HR policies, processes and practice in the assigned region
– Support the implementation of projects and associated change management activity
Skills required
– Business Acumen
– Good Coaching and Counseling skills
– Rational, confident and mature approach to decision making
– Well-developed critical and analytical thinking
– Strong interpersonal, Problem solving, Negotiation and expectations management
– Effective listening skills
– Project management skills
– Strong orientation towards customer support and responsiveness
– Ability to build teams and foster team spirit
Knowledge
– Good knowledge of the Employee Lifecycle model with practical/hands-on experience
– Recruitment
– Knowledge of HR Metrics & Analytics
– Knowledge of HR processes & Labour law
Minimum Education Qualifications
– First degree in any relevant social science degree
– HR certification {CIPD, SHRM, CIPM}
Previous Work Experience Requirements – Recruitment at UBA Bank 2021
– 8 – 10 years work experience
– Proven experience as an HR Business Partner in the financial sector (added advantage)
Interested applicants should apply by sending your updated CVs with the role as subject matter to careers@ubagroup.com
Motion Graphic Designer (Audio Visual)
Job Profile
We are looking for a Motion Graphics Designer who can apply visual effects, animations and other techniques to create high-quality graphic and motion designs for the brand's products and services across various platforms such as web, television, social media and others. The ideal candidate must have;
– Minimum of 3 – 5 years relevant work experience
– Strong technical skills and proven ability to use a variety of graphic and motion design software such as Photoshop, Premiere Pro, 2D/3D animation and others
– Video Editing skills for a variety of platforms (web, mobile, video, and others)
– Graphic Design skills and Storyboard creation
– Creative thinking, directing and implementing skills
Job objective(s)
– To build brand affinity and loyalty through creative designs which would indirectly lead to business growth/benefits for the bank
– Design and create appealing graphic design and motion graphics for the bank's products and services
– Prepare design plan, concept and layout for motion graphic projects
– Create and deliver motion graphics for various platforms
– Provide audio, video, colours and animation for graphic design
– Edit raw video footage and add effects/elements to enhance motion graphics
– Develop concepts, graphics and layouts for product illustrations and banners
– Work with writers and product segment managers to determine a creative direction for projects
– Illustrate concept by designing the layout of art and copy regarding arrangement, size, type size and style, and related aesthetic concepts
– Collaborate with scripter/writers and the product marketing managers to understand needs, review scripts, design storyboards, and create and edit animations
– Use software and other techniques to produce animations
– Apply creative techniques in designing graphics for postproduction
Skills required
– Good Analytical and Presentation Skills
– Cross-Functional & Technical Skills
– Good command use of Microsoft Office Applications
– Excellent presentation Skills
– Good command of the English language
– Effective communication
– Social media marketing
– Content creation
– Online Reputation Management Public relations
Knowledge
– Adequate knowledge of social media platforms
– Good Writing Skills
– Good in teamwork in order to achieve organizational goals
– Campaign planning & Executions
– Communication strategy and plan execution
– Digital event planning and execution Good relationship with digital media influencers
Minimum Education Qualifications
– Bachelor's Degree in any relevant field of study
Previous Work Experience Requirements
– 3 – 5 years relevant work experience
Interested applicants should apply by sending your updated CVs with the role as subject matter to careers@ubagroup.com
OR