Kenyan Jobs: Apply as Global Sales Associate (Salary: $500 -1,000 USD)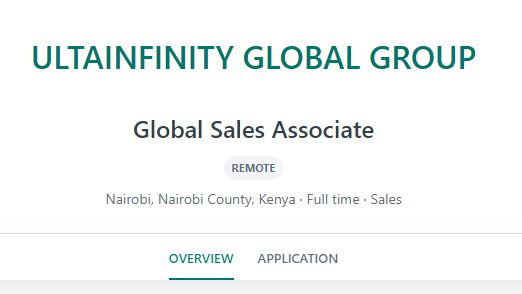 Ultainfinity Global Group is a financial technology group that is actively working to obliterate generational poverty or significantly reduce it and raise a horde of millionaires in every part of the world.
To advance this mission, we are seeking experienced sales associates and business developers to join our Sales and marketing team as Global Sales Associates (GSA). The GSA will coordinate the growth and spread of the Ultainfinity mission. It shall create, manage and grow Ultainfinity Wealth groups, and social channels, collect data for insightful and informed decision-making, advance the Ultainfinity Airdrops, etc.
We provide financial infrastructure, crypto economy products; a centralised crypto exchange; a wallet, a loan credit platform, and other products. GSAs will therefore identify potential buyers, initiate conversations, and negotiate terms to purchase our native tokens and related cryptocurrencies products.
Requirements
The ideal candidate for this position should possess, at least a Master's degree in marketing, sales, business management and other related fields. A Master in Business Administration (MBA) would be an added advantage.
Other requirements are listed below –
Strong interest and experience in financial and crypto markets
Quick thinking, creative problem solving and insightfulness
Excellent communication, negotiation and presentation skills
Excellent and proven record of business development, lead generation and relationship management skills
Proven knowledge of market insights
University bachelor's degree
Benefits
You will be working with an excellent, cross-functional global team
You will be part of the Wealth renaissance that Ultainfinity has already started creating
You will have the opportunity to select your earning path, which includes (but is not limited to) fixed basic pay, bonuses and commissions as well as their combinations
You will have the advantage of multiple career opportunities for you