MMM Back Again In Nigeria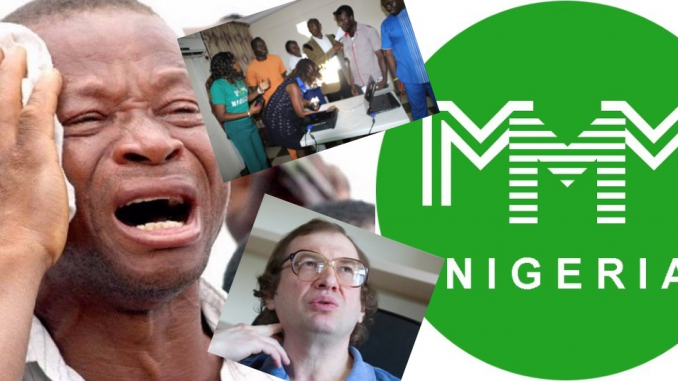 The Money Making Machine MMM as Nigeria will called is  back again in Nigeria –  It is now called forex trading and cryptocurrency mining. The biggest ongoing scam next MMM is online now. 
Bitcoin's meteoric rise in prices over the last year has awakened mainstream interest in the original cryptocurrency. With prices looking bullish once again, investing in bitcoin has never been as popular, but the rise in interest has not been without consequences. One of the downsides of new investors entering the market is the increase in the number of scams, frauds, and stories of retail investors who lose their coins to shady ventures. From ICO scandals to wallet theft and fraud, regular consumers can fall prey to crime easily.
Nigerians are investing billions again, just like they did in MMM.
The only difference is that they are no longer investing in a single platform.
Many already losing huge sums.
When are we going to learn?
Promoters of Make Money by Trading and Investing in Concurrency – Bitcoln mining, forex trading. have dominate social media space recently
While there truly exist the legitimate offers, majority of such offers flying around are purely scams & Nigerians are targets!
Cryptocurrencies are complicated, very confusing to new users and lightly regulated — all of which makes them an ideal target for scammers.
In December 2017, the chairman of the US Securities and Exchange Commission (SEC) issued a statement about the lack of investor protection for those buying 
In December 2017, the chairman of the US Securities and Exchange Commission (SEC) issued a statement about the lack of investor protection for those buying cryptocurrencies.
Case study: Pincoin and iFan
In April 2018, the Pincoin and iFan ICOs, run by the same Vietnam-based company, are believed to have cheated more than 30,000 investors out of a combined total of $660 million.
iFan was meant to be a social media platform for celebrities and Pincoin promised 40% monthly returns to investors. Both were later shown to be multi-level marketing (MLM) scams.
This has led to the rise of fake ICOs which, with some slick marketing and a little bit of hype, can convince people to buy a cryptocurrency that doesn't actually exist.
For example, one report found that 78% of ICOs in 2017 were scams, while a separate report put that figure at above 80%.
Again, if you're dreaming of getting rich quick from a crypto ICO, be aware that for every ICO success story there are many, many more failures, even if the project isn't a scam.
How to avoid fraudulent ICOs:
Thoroughly research any ICO before buying in. Look at the team behind the project, its white paper, the purpose of the currency, the tech behind it and the specifics of the token sale.
Ponzi or pyramid schemes
A Ponzi scheme is a simple but alarmingly effective scam that lures in new investors with the promise of unusually high returns.
Here's how it works: a promoter convinces people to invest in their scheme. These initial investors receive what they believe to be returns, but are actually payouts from the money deposited by newer investors.
Now satisfied that the scheme is legit, those investors who received payouts pump more of their money into the scheme and encourage others to do the same.
Sooner or later, the scheme collapses when the promoter runs off with the money or it becomes too difficult to lure new investors.
These types of pyramid schemes are nothing new and can be easy to spot, but that hasn't stopped some crypto buyers from being scammed in a handful of high-profile incidents.
How to avoid Ponzi/pyramid schemes:
Look out for cryptocurrency projects that encourage you to recruit new investors to enjoy bigger profits.
Never trust a scheme that promises returns that sound too good to be true.
Mining scams
Cloud mining allows you to mine cryptocurrencies like bitcoin without having to purchase the expensive hardware required to do so.
There are several legitimate cloud mining services that let users rent server space to mine for coins at a set rate.
However, there are also plenty of cloud mining scams out there.
Some promise astronomical (and implausible) returns and fail to disclose a range of hidden fees, while others are fronts for Ponzi scams and are simply designed to part you from your money.
How to avoid cryptocurrency mining scams:
Thoroughly research any cloud mining operation before signing up.
Does it use https?
Does it have a public mining address?
How long has it been in business?
Can you find any legitimate reviews from other users?
Does the site have a registered domain name?
Can the company provide proof of equipment?
Be extremely wary of companies that "guarantee" huge or outrageous profit or return on investment.
RELATED: First Bank Vs Dispatch Rider: N355 Million Fraud Scandal