Moya App Download Free & Check SASSA Status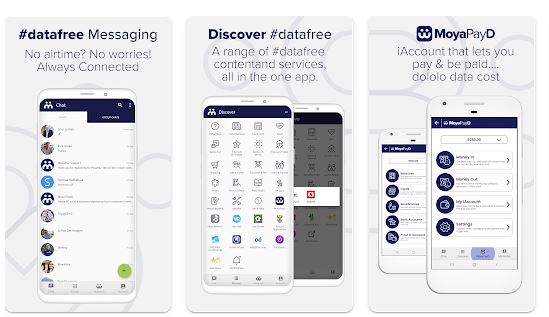 Moya App Download is a social app by DataFree Africa Pty Ltd. The app allows you to communicate with friends and family via calls, instant chat, and messaging.
From the Moya App, you can access news content, sports updates, and much other information. The Moya App is available on Android Play Store and iOS market.
However, Moya App Download is available only to a few countries, including South Africa, Cameroun, Zambian, Nigeria, and Uganda. It also only supports Vodacom telecommunication, MTN, Cell C, and Airtel.
How Moya App Works
When you download the Moya App from Google PlayStore or Apple Store,
After successful registration, Turn on Synchronize with your phone to enable you to see contact that is on Moya App.
Click on any Contact and begin chatting.
You must ensure your Data is turned On.
You can also send attachments and other important features that Moya App allows you to perform
What does MoyaApp have?
Instant text messaging & chat, like WhatsApp but with no data cost
Group chat with up to 500 people in one group
Voice and video calling
Over 300 content services include weather, news, sport, games, SASSA SRD, shopping, entertainment, gossip, jobs, education, books, health, tech & science, religion, etc.
Easy launchpad to browse the internet
Paid market research surveys
Marketplace for bus tickets, health vouchers, crypto, accommodation, classified listings, insurance, financial services, and more.
Load shedding updates
MoyaPay money account, Dololo charges, and data-free
Use MoyaPay to buy airtime & data, prepaid vouchers, send money to bank accounts, deposit cash and take out cash, and much more.
Get a MoyaPay prepaid Mastercard
Low-cost international money remittance services.
As Moya App downloads continue to grow and more partners work with the app more services are being added to Moya App all the time. Chat and messaging in MoyaApp will ALWAYS be data-free in South Africa, forever. No tricks, no catch.
MoyaApp works data-free in South Africa on the MTN, Vodacom, Telkom, and Cell C mobile networks, even when you have no airtime or data balance.
Moya App is available to use in all other countries but it is not data-free outside South Africa.
Features of Moya App Download
UNLIMITED INSTANT MESSAGING & VOICE NOTES no data cost on supported networks
DISCOVER browse a range of useful and fun online services, #datafree, all in the one app
VOICE & VIDEO CALLING best quality compared to other apps (not #datafree – before calling you will be warned)
MoyaPay account for your business hustle that lets you pay, get paid, transfer money, send money, swipe, EFT, withdraw cash and buy data, airtime, electricity, and more.
GROUP CHAT unlimited group chat messaging for no data cost
MESSAGE ATTACHMENTS fully supported, such as photos, videos, documents, and location sharing (not #datafree – before sending you will be warned)
END-TO-END SECURITY automatic end-to-end encryption of personal messages
CONTACTS SYNC automatically finds your contacts who use MoyaApp
ALWAYS LOGGED IN and never miss a message
OFFLINE MESSAGES messages saved when your phone is off
Meanwhile, why the app allows you to interact with loved ones, business owners can also utilise the great feature the app contains, allowing you to send money, receive, make transfers, and even withdraw cash.
How to Download the Moya App on Android Device
If you are an Android User, Go to Google Play Store and type "Moya App"
Tap Install and wait for it to finish downloading.
Click Open and follow the onscreen prompt instruction.
You are good to go and start using Moya App for free.
How to Download the Moya App on iPhone Device
If you are an Android User, Go to Apple Store and type "Moya App"
Tap Install and wait for it to finish downloading.
Click Open and follow the onscreen prompt instruction.
You are good to go and start using Moya App for free.
How to use Moya App to Check SASSA Status
For your Moya App SASSA status check, you must make sure that the app is installed on your device. Then proceed to access the SRD Status Check grant using the steps below:
Activate on the play store or apple store
Install the MoyaApp for free
Select the first option to show
Install the app, then configure it by following the on-screen instructions
From data-free. co or the play store, you can obtain the most recent version
Your mobile phone number is required in order to send an OTP code and submit the code
Start the app
Select "Money and Services" from the menu
To get help, select SASSA Relief
Pick the section that best fits your requirements.
Conclusion
The Moya App is a great mobile application for communication and financial purposes, with Moya App you are on a seamless transaction with every opportunity available, and the app has excellent reviews on the Google Play Store and Apply Market.
We would like to hear from you about the Moya App Download Free guide, kindly leave a comment below for any correction, contribution, or suggestion, we are open for link insertion on this post, kindly send us a message and be sure we would give you a quick reply.