What are the Benefits of using Image to text Converter?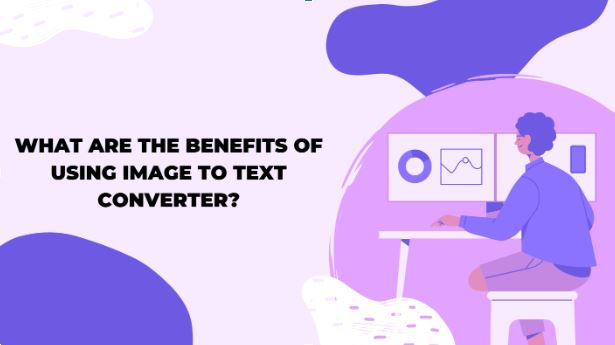 Whether it's an online or traditional business, technology has made it easier to do business around the world.
OCR technology refers to a modern technology that can help businesses improve their work and become more competitive in the market.
Many businesses, particularly digital businesses, are familiar with OCR technology because it provides exceptional benefits to organizations.
This article is all about the OCR and the benefits it provides to businesses.
What Exactly is OCR?
The technology that converts image to text for editing is known as optical character recognition.
There are many situations in business where you must convert images to text, such as when editing documents or typing hand-written text into a computer.
When it comes to making documents editable, OCR technology is the best way to get things done quickly.
However, the operation of OCR is entirely based on proprietary algorithms and the use of artificial intelligence.
How Does OCR Works?
The algorithms scan the image and detect the font patterns printed on it. Then compares this pattern to the database on the backend.
When it compares, it looks for alphabets that are similar to the font. The words are then written using the compared fonts. The image text is converted into digital text in this manner.
Some modern tools use artificial intelligence to check the content after the algorithms have written it. To improve the accuracy of the content, AI-based software usually checks spelling mistakes.
Top OCR Image to text converter Advantages for Businesses
The advantages of OCR technology are numerous and non-specific. However, image to text is best for students and businesses, and its accessibility has improved.
For example, you can use the smartphone app to access the OCR tool and use it with your camera for instant conversion.
The following are some of the advantages of using OCR for your business:
Typing Handwritten Text into a Computer
When you have to write multiple business documents in handwriting, it can take hours or even days. In this case, OCR can assist writers in quickly converting a handwritten document into a digital format.
You only need to scan the document and upload the image to the tool, and the tool will handle the rest.
The OCR tool will automatically generate editable text from scanning, which you can then modify to suit your needs.
In business, the management team may write the material in the hand-written format most of the time, but it can be easily converted into an editable format using OCR.
PDF to Word Conversion
Business emails are typically available in PDF format, and you may need to edit the PDF files to make them suitable for your organization.
Now, one method of writing the material is to manually write all of the content by looking and then typing. This method is inefficient because it requires a significant amount of time and effort for conversion.
However, OCR is the best option for increasing the efficiency of your typing as well as the quality of your work product.
The OCR tool converts a PDF file into an editable format that can be used to edit business documents or any other PDF file.
OCR technology is also integrated into modern PDF software such as Adobe Acrobat. This allows you to edit the PDF file within Acrobat rather than converting it to Word.
High Levels of Precision
When using OCR technology to write, there are fewer chances of human error. Humans typically type faster in order to cover more ground in less time.
Typing and spelling errors are common during this process, which can be problematic for the business.
For example, if you are writing a policy paper with multiple pages and you overlook a policy, it can cause a major problem for your company.
In this regard, you should use a more accurate OCR tool. Although OCR is not perfect, it can compensate for human errors.
You can easily improve the accuracy of your content by incorporating artificial intelligence, as AI-based tools can correct grammatical and spelling errors.
It is recommended that you proofread your content after using the OCR tool to convert the file.
Performing Document Searches
It is common in business to have traditional files that contain hard copies. Now, when you need to find a specific page within it, you must go through each paper and look for the one that is needed.
Not only that, but it may take hours to search for a specific term in papers that number in the hundreds.
However, by using an OCR tool, you can convert the papers into digital form once, and then whenever you need to search for something, you can use an image to text converter to copy text from an image and then search it easily.
An image to text converter is an easy and time-saving option, so if you are willing to do a lot of tasks in less time then you can go for this tool.
You need to simply enter some words into it and it will find the term or paper for you.
Less Storage Space
In today's world, having hard copies of your documents in your office is not an efficient way of storing data while it appears to be a traditional office.
If you save the scanned copy, it may take up a lot of space on your computer. If you store your data in the office, you will need a lot of storage space and will have fewer chances of storing more.
However, digitizing these scanned copies would require less storage space, allowing you to store more files in the cloud.
Conclusion
Optical character recognition is a great way to modernize your business and increase productivity among your employees.
Through OCR, data entry work that takes hours or even days to convert can be completed in minutes.
This way, your company will save time while increasing accuracy.